Food: Pure Spring Salads

04/07/2017 11:00AM ● Published by Jennifer Gonzalez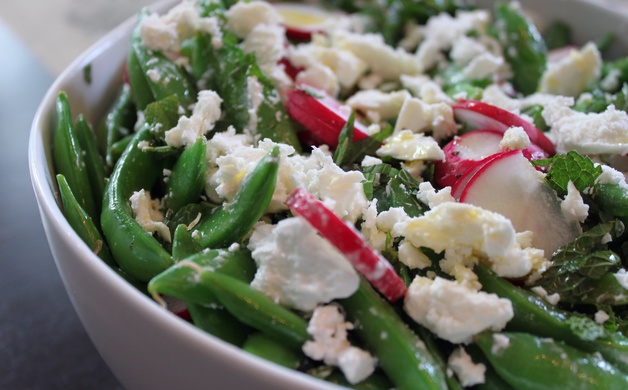 By Erin Pesut
Springtime sunshine makes the gardens grow, and what better way to enjoy the latest seasonal produce than with a salad. Now that the farmers market is in full swing with an array of delicate lettuces, bright produce and seasonal fruit, options are aplenty. Whether you're enjoying these salads inside your home with the windows wide open or out on a picnic table in the sunshine, these will help you serve up some fresh!
Sugar Snap Salad
8 to 10 servings
Recipe by Sara Dickerman
Photograph by Ditte Isager
http://www.bonappetit.com/recipe/sugar-snap-salad
 Ingredients:
·         1 ½ pounds sugar snap peas, trimmed, stringed, cut in half on diagonal
·         Kosher salt
·         3 tablespoons extra-virgin olive oil
·         1 tablespoon (or more) fresh lemon juice
·         1 teaspoon white wine vinegar
·         ½ teaspoon sumac plus more for garnish
·         1 bunch radishes, trimmed, thinly sliced
·         4 ounces ricotta feta cheese, crumbled
·         Freshly ground black pepper
·         2 tablespoons coarsely chopped fresh mint
Preparation:
1. Fill a large bowl with ice water; set aside.
2. Cook peas in a large pot of boiling salted water until crisp-tender, about 2 minutes.
3. Drain; transfer to bowl with ice water to cool.
4. Drain peas; transfer to a kitchen towel-lined baking sheet to dry.
5. Whisk oil, lemon juice, vinegar, and ½ teaspoon sumac in a small bowl.
6. Toss peas, radishes, and cheese in a large bowl. (Can be made one day ahead.) Cover dressing and salad separately and chill.
7. Before serving, add dressing to salad and toss to coat. Season salad with salt, pepper and more lemon juice, if desired. Garnish with mint and sprinkle with sumac.
Sidebar: The sumac bush, native to the Middle East, produces deep red berries, which are dried and ground into coarse powder. Ground sumac is a versatile spice with a tangy lemony flavor, although more balanced and less tart than lemon juice. A small sprinkle also adds a beautiful pop of color to any dish.
RHUBARB AND STRAWBERRY SALAD WITH ALMONDS, MINT AND LEMON VERBENA
Recipe adapted from Kellie's Food to Glow
                        Serves: 4
https://kelliesfoodtoglow.com/2015/06/01/rhubarb-and-strawberry-salad-with-almonds-mint-and-lemon-verbena/
 Ingredients:
½ cup blanched almonds
1 stalk rhubarb, thinly sliced, on the angle
2 tbsp. sugar of choice (coconut or cane)
1 tbsp. each of fresh lemon and orange juice
5-8 lemon verbena leaves (optional)
1 lb. juicy strawberries, hulled and halved or quartered
Small handful of mint leaves, torn or sliced
Soft cheese (such as, honey goat cheese) is a nice touch, but optional. Amount is up to you.
1. Toast the almonds on a tray in a 350ºF oven for eight minutes. Remove and let cool.
2. Toss the rhubarb slices, sugar, citrus juices and verbena leaves in a non-reactive bowl (try glass Pyrex). Leave for up to one hour. You want those juices to run!
3. When you are ready to eat, pour the rhubarb into a serving bowl (pick out the verbena leaves) and add in the strawberries, mint and almonds and dot with cheese. Serve immediately.

Sidebar: Floral Greens
These easy garden flowers have a place at the table. Add these flowers to your next salad for color, nutrition and novelty.
Pansy petals have a faint lettuce-like taste and a velvety texture.
Carnation petals are sweet and spicy. Taste each flower before using; they can sometimes be bitter.
Calendula petals are orange and yellow with a daisy-like appearance and are mildly tangy.
Bachelor's buttons are spiky-looking, but soft. They can be blue, purple, pink, rose or white. Thy possess a cucumberish flavor and a fun, frilly texture.
Nasturtium petals are the tastiest! These are peppery and mustardy, with a touch of honey. Ranges from yellow to reddish orange, with variegations too.
Halibut Niçoise Salad with Lemon Dill Vinaigrette Recipe
Recipe by PaleoNewbie
site: http://www.paleonewbie.com/halibut-nicoise-salad-lemon-dill-vinaigrette/
Serves: 2
Salad Ingredients:
2 hard-boiled eggs
2 halibut filets (may be substituted with canned tuna)
1 potato, sliced into rounds, steamed
4 scallions
4 cups greens (your choice)
½ cup cherry tomatoes, sliced
1 cup fresh green beans
¼ cup olives (black or Kalamata)
Vinaigrette Ingredients:
1 clove garlic, minced
3 tbsp. red wine vinegar
1 tbsp.lemon juice
1/3 cup olive oil
1 tbsp. Dijon mustard
2 tbsp. fresh dill
Salt & pepper to taste
Instructions:
First, prepare the vinaigrette. Whisk everything together in a small bowl.
Preheat grill to medium high heat for halibut. Season halibut generously with salt, pepper and a drizzle of olive oil. Grill fish for 4 minutes per side. Avoid overcooking. If using tuna, open can.
While fish is cooking, boil green beans about 4-5 minutes until bright green and slightly tender.
Slice the tomatoes and plate the greens. Lightly toss the potatoes, tomatoes, and green beans in some of the prepared vinaigrette and add to the salad along with the halibut, eggs, olives and scallions.
IN THE KITCHEN