Scholastic News: F.R.I.E.N.D.S. C.L.U.B.

05/02/2017 04:15PM ● Published by Jennifer Gonzalez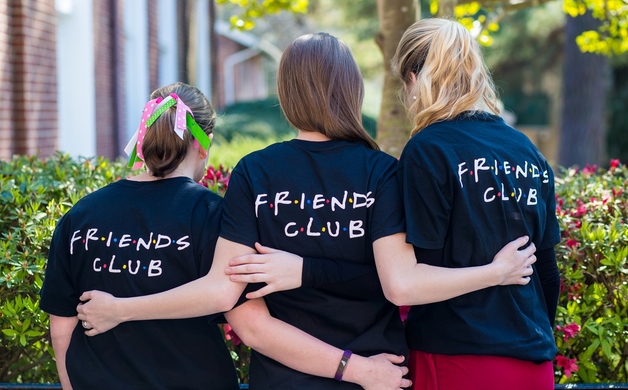 By Kelly Twedell
             The need to belong in high school is important. When Wallace Cameron formed the F.R.I.E.N.D.S. C.L.U.B. at Terry Sanford High School (TSHS), she met a crucial need for the young adults in our community.
             While Dr. Cameron's family lived at Friendship House Durham for the summer during his Chaplaincy internship, their kids got to serve alongside him. Their oldest daughter, Wallace Cameron, who was a junior at TSHS and is now currently a freshman at Meredith College, was so highly impacted by the mission of seminary students living in community with students with disabilities that when she came back home, she created a club at her school. 
       Long before the F.R.I.E.N.D.S. C.L.U.B. (Folks Rallying Intentionally Experiencing Needs and Disabilities Sharing Christ Living United as Believers) came to fruition, Wallace was running track at Max Abbott Middle School while her friend Jessica was doing wheelchair race events. Empowered, Wallace wanted to be a champion for those affected by disabilities.
             Though she was skeptical on the actual process of starting the club, she gained teacher sponsorship, created a proposal with her friends Joanna and Jessica and got the proposal approved. She was pleasantly surprised when 70 students showed up to the first meeting.
            "My mom and dad's work inspired me. I felt called to the cause. There was nothing like this at TSHS. High school can be cliquish, and I wanted to break that trend," Wallace shared. Every good club must have a good t-shirt (and good parents backing it, of course). Wallace borrowed the money for t-shirts from her parents and eventually paid them back.
            Joanna Hinton, a junior, now serves as the club secretary. Joanna shared that she feels happy and accepted in the school club and enjoys the camaraderie when they hang out, take photos, plan activities and do thoughtful things for the school. "Making valentine cards for the teachers was fun. They were so happy! In the meetings we talk about loving one another and Christ. It's been awesome!"
            The F.R.I.E.N.D.S. C.L.U.B was an instant success and very telling of where the hearts and volunteer spirit are at TSHS. With students who have exceptional needs or a disability that might otherwise remain hidden in plain sight in the sprawling high school, this club offers a chance for students to connect and form stronger bonds outside of the classroom.
         Recently, Wallace was sworn in as Meredith College's Class of 2020 Vice President. She holds the secretary position for Meredith Advocates for Young Children Club. With a major in Public Health, with a biology focus, and a minor in child development, she is also a runner on the school's cross-country team. Wallace Cameron will be honored for her service and character in August at The Fayetteville Dream Center's 20 Under 20. If you have a student you'd like to nominate, request the nomination form by email at thefayettevillledreamcenter.com.
CV Family
CV KIDS