Art: Faux painting or faux finishing

05/10/2017 01:00PM ● Published by Jennifer Gonzalez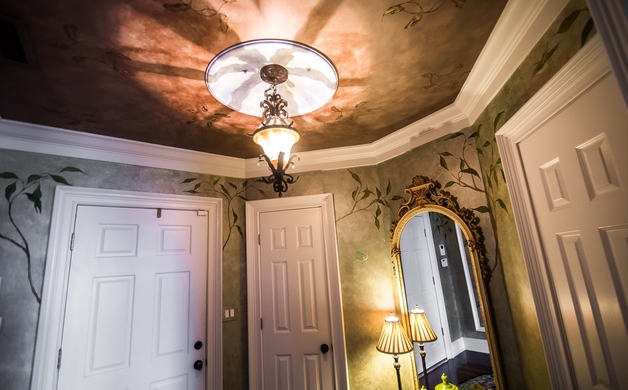 Gallery: Art: Faux painting or faux finishing. Photos by Matthew Wonderly. [27 Images] Click any image to expand.
By Pamolu Oldham
                 Pandy Autry is a wizard with a wall, column, floor or boring bureau. Just give her any blank surface, and she'll transform it. Your broom closet will magically morph into a wine cellar with stone wall and grout lines, your fireplace mantle or wooden column will convert to marble. She'll add a hundred years to your new front door through distressing or give weave or grain to an expanse of drywall or bare flooring. Pandy is a master of faux painting techniques and decorative painting.
History in the making
                Faux painting or faux finishing comes from the French word for fake. Faux painting isn't one technique but an assortment just as curry isn't a single spice but a mixture. This technique of making a surface look like something else can take many forms: fresco; Venetian plaster; marbleizing; stenciling; rag painting; sponging; strie' (French for "stripe" or "streak") used to simulate fabrics like linen; graining, called faux bois (French for fake wood). Why so many French references? It seems that during the Renaissance, two schools of faux painting developed: the Italian, which is "realistic but loose" and the French school, which is "intricate and complicated," demanding a hard look to spot a flaw. Pandy falls into the latter group. She's a perfectionist. That's why Victoria's Secret flew her into Fayetteville, Arkansas, for a day—to faux paint a panel damaged in shipping—just in time for a grand opening of a new Pink Store.
 Historically, faux painting reaches back 5,000 years to Mesopotamia, proceeding along a timeline from Egyptian interiors to Renaissance cathedrals to the palace of Versailles to Victorian homes with their wood graining, marbleizing and stenciling to the Art Deco styles of the 1920's. Faux painting is currently experiencing a revival in the wake of wallpaper's diminishing popularity.
Use what you've got
                Growing up in Dunn, Pandy has always loved design since she was 11 or 12. She just liked doing things with her hands such as needlework and stenciling and was always making something. After graduating from UNC at Chapel Hill, she married George Autry, a livestock agent and later director through NC State University's Agriculture Extension. She taught elementary school in Hoke and Cumberland Counties for thirteen years. In the classroom, she applied her imagination and keen eye, using one of her favorite refrains: "use what you've got." She created bulletin boards, board games (inventive down to the spinners) and work centers to enhance her students' learning experience. "If we were studying bears, we sponge painted bears! The children were happy. They were excited."
Projects galore
                In '92, with her youngest of three in kindergarten, Pandy decided to stay home to manage her household's many schedules—and to explore her passion for design. One of her first projects was to stencil a star quilt pattern on her dining room floor. Pleased with the outcome of this project and others, she created samples, taking them to local interior designers and to Owen Garden Center & Nursery, where her faux brick and flagstone were a hit, resulting in commissions.
                Her oldest daughter, who came in third in Season Nine of Iron Chef, commissioned her to stencil bathrooms in a restaurant in Miami. She was duplicating wallpaper of the 60s. With the exactness needed in taping multiples of the mosaic design, she remembers this job as "blue mosaic hell!"
                Pandy's projects are as diverse as the techniques she employs. She will create a leather surface using glaze and a stipple brush then layering and layering again and again. Using ragging, she'd paint a wall or object then take off paint with a crumpled rag. Sponging demands much blending. When marbleizing, she creates positive and negative veins to simulate the drift found in natural marble. She has produced checkerboard floors, Delft-patterned tile, light switch covers, cradles, even cupboard shelves to match a granite kitchen counter.
Patterns & textures
                 Recently, Pandy has extended her use of materials to metal—copper, brass, iron and recycled tin. She has created a new line of unique night lights, lamp shades and lamps. She says, "I have always been particularly fascinated by pattern and texture: in nature, textiles and even in very ordinary objects. I have been experimenting with decorating lampshades for some time through paint, fabric and papier mache, but did not feel I had it 'quite right' until I added metal." Her metalwork includes brass etching, metal folding and incising. The linen forming the shade is on the inside of the frame, offering contrast to her decorative metal designs. She even uses photographic slides to form shades, creating a back-lit contemporary theme.  
                  "In 2007, I became increasingly fascinated with working in metal as a new medium when I began taking a jewelry fabrication class with Erica Stankwytch Bailey. I know this seems totally unrelated to my painting career, but I have always loved lampshades, and over the years have painted them for my clients. However, it was the actual metal frame of the shades that drew my fascination, and through this jewelry class began using what I'd learned to make night lights at first, and then began decorating lampshade frames with metal. I like to use recycled frames when possible and am currently working on using old bobbins from textile mills as bases for my shades."
                Pandy also has completed examples of trompe-l'oeil (French for "deceive the eye"), which uses realistic imagery to create an optical illusion of 3-dimensional objects. Her niches—for example, a pitcher spilling fabric painting above a doorway or a 3-D fireplace painted on a flat wall—trick the viewer's perception. Additionally, her decorative painting skill is obvious in murals such as one depicting dogs and cats in a local veterinarian clinic or the antique bicycle made from NYC subway maps that hangs on a wall of Byklyn, a spinning gym managed by one of her daughters in Brooklyn, New York.
                "The thing I love most about what I do is the opportunity to do so many things: basic faux finishes, aged finishes, textured finishes, marble columns or fireplace surrounds, faux tile work, murals, painted furniture, ceilings and floors. If it can be painted, I'll give it a shot!"
                Pandy Autry can be contacted through Cape Fear Studios (148 Maxwell St.), Shops at 123 Hay Street or through her website www.pandyautry.com.
HOME AND GARDEN