Giving: Horses That Heal

05/10/2017 01:00PM ● Published by Jennifer Gonzalez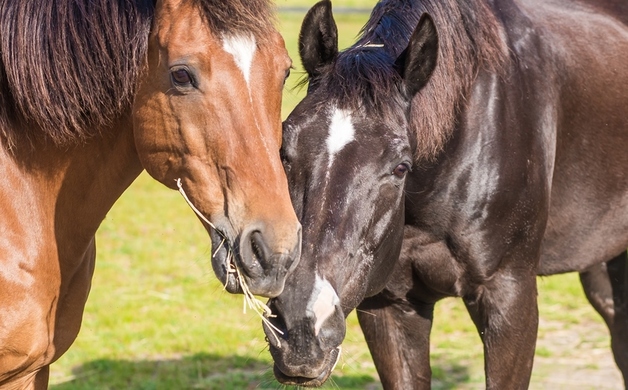 Gallery: Giving: Horses That Heal. Photos by Matthew Wonderly. [15 Images] Click any image to expand.
By Erin Pesut 
            Deb and John Foley know what it means to serve. Deb's father retired from the military after 27 years, and John, her husband, an Apache pilot, retired in 2013 after 29 years. Although they aren't in the military anymore, their commitment is still honoring those who have ever worn a uniform for our country.
Horses That Heal
            Stemming from Avalon Counseling, Deb's private practice, Horses That Heal (HTH) is the Foley's nonprofit focused on providing the opportunity for all veterans to receive equine assisted psychotherapy at no cost. This assistance extends beyond Fayetteville and Fort Bragg—their hope is to provide their services for veterans everywhere. 
            In the King Arthur books, Avalon is the island where the wounded were taken to recover, and at their Avalon Farm, in Linden, Deb and John practice the Eagala model of therapy, in which horses are not meant for riding; they are therapists.
            Each horse on their 19 acres of land has a survival story, but the story is not shared. These horses help tell other people's stories, stories belonging to service members with Post-Traumatic Stress Disorder (PTSD), Military Sexual Trauma (MST) and other experiences soldiers carry with them from years of service, deployments or what settles once the dust has been washed from their faces, wiped from their boots and the new reality of being back home sets in.
A history of healing
            For five years, the Foley's focus with Horses That Heal has been a deep dedication to the healing and care of others. Before that, Deb was a psychologist and counselor in four different states as a result of being a military spouse. She continued her work in Cumberland County Schools, until she was eager to do more clinical, private practice work. For someone who received her first horse when she was ten years old, she was thrilled to evntually learn there was a form of psychotherapy working alongside horses. After her Eagala training in 2009, Deb began using a once-a-week equine component in her therapy sessions. Inspired by the progress of her patients, she encouraged John, who was on active duty, to attend his own training, which took place one month before he deployed.
            "The fact that some of the traumatic events of my life were brought up...and it was with a horse, it was being near a horse that brought it up really piqued my curiosity," John said. "I wondered, 'How were those horses able to do that?'"
            After being inspired, amazed and curious by what he'd experienced, John still deployed to Afghanistan. The idea to create a nonprofit based on this method of therapy was simmering in both of their minds and once land was up for auction near where Deb boarded her own horses, the possibility seemed to be an open invitation.
            After a successful purchase, Deb called John in Afghanistan saying, "We are now the proud owners of 19 acres of land." As soon as he heard, John scoped out the coordinates on Google maps, zoomed in and began planning where the best place would be to construct the new barn for the horses once he returned home.
Welcome to peace     
            Peace prevails at Avalon Farms. Sounds of traffic drain away. Wind chimes sing. Trees sway in the breeze. The sun shines hopefully. Out in the nineteen acres divided into three pastures, 12 horses graze on green grass, roll over to itch their backs and wander.
           Horses are prey animals; they are always on high alert. The eyes on either side of their head are ever-watchful, always shifting, an easy quality to relate to for veterans. Due to their preyed-upon-nature, horses have high emotional intelligence; they can sense intent.
            "[Horses] can see what's going on below the surface," John explains. "As a therapist," he says, pointing to Deb, "she can't see what's going on inside you. We can use the horses as a barometer for what's going on. If there's a lot of energy within someone, the horses will react to that energy."
Word of mouth for peace
            Without advertising, the primary way Horses That Heal shares their mission is through word of mouth. And people are talking. Recognized at a national level for their work, Deb and John recently returned from the 2017 Eagala Conference where they presented on aspects of military transition. Service members who wish to participate receive 12 sessions at no cost. These sessions are funded by private donations, grants and proceeds from the annual HTH golf tournament. The Foleys are also hoping to enter into a partnership with the Veterans Treatment Court. In the future, the Foleys are hopeful military mental health referrals will allow more veterans to receive this care.
Walking the pastures
            The Foleys explain how a therapy session often begins.
            "A lot of times when we're getting treatment started, we'll walk the pastures. For clients with PTSD, it helps to see the boundaries and get a feel for the space." And then Deb and John will let the clients introduce themselves to the horses.
            "If you give too many instructions, too much of a safety brief, then it shuts people down," Deb details. "They'll stay up here," she says, pointing to her head. "You want them to have that body-mind experience. When you connect your mind and your body, that's when the peace comes."
            The horses aren't required to do anything. "It's about noticing the differences and metaphorically the horse, or the behavior of the horse, can be symbolic for something the client is going through. Things come up. It just happens," Deb says.
            With the presence of a mental health professional, if, or when trauma does arise, the therapist is clinically trained to deal with that. Deb says for someone with depression it is not uncommon for a horse to drape it's head over the client's shoulder and stay there for some time. 
 A model, a mirror
            By asking what the horse is doing instead of asking the person what's going on with them, the Eagala method creates a mirror to an experience. Stories are drawn out, and as they are withdrawn, healing becomes hopeful. "Whatever the story is, it is," John says. "We don't pry for answers, and that's what helps create that safety."
            Even after only a few sessions, Deb and John can notice the physical changes in their clients.
            "They'll come in and their bodies are clenched and on guard..." Deb shares.
            "…and then we watch their bodies relax, their fingers uncurl, their eyes soften," John says, finishing her sentence.
            "What would take me two years in an office setting for somebody with complex trauma, in ten weeks you can see a change," Deb explains.       
Joining forces with the Lone Survivor Foundation
            The Lone Survivor Foundation (LSF), the Texas-based nonprofit, is soon to arrive in Fayetteville. Started by former Navy SEAL and the New York Times Bestselling author Marcus Luttrell, the LSF is rooted in the mission of restoring, empowering and renewing hope for our wounded service members and their families through health, wellness and therapeutic support, all the elements which were most effective for Luttrell when he returned home from his duty.
            Funding therapeutic retreats at no cost for service members with Post-Traumatic Stress Disorder (PTSD), Mild Traumatic Brain Injury (mTBI) and Military Sexual Trauma (MST) and their family members, the LSF is dedicated to providing holistic treatment beyond standard government programs.
            Currently, the Crystal Beach retreat center in Texas is the destination for the five-day retreats where service members participate in individual therapy, group therapy, neurofeedback, yoga and the same Eagala therapy that Deb and John offer through HTH.
            Traumas can re-surface during these retreats and Deb and John were contacted to provide Eagala followup care for attendees who were living in the Fayetteville/Fort Bragg area. Eventually, the Foleys became counselors for the LSF.
            When Executive Director Terry Jung began searching for possible locations for a new retreat center on the east coast, (land near an established Eagala therapy location was a serious asset), Avalaon Farms was on the short list. When Deb and John graciously offered eight-and-a-half acres at the back of their property for the LSF retreat center, the deal solidified.
            In February, Jung arrived in Fayetteville.
        When you meet with Terry Jung, it's obvious how dedicated he is to helping service members. It emanates from his solid, intimate personality. He met with local citizens to see if a retreat center in Fayetteville might be embraced by the community. Community involvment is an important element  since service members must know they are cared for in the community and highly regarded for all that they have sacrificed.
            Jung shared, "There are so many soldiers and families that are in need of care on the east coast and this facility will make it easier for them to receive care. People with, for instance, Traumatic Brain Injury, it can be hard [for them] to travel, just getting on a plane. It's exciting to have [another] facility beyond what we have here in Texas. I'm very hopeful and optimistic that the [Fayetteville] community will be very supportive of the project. It's just a part of being able to help more soldiers and their families."
            In that regard, Horses That Heal and the LSF make a powerful collaboration. "[Deb and John] are going to provide and care for the horses and the facility and our people will be running our aspects," Jung explained.
            Details are still being determined, but the hope is to break ground for the retreat center this fall and have construction completed no later than May 2019.
            In early June there will be an event to further the momentum of the LSF retreat center.
            If you are interested in learning more about Horses That Heal, contact John Foley at johnmfoley3@gmail.com or visit the website horsesheal.com. To learn more about the Lone Survivor Foundation visit lonesurvivorfoundation.org.
MILITARY LIFE
CV PETS