4 Infused Waters to Sip on this Summer

06/21/2017 01:16PM ● Published by Jenny Harris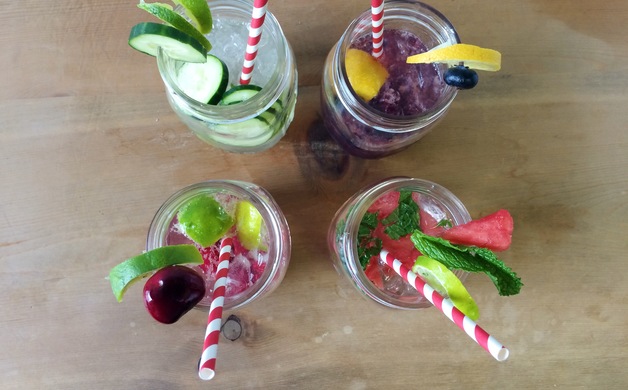 Gallery: Sparking Water Photos by CityView Magazine [6 Images] Click any image to expand.
Today is declared as the first day of summer! To celebrate why not enjoy a glass (or two) of infused water. And not only does infused water add color to your glass but it is perfect for people who have a hard time drinking water!

As we find the need to stay hydrated, grab some sparkling water and some fruit or veggies to create one of these recipes!

1.) Lime + Cherry: Remember those Cherry Lime sodas you used to get at the drug store - well this one is way better (and better for you)! The lime adds brightness and the cherries help boost your metabolism.

2.) Lime + Cucumber: Elevate your cucumber water game! It doesn't get more classic than this one, its so fresh.

3.) Lemon + Blueberry: Lemon is what you ask for at a restaurant when the water tastes bland, but add blueberries and your drink becomes fancy. The lemon keeps it simple and the blueberries antioxidant to your diet.

4.) Watermelon + Mint: This is the party flavor! Not only does it taste sophisticated, it looks beautiful. Be sure to make a pitcher of this one and keep it in your fridge.

Enjoy!

IN THE KITCHEN