Living: Home Built by Hand

07/18/2017 02:38PM ● Published by Jenny Harris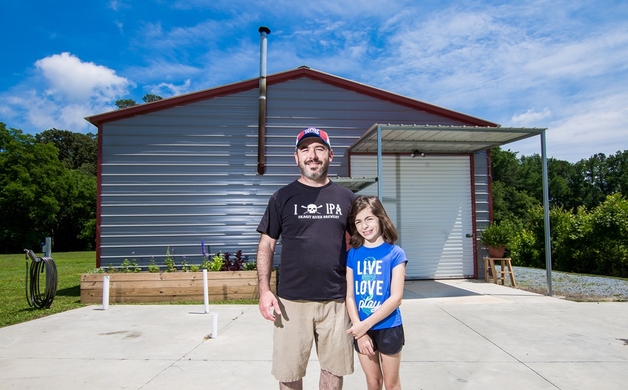 Gallery: Home Built by Hand Photos by Matthew Wonderly [33 Images] Click any image to expand.
By Marcus Malek
When I was 12 or 13, I started skateboarding. I wanted to make all my own ramps and I was working with my friend Phillip to build a box, something that replicates a bench. He asked me, "What's the biggest thing you'd like to build?" And I said, "I don't know, man. What do you want to build?" Right away he said, "I'd really like to build a house," and I said to him, "Oh, yeah. I'd love to build a house one day, too."
For me, I don't really need a lot of place to live, I need a lot of space to work. My father worked in construction in Houston, Texas, and he built the home I grew up in. I get bored easily, so I like to get creative with construction projects. I lived in an apartment for a while and I was about to pull my hair out, so prior to my Permanent Change of Station (PCS) move from Fort Lewis to Fort Bragg, I pondered the idea of building a house that I could pay for in cash, with the idea of living mortgage free. The concept isn't mine, but a "barndominium" is an idea to have a large garage and a small living space, all under the same roof. I knew I wanted something very low maintenance and easy to clean because the job I was heading into would consume a lot of my time, and since I was serious about building instead of buying, I started sketch-up plans for my very own "barndominium." Upon my arrival at Fort Bragg, the idea I had became a plan. Rather than wondering if this was something I was capable of, I decided to get to work.
In October of 2014, I opened discussion with the county inspectors to go over the details for a project like this. I hired a residential designer and drew up professional plans, which the county approved to become a 1,200 square foot foundation footprint on a piece of land I had purchased from a friend. I was going to be my own general contractor, but I did hire a concrete company to pour the slab, a plumber to put in the drainage and water lines, and a backhoe company to put in the septic system. The price of the building actually included the erection of the structure. It all seemed slightly overwhelming, but it wasn't anything that was out of reach.
We broke ground late March 2016. The foundation wasn't poured until mid-May due to several delays because of rain. My building, too, had to be re-ordered. As frustrating as all the setbacks were, I knew it would pay off if I remained determined and kept the end goal in mind.
Two days after the building was complete, I began working on the interior walls. Using simple materials that provided a soft, yet industrial look, I framed out the areas where I wanted the windows and the A/C unit to be. I framed out the bathroom and the storage loft. The space took shape and I could see where my efforts and hard work were going. 
After the framing was completed and inspected, I had a company come in and spray a layer of closed cell insulation across the entire roof of the building and the three metal walls in the "apartment." This closed cell insulation would serve as my vapor barrier, and once I added the fiberglass bat insulation on top of that I would be insulated to R-40 in the apartment ceiling and the wall where the morning sun beats down on until around noon. Only the two opposing walls meet the county's minimum for code, the rest of the house exceeds code by an R-value of 10, which is impressive. After the final inspection of insulation, I was able to cover up the walls and ceiling surfaces.
Typically, you would install your electrical wiring within the framing with cut outs where you want your junction boxes, power outlets, and light fixtures to be placed; but I didn't want to hide the paths of power. I wanted to expose all of the electric by running it on the exterior of the wall coverings. However, exposing the electrical meant I needed something strong enough to keep the wiring in place, so I chose oriented strand board. It was durable, light weight, and budget friendly, plus it was in keeping with the aesthetic I was going for.
I chose to pre-paint the majority of the panels white, but I left several of them their natural color so I could break up the monotony of plain white walls. I used a corrugated steel panel to cover all of the ceiling in the storage loft, but chose to leave the wood beams exposed on the ground floor. In my opinion, the sheen from the ceiling complements the natural wood on the ground floor.
The kitchen was originally a small 20-square-foot space next to the bathroom in order to meet code requirement for occupation. However, I needed more space for brewing beer, so I put in another fire-rated door and expanded the kitchen into the garage. The kitchen we cook in is a 10'x 25' space with all open shelving. I kept the same color pallet of black, white, and grey, but I also added some touches of red to give it some character. The countertop is made up pine board, concrete, and almost black wood-like tile. The material I used for the backsplash is the same style that I use in the bathroom shower.
The kitchen is a really diverse space that offers a ton of storage and multipurpose usage. Since it's long and narrow, and I knew I needed some "movable" counter space, I made some floating islands, one of which is a rolling tool cart that stores all of our flatware and kitchen utensils. The other cart has three shelves and stores plates, bowls, and coffee mugs. Because they're both on casters, these carts can roll and move and they provide another 8' of linear counter space. I echoed the same shiny galvanized sheet metal panels for the ceiling in the kitchen just like in the main living space.
All of the appliances are in a near perfect condition, but I purchased them at a deep discount from a scratch and dent store. The sink is a 44-gallon galvanized feed trough that I cut and fit a drain into. This sink gives me the space I need to wash out my home brewing equipment. I also made the faucet, which I outfitted with a long hose and quick connect couplings so I can get the water pressure I need depending on what I'm washing. For cleaning my brewing equipment, I needed some serious water pressure, the kind of pressure a normal sink wouldn't be able to provide.
Architecturally, the bathroom receives a lot of praise for its simplicity and functionality. In a 10'x10' space, I have a full vanity, a 6'x4' shower which has two separate shower heads, a full-sized washer and dryer, the toilet, and about 20 linear feet of shelves, and it still feels very spacious. It's also the only room inside the house that has drywall as a wall/ceiling covering. The outlets and light fixtures are still exposed, but I wanted the exhaust fans to be tucked away in the ceiling. The shower walls are comprised of the same corrugated metal that that I used for the ceiling covering, which again makes the 4'x6' shower really bright. For the shower flooring surface, I went with a tile that looked like concrete, mainly because the flooring surface for the entirety of the house is the bare concrete slab.
With the interior of the house, the process took roughly four months from start to finish, but once I got my final inspection, I was able to move in on October 22, 2016. I came inside, cracked open a can of PBR, and celebrated my new living space. I still had several bits of trim work that I needed to complete, but I was now living mortgage free.
The outdoor space was my next project. I poured a concrete sidewalk and footings for the 16'x16' metal-roofed porch. I used grey rock which extends all the way out to our large raised bed with flowers, herbs, vegetables, and succulents, and also built a steel shed out back to house garden tools and equipment. I put up a small fence line to give us some privacy from passersby, but the majority of the yard is not fenced. This gives us an expansive view of the sky, the yard, and the tree line.
All in all, from the very beginning to the final nail, the project took 26 months. I got help from a few internet videos and a couple of friends helping out when they could, and I'm proud to say I was able to break away from a mortgage. I was also able to create a livable home for Jennifer and myself that would more than adequately provide for our separate hobbies, hers for her floral design business and my love of construction and building. This space really has everything we needed and nothing we didn't.
The timing of this article is ironic because I called Phillip, my skateboarding friend, a few weeks ago. He's living out in the northwest and he's got two kids now. I told him I'd finished building my house. He told me, now that he's got his kids and family and a busy life, he wouldn't get to his until he retired.
Living in a place that you've designed is the most rewarding feeling. When I explained it to people, they didn't understand what I was trying to do. You want concrete floors? Why not put nice flooring on it? Why are you doing this? Why do you want your circuits exposed? People had a hard time wrapping their mind around it, but as it started to take form and really show itself to what it was, people said, I didn't understand it at first, but now I do.
What is a house? What is a home? It can mean different things to different people. I never understood why people wanted their homes to conform. Why does everything have to be covered up? You tend to have a lot more appreciation for things once you put in a little bit of sweat, or, in my case, a year and a half's worth, but you know what? I made exactly what I wanted. 
CV Lifestyles
,
Today
CV ARTICLES