Business: Visionary Man: Gordon Johnson Architecture

07/18/2017 04:12PM ● Published by Jenny Harris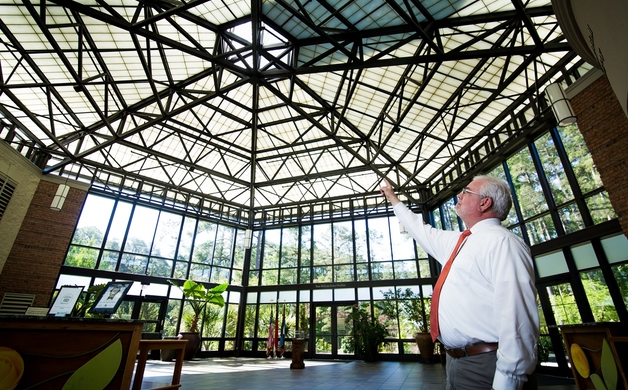 Gallery: Visionary Man Photos by Matthew Wonderly [12 Images] Click any image to expand.
By James Johnson
As a student at Watauga High School in Boone, North Carolina, Gordon Johnson was the kind of kid who drew every chance he got. Remember the kid who always had a sketchbook handy, who regularly turned in homework with doodles in the margins? Johnson was just like that. He continued on with his love of drawing and began designing structures—both large and small in scale—which led to the job he has today where he is one of the area's most sought after architects.
 Johnson never had to sacrifice his dream to get a "real job"; he simply combined the two. Today, he runs Gordon Johnson Architecture out of his Hay Street office in downtown Fayetteville. In June of 1999, he started his business, which has grown to specialize in public sector design work. Johnson's firm has been responsible for literally hundreds of building designs which can be seen all over the county. From firehouses and schools, to City Hall and the Cumberland County Courthouse, there are examples of his work every which way you turn. Some of the most notable are the Wyatt Visitors Pavilion Complex at the Cape Fear Botanical Garden and the Fayetteville Area Transportation Museum Annex. He is currently at work on the expansion project at the Fayetteville Regional Airport, a renovation which will include a newly reorganized ticketing area, expanded TSA security checkpoints, and a whole new second level concourse.
           
Advantages
 According to Johnson, the field of architecture is competitive, particularly when bidding on projects for the city. What gives him an edge over competitors is his ability to work within tight budgets and meet even tighter deadlines. "You are juggling the owner's budget with the desire to come up with the solution," he said. "The creativity, the variety, and diversity of work we get is what challenges me to keep doing this."
What is his advantage? Well, unlike other firms with larger staffs and greater overhead, he is the only architect on his payroll. "I don't have to ask anybody in the firm how to do something. I am experienced. I don't have to second guess myself. There is an efficiency to that."
A solo show
 Johnson had his taste of working on a staff with too many chefs in the kitchen. After graduating from the University of North Carolina at Charlotte in 1990, he became a co-owner of a larger firm, Shuller Ferris Johnson + Lindstrom Architects, which was what brought him to Fayetteville in 1994. For five years, Johnson continued to learn and worked among the other architects. He realized, during that time, that he prefers to work alone. "When I was part owner of a much larger firm, I spent most of my time managing other people rather than doing design work. I was losing time managing others rather than my creativity," Johnson said.
 In 1999, determined to keep his own venture small and flexible, Johnson left the partnership and started his own business. He explained, "I have kept my firm small, to keep control."
Building spaces
 When Johnson was working on the Visitors Complex for the Cape Fear Botanical Garden, he received a generous budget. Johnson enjoys when the scale of an operation comes with a sizable budget, as it allows for more creative control, but he also wanted to research what kind of space would serve the Garden best. In preparing for the design, he explored botanical gardens across the country and investigated the designs that were both inviting and practical.
"I visited about half a dozen gardens up and down the East Coast. A lot of that was to see how they dealt with the visitors and what needs were needing to be met," Johnson said.
Eventually, he discovered the ways in which the Cape Fear Botanical Garden could succeed. The answer? Rentable event spaces.
Johnson decided then the Visitors Complex would need to be built to host multiple events like weddings, charity auctions or business parties that could all happen, if the need would ever arise, simultaneously. The building would be equipped with two kitchens and designed with each part of the building set up to function separately. His final design, a sprawling 30,000 square foot building, with an extra 3,000 square feet of space upstairs so offices could be added at a later date, is indeed a popular venue for charities and functions.
Envisioning the way
According to Johnson, his firm handles 10 to 20 designs a year, varying widely in scale and difficulty. Recently the firm has completed a new fire station, a forensics lab for the city, and is working on a new law enforcement and emergency management training center in Spring Lake.

Johnson says that architecture takes a considerable amount of imagination and patience, as one typically won't see the results of designs in real life for several months or even years.
Visualization, then, is a key element in Johnson's success. Years ago, as a high school boy, he may not have envisioned one day standing at the helm of his own architectural firm, but he imagined a way forward and let the path become clear as he went. He let drawing lead the way. He kept drawing. He kept working.  "You have to," he said, wisely, "have the vision in your head." 
 For more information and to see more a more complete listing of Johnson's designs, visit www.gordonjohnsonarchitecture.com.
CV ARTICLES