Brother & Sister

08/25/2017 02:44PM ● Published by Jenny Harris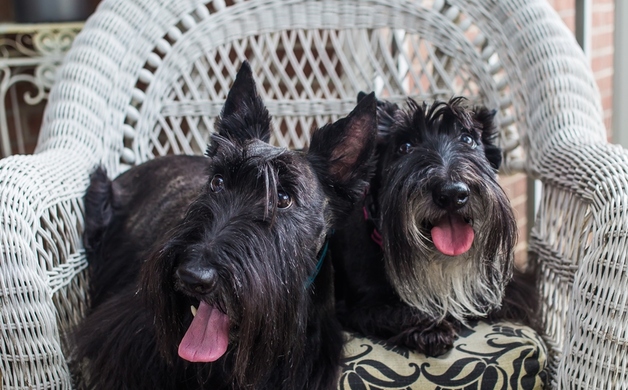 Gallery: Pet Corner Photos by Matthew Wonderly [23 Images] Click any image to expand.
By Erin Pesut
Meet William "Wesley" and Holly Elizabeth, Priscilla & Bob Hambly's Scottish Terriers
Q: What are the names of your dogs?
A: William "Wesley" and Holly Elizabeth. He prefers Wesley, really. He does not like the name William and will not respond to any derivations, like "Bill," "Willy," or "Billy."
Q: And what kind of dogs are they?
A: Scottish Terriers. We will always be Scottie parents.
Q: How old are they?
A: We believe Wesley is nine and Holly is eight. They are brother and sister, from the same parents but different litters.
CV: How did your dogs come to live with you?
A: The Wee Beasties Scottie Rescue Association of Newport News, Virginia. All of our dogs have been from here. These two are our sixth and seventh. We adopted them together. When she called, we said, "Oh, two dogs at once? We don't know..." but she said she wouldn't separate them. They've been together since birth. So we said, "Okay."
Q: Have you always had Scotties?
A: Yes. We have been parents to eight Scotties over the years. In fact, one of our Scotties was featured in a calendar published by the Fayetteville Observer several years back. Tucker was Mr. October in the calendar. He was a beautiful male, wheaten-colored Scottish Terrier.
Q: What do you love about Scotties?
A: They're beautiful dogs, people don't realize. They're free spirit and they're independent thinkers. If you tell them do do something, they will think about it and then decide. Yet, they're loving. We've always loved dogs, but for some reason, this breed, they're special.
Q: What are some of their favorite things to do?
A: Sit and watch the golfers from the porch. They think they own the golf course. They don't bark but every once in a while. They love to travel! They have their own car seats. And Holly Elizabeth likes to ride in the seat behind the driver. If she sits behind the passenger seat, she gets annoyed and will not sit still until she sits behind the driver.
Q: Do your dogs have any favorite treats or toys?
A: Their favorite treats are from the Woof Gang Bakery in Haymount. We call it the "barkery." They especially like the grain-free peanut butter treats and the grain-free bacon and cheese treats. 
Q: Likes?
A: Ice. Treats. Chasing rabbits. Naps. They like music to be on, preferably the "Easy Listening" radio station. When we adopted them, we were hesitant because Scotties can be a handful, but these are the best behaved dogs we've ever owned. Wesley is the very definition of a "Velcro dog." If he is not in immediate contact with a human, he is an unhappy Scottie.
Q: Dislikes?
A: Thunderstorms. Firecrackers.
Q: Do your dogs have a favorite television show?
A: Both Holly Elizabeth and Wesley never miss an episode of Lucky Dog. It's on Saturdays. This guy lives in California and he goes and finds a family that has lost someone or lost their pet and he'll find a dog to match the family. They never miss an episode. They like watching other dogs also find their "forever home." And Holly Elizabeth is a fan of Dancing with the Stars. She's a diva. And she watches The Bachelorette. Wesley won't watch The Bachelorette.
Q: Do they have any special events coming up?
A: Every year, Wesley and Holly Elizabeth participate in the annual Williamsburg Christmas Parade in Virginia as members of the Wee Beasties Scottie Rescue Association.
Q: Is there anything else you'd like to include?
A: Every Scottie is different. As an example, Holly Elizabeth rises at first light every morning, ready to take on the challenges of the day. Wesley, would prefer to sleep until noon. If there was ever a dog who needed a wake-up service, it would be Wesley.
CV Family
,
Today
CV PETS