A Worthy Gift

11/13/2017 01:52PM ● Published by Jenny Harris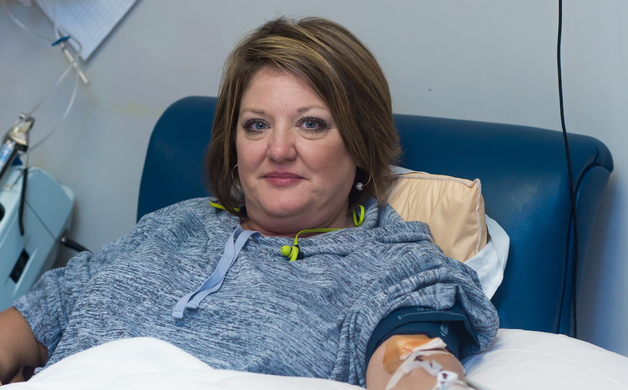 Gallery: Blood Donations Photos by Matthew Wonderly [12 Images] Click any image to expand.
By Brooke Shoffner
We all crave it – the euphoria that comes with watching someone open the perfect Christmas gift, which you bought for them. Or the reaction you get when delivering a hot meal to someone in need and learning you happened to cook their favorite dish. Isn't that warm, fuzzy feeling that envelops you enough to make the holidays seem perfect?
But what about the pride you feel when you leave the Cape Fear Valley Blood Donor Center knowing the forty-five minutes you just spent there may save three lives?
Odds are you haven't experienced that emotion.
It's understandable if you haven't. It might not have occurred to you to give blood. Or if it has, it may seem inconvenient: You have to find time in your schedule and break your routine. Maybe you can't donate blood right now because of health issues or your travel history. Or – a big reason for some – maybe you're afraid of needles.
I had absolutely no excuse. I'd been assigned this story, I was going to the Blood Donor Center in Bordeaux Shopping Center anyway, I'm in good health and I'm not afraid of needles. I've given blood before. I had no reason not to donate this time. So I did. It was easy!
Upon arrival, I was greeted by friendly faces and was registered to donate in just a few minutes' time. I was then called to the back by Tiffany Snyder, who's a phlebotomist, meaning she's trained to draw blood. She did a quick health assessment, taking my blood pressure, temperature and hemoglobin level and reviewing my medical history and medications. I met the eligibility parameters for all donors – I'm at least 17 years old (16-year-olds can also donate with parental consent), I'm at least 110 pounds and I have healthy vital signs and a normal hemoglobin level.
Tiffany and fellow phlebotomist Lanita Ray-Allen made sure I was comfortable. My arm was cleaned, the needle slid into my vein at that spot and blood began transferring out. You don't have to look if it makes you squeamish but the sight didn't bother me. Five minutes later, I was done and my arm bandaged with a wrap that matched my outfit. After a quick snack with another donor, a "regular" who donates every eight weeks, I was on my way, as easy as that, minus about a pint of blood that my body would naturally replenish.
I thought of my donation as just a bag of blood. But I was quickly informed it's so much more. That bag of blood is a champion to someone being treated just across the street in Cape Fear Valley's emergency department. It's a hero to someone awaiting their next chemotherapy treatment. It could be the difference between life and death for someone.
The recent massacre in Las Vegas underlined the importance of maintaining sufficient supplies of donated blood. In the aftermath of the shooting, which killed 58 and injured hundreds more, people lined up for blocks to donate blood. But donated blood must undergo a day or more of testing before it can be given to someone in need. Fortunately, enough blood was already on hand when the wounded began pouring into Las Vegas hospitals. And fortunately those drained stores are being replenished. But it's a constant cycle even without a massive tragedy; whole blood donations have a shelf life of only six weeks.
This is one reason why local hospitals are seemingly always in a blood shortage, said Lindsey Graham, marketing coordinator for Cape Fear Valley Health System. The blood donor center serves six hospitals, including four owned by the health system – Cape Fear Valley Medical Center and Highsmith-Rainey Specialty Hospital in Fayetteville, Hoke Hospital near Raeford and Bladen County Hospital in Elizabethtown – and two owned by Harnett Health – Betsy Johnson Hospital in Dunn and Central Harnett Hospital in Lillington.
These hospitals use nearly 1,100 units of blood each month. To keep pace, the blood donor center needs about 37 donors a day, either at its office on the Village Drive side of Bordeaux Shopping Center or at one of its near-daily mobile blood drives. If donation numbers drop below that, the center may have to try to buy blood from other sources and doctors may have to reschedule or even cancel surgeries.
Blood supplies are particularly stressed around the holidays when many would-be donors are busy with other activities and high school students are on break. Perhaps surprisingly, nearly half of the center's donated blood comes from local high school students who give during mobile blood drives at their schools. Student donors to Cape Fear Valley Blood Donor Center have a low deferral rate, because naturally they are healthiest of the contributing population.
Regular donors, like Cape Fear Valley nurse Elizabeth Crawford, provide an estimated 20 percent of the center's blood supply. Crawford, who comes in to give every eight weeks, said it's an easy – and valuable – way to give back. Sixty-nine-year-old Ian Lake, who retired from the Army and from working for the city of Fayetteville, comes in to the center even more frequently – every two weeks – to give platelets, also essential. He figures he has given 45 gallons of platelets since he switched in 1988 to donating them instead of whole blood, which requires a longer wait between donations.
Lake said the process doesn't hurt and leaves him feeling fine. Often, he goes and plays golf afterwards.
"It's a worthy cause," he said. "Not many people do it."
Blood donation benefits heavily outweigh the costs. Apart from the altruistic motives, it's a free mini-check up with vital signs measured, hemoglobin check and your blood is screened for infectious diseases. Volunteers should not donate to get their blood tested, but it certainly is an added benefit. Graham said the donation process is a great way for men to help prevent the accumulation of overly high iron levels.
It's estimated that 1 in 7 patients in the hospital need a blood transfusion or blood product. While you may not ever need blood, volunteer blood donors provide reassurance the supply is there if you do. Although all blood types are needed, the center often has a shortage of volunteers with type O blood, particularly those with O-negative blood, called the universal blood type because it can be given to anyone. Graham said O-negative supplies are essential, particularly for trauma patients and babies in the Neonatal Intensive Care Unit.
Cape Fear Valley Blood Donor Center also offers directed donations. This is where you may have a family member or friend in the hospital and you can donate your blood to be saved for that person. If your directed recipient doesn't need a transfusion or if you aren't a match, your blood will be saved to help another patient. Whole blood donations are good for up to 42 days and can be donated every 56 days while platelet donations last 5 days but can be donated every 2 weeks. 
Most businesses hosting a blood drive allow their employees to donate on the clock. Cape Fear Valley rewards its full-time employees who donate at least four times a year with paid time off. "By applauding our employees in this way it helps show businesses or churches who host drives that they too can do something special to recognize their donors for giving back to their community," Graham said. "We don't have to push the act of donation to our employees as much as others because they've seen first-hand how important it is, and that their blood truly saves lives."
Crawford, the nurse, said that's indeed an impetus for her regular donations. "I see the people who really need it," she said.
Graham said blood donation isn't just about compassion. "It's a civic duty," she said. "This was something that was engrained in our parents' and grandparents' generations and now it's not as prevalent."
I feel lucky since I have never yet needed a transfusion of blood or a blood product, like platelets. I also feel great that I've given blood that will help someone else in need. It's the easiest and perhaps the most valuable gift I'll give this season. And it didn't cost me a cent.
For information on how you can donate and on the locations and dates of local blood drives, visit the blood donor center's website – savingliveslocally.org – or check its Facebook page at https://www.facebook.com/CapeFearValleyBloodDonorCenter. To schedule a group donation or request the bloodmobile, call Cape Fear Valley Blood Donor Center at 910-615-5433.
CV ARTICLES