A year after Hurricane Matthew: The recovery continues

11/13/2017 02:56PM ● Published by Jenny Harris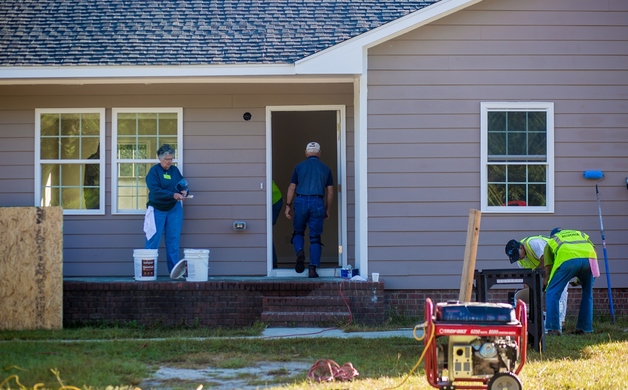 Gallery: Recovery Continues Photos by Matthew Wonderly [54 Images] Click any image to expand.
By Catherine Pritchard
A couple of days after Hurricane Harvey finally left Texas, Kelly Mathis went with several people to a Fayetteville convenience store to fill the gas tanks of work trucks and generators. He and the others all wore shirts indicating they were a United Methodist Church disaster response team and three people at the store asked if they were headed to Texas to help with recovery efforts there.
No, they were told. The team was repairing local homes that were ruined last year by Hurricane Matthew; they wanted to be able to continue their work if a gas shortage occurred because of Harvey.
"And the comment was, 'Oh, that's still going on?'" Mathis recalled.
Recovery work from Hurricane Matthew is indeed still going on, more than a year after the storm devastated parts of Fayetteville, Lumberton and elsewhere in eastern North Carolina. And it almost certainly will continue for years to come – even if most residents of those areas don't realize it.
"The general public has no idea that there are however many houses out there that are still damaged and not rebuilt from Hurricane Matthew," said Mathis, who's a construction manager at the Fayetteville disaster response center operated by the N.C. Conference of United Methodist Churches.
"That's not being critical," said Don Evans, the site coordinator for the center. "It's just out of sight, out of mind."
***
Hurricane Matthew dumped as much as 18 inches of rain on southeastern North Carolina on October 8th of last year. A week before, a storm had doused parts of the Fayetteville area with up to 10 inches of rain. Matthew caused flooding in all six of the state's river basins and left five rivers, including the Cape Fear and the Lumber, at flood stage for two weeks, according to Gov. Roy Cooper's office.
The destruction was vast – nearly 100,000 homes in the state were damaged or ruined, more than 660 roads had to close, 20 dams breached and 31 people died as a result of the storm. The state's Emergency Management office estimated the cost of the damage to homes, businesses, public facilities, roads and more at $4.8 billion. Thousands of people were displaced from their homes.
Homeowners with sufficient insurance or other resources could hire contractors to make repairs. But many lacked the sort of coverage they hadn't needed until Matthew – flood insurance. They have had to rely on themselves and on help from the government, nonprofit and faith-based groups and volunteers. Their repairs will take time – a lot of time – even with outside help. But without such help, the work may never get done at all.
***
On a recent weekday, two dozen retirees from western North Carolina roused themselves from wooden bunkbeds in a former church youth activity center on Fort Bragg Road in Fayetteville. They made breakfast and headed out to tackle their week-long mission – working on homes destroyed last year by Hurricane Matthew's floodwaters. This was the second such trip for the group of volunteers from Lutheran Builders of Western North Carolina. They'd also come in the spring, working then as this time under the leadership of the Methodists' disaster-response office in Fayetteville.
Mathis went with them to the small brick and wood-frame homes at the end of Pennystone Drive. The cul-de-sac is at the bottom of a hill and is wrapped on three sides by Rockfish Creek which on most days is a distant burbly stream, down a 30-foot drop off. On the evening of October 8th, the creek was an ocean, topping cars parked on the cul-de-sac and roaring into houses. In one home, a woman in a wheelchair tried to reassure her three children, all of whom have autism. When rescuers arrived, the water was up to her shoulders.
Her home and several others on Pennystone Drive are being repaired by the Methodist disaster-response office, with the help of grants, contributions and volunteer labor like the members of the Lutheran Builders. Between January and the end of August, 304 volunteers came from as far away as California and Wisconsin to spend several days working with the Methodist disaster-response office on hurricane-ravaged homes. They stayed in the former youth activity center that has been converted for the use of that office by Haymount United Methodist Church. Another 305 volunteers have also participated but didn't need sleeping quarters because they live in the area. More volunteers have come since and they will keep coming. The Lutheran Builders will likely be back next year.
Caseworker Dominic Kusumoto said the volunteer work done during the first eight months of the year amounted to $422,000 in labor costs that didn't have to be paid by the office's clients. "All they're paying for is construction materials," he said. The Methodist operation isn't taking business away from anyone, Evans said. Its clients couldn't afford to hire contractors. Without help, they may never have been able to fix their homes.
It's a slow process from the outset. The criteria is strict. Kusumoto goes through all of the financials involved in each homeowner's case, their recovery process to date, how they dealt with the Federal Emergency Management Agency (FEMA) and what they did with whatever FEMA money they received to help with home repairs. Ideally, they saved the money for its intended purpose. Sometimes, though, they didn't.
"Many survivors have never had that much money in their hands before," Kusumoto said of the lump-sum housing-assistance checks given by FEMA.
If a homeowner spent his FEMA money on other things, he's automatically not booted from the list of those who might be helped by the Methodist program. But his situation will be a lot tougher to fund. "I look at what the difference is between Kelly's estimate of the cost of the repair and what (money) the homeowner brings in," Kusumoto said. "I figure how to make the two sides meet" through other grants, programs, funding sources and contributions of materials.
Key local contributors to the office's work have included the United Way of Cumberland County, Haymount United Methodist Church and Cumberland Community Foundation. The latter recently awarded a $60,000 grant so the office can hire a second construction manager and buy another work truck.
***
Helpfully, Kusumoto just retired from the Army where he specialized in disaster relief and managerial assistance. His new job is a labor of faith and love. The former lieutenant colonel lives in Fayetteville so the job isn't a trek for him. But Mathis, who started working in residential construction in the early '90s and joined the Methodist disaster-response team full-time in March, lives in Benson. He drives to Fayetteville every day. Evans lives in Apex. He stays in Fayetteville during the week and goes home weekends.
Evans, who retired several years ago from real estate sales, had long been involved with disaster recovery mission work through his church. He finally decided it was something he needed to do full-time.
"None of us are in it for the money," he said. "It's a calling. You've got to want to do it. It's not fun, necessarily, living here all week and going home weekends. But it's still better than sitting on that sofa at home and having God be ill with me."
***
Most of the disaster relief organizations that poured into the area immediately after the hurricane have moved on from Cumberland County. Evans said the primary charitable organizations still active here are Fayetteville Area Habitat for Humanity, whose efforts are focused on the dozens of homes that flooded in Habitat Village near downtown Fayetteville, and the Methodists.
In neighboring Robeson County, which was hit much harder by the hurricane, the N.C. Baptist Men's disaster relief organization remains deeply involved with rebuilding efforts, along with the Methodists and other groups.
Evans said the Methodists have a strong tradition of spending as much time as is needed to help survivors rebuild after a disaster. These efforts often go on for years.
So far, seven Cumberland County homes have been repaired with the help of the Methodist disaster-response office. Fourteen more are being repaired now. Forty more are on the waiting list and that number will likely grow.
How long will the Methodists' Hurricane Matthew recovery operation continue in Fayetteville?
"We just don't know," Evans said. "Three things will determine it – if we completely finish all the houses that need to be rebuilt. Or if the money runs out. Or if the volunteers stop coming. If any of those three things happens, it shuts the operation down in this area."
At the same time, he notes, the Methodists still have volunteers coming into eastern North Carolina to help rebuild homes damaged by Hurricane Irene in 2011.
"We're not necessarily the first ones in every time there's a disaster," Evans said. "But we're usually the last ones to leave."
Today
CV ARTICLES