It started out as a debate. My husband and I were driving through south Alabama in late summer and we stopped at a charming country store that sold fresh vegetables, homemade ice cream and three types of cobbler by the bowl — peach, blackberry and cherry. I couldn't pass up the blackberry and the peach called to him like a harpy.
In the car, our sugar rushes peaking, we began to discuss the origins of cobbler. "Do Yankees have cobbler?" I mused. (I followed this by saying, "If we ever get married again, let's have cobbler instead of wedding cake.") He speculated that, surely, cobbler is universal, but I was doubtful. Testing the smartness of my smart phone, I searched online and learned that the term cobbler can be used to refer to an array of dishes, some of which include meat, and some which are quite common north of the Mason- Dixon and even in the United Kingdom.
Technically, it turns out, "cobbler" refers to dish that consists of a fruit or savory filling poured into a large baking dish and covered with a batter, biscuit or pie crust but, unlike a pie, a cobbler never contains a bottom crust.
Cobblers originated in the early British American colonies, which would mean that they got their start somewhere along the coast between Georgia and New England. In fact, odds are good that someone reading this can probably claim the inventor of cobbler among his or her ancestors. Those early English settlers found they lacked the preferred ingredients and tools for a proper pie and instead covered a stewed filling with a layer of uncooked plain biscuits or dumplings fitted together across the top. Fully cooked, the surface had the appearance of a cobbled street, hence the name.
In the United States, varieties of sweet cobblers include the Betty, the Grunt, the Pandowdy, the Slump, the Buckle and the Sonker — all of which sound more like dance steps than desserts to me. Betties, Grunts, Pandowdies, Buckles and Slumps are favorites of our northern neighbors, but the Sonker was created (and is still much-loved) right up the road from us in the North Carolina Piedmont. It's usually a deep-dish casserole, often made with sliced sweet potatoes, and covered with either lumps of dough or a pastry lattice.
Cobblers differ a bit in the British Isles, where they are typically topped with scone batter. The sweet ones tend to be made with apples, blackberries or peaches while the savory ones feature lamb, beef or mutton in gravy.
Like all casseroles, cobblers — whether meat or sweet — are quick and easy to assemble and ideal for serving a crowd, making them a great option for feeding houseguests during the holidays.
British Beef Cobbler
Serves 4
Filling Ingredients: 2 tablespoons butter or margarine 1 onion, chopped 1 pound stew beef 1/4 cup finely diced celery 1 cup sliced mushrooms (canned is fine) 1 cup beef stock 1 teaspoon salt 1/4 teaspoon pepper 1/2 teaspoon dry mustard 1/4 cup diced bell pepper 2 tablespoons finely chopped parsley
NOTE: The filling can be made up to four days in advance and refrigerated until needed.)
1 batch scone dough (can use pre-made, a box mix or the recipe below)
Scone Dough Recipe 8 oz self-rising flour Pinch of salt 4 tablespoons butter or margarine 1 egg, beaten 3 tablespoons milk 1/2 cup grated cheddar or parmesan cheese
Sift the flour and salt into a bowl, cutting in the butter until the mixture resembles fine breadcrumbs. Add the cheese.
Stir in the beaten egg and enough milk to make a soft dough. Roll out on a lightly floured work surface to about 1/4 inch thick. Cut into rounds using a scone or biscuit cutter.
Directions:
Preheat oven to 425 degrees.
Melt butter in a frying pan and saute onion until soft.
Dredge beef through flour and then add beef and celery to the pan, increase heat and cook, stirring occasionally, until juices evaporate and the meat begins to brown.
Add mushrooms and cook for 2 minutes.
Reduce heat, add stock, seasoning and mustard.
Simmer covered for 15 minutes, stir in bell pepper and parsley and leave to cool. Spoon beef mixture into a casserole dish.
Place the dough on top of the meat in the dish so that the rounds almost touch and bake for 15 minutes. Reduce heat to 325 degrees and bake for 15 minutes more, or until scones are puffed up and golden.
Serve hot.
(Note: If you make the filling in advance you should heat it back up before adding the topping. Just pop it in a 325 degree oven for about 15 minutes and then add the topping.)
Mt. Airy Sweet Potato Sonker
7 or 8 red sweet potatoes 1-1/2 cups sugar 1/8 teaspoon salt 1 stick butter or margarine, softened 1/2 teaspoon salt 1/2 teaspoon allspice Water, enough to cover potatoes 1 cup flour 1 cup shortening 1 cup buttermilk 1 cup whole milk
Peel and slice potatoes, place in pot with water to almost cover potatoes. Cook until soft then drain off water. Place potatoes in 11×13-inch baking dish. Mix sugar, salt, butter and allspice together. Sprinkle this mixture over potatoes. Combine flour, shortening and buttermilk. Pour over top of potatoes. Bake at 350 degrees until crust is brown, about 45 minutes. Remove from oven and pour cup of sweet milk over top of crust. Place back in oven for 5 to 6 minutes or longer to let milk soak into crust.
Aunt Peggy's Easiest Cobbler in the World (According to my Aunt Peggy, "It may not look pretty, but it tastes good.")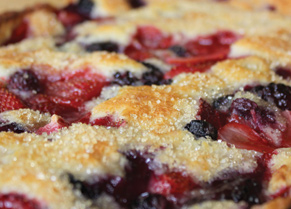 Ingredients:
6 tablespoons salted butter 2 cups fruit (Pick your favorite. Canned is fine, just drain it first.) 1-1/4 cup sugar 1/4 cup milk 1/4 cup self rising flour (or use all purpose flour plus 1 tsp. baking powder)
Directions: Preheat oven to 350°. Melt butter in a deep dish pie pan in the oven while it's heating. Toss 1/4 cup of sugar with the fruit. Whisk together remaining sugar, flour and milk. Pour batter into pie pan or small casserole dish once butter is melted. Add fruit to the batter, distributing evenly, but do not stir. Bake for 50-60 minutes until a deep golden brown. Serve warm with ice cream.