FamilyFood
Crowd-friendly dishes 
steal the show 
at summer potlucks
rom picnic shelters to grand pavilions, humble backyards to opulent estates, many families use the long, lazy days of summer as the perfect excuse to congregate. For some it's a formal family reunion, planned months in advance and stretched out over days of activities. For others it's an impromptu afternoon with a pitcher of sweet tea and backyard game of cornhole or horseshoes. Whether the backdrop is simple or elaborate, one fact remains: the food always takes center stage.
Family gatherings are often potluck events with guests trotting out their favorite foods, some fancy, some simple. When I get together with family and friends, particularly when we're at the beach, we rely on Frogmore Stew to feed a crowd. You'll find a recipe for it on page 26. For Sandee Waren, CityView's managing editor and publisher, Marshall Waren, no gathering is complete without a serving of Cucumber Salad and a slice of Vinegar Pie. Those recipes were handed down from Sandee's grandmother, Mary Yarborough, and have been in Sandee's family for five generations. Features Editor Kelly Twedell likes to take advantage of summer's tomato bounty with her recipe for Heirloom Tomato Pie. That recipe is on this page.
No matter what your summer gatherings are like, nothing brings people together like food. Enjoy!
Heirloom Tomato Pie
1 cup all-purpose flour 3/4 cup yellow cornmeal 3/4 teaspoon fine salt 1 stick cold unsalted butter, cut into 1/2-inch pieces 3/4 cup plus 3 tablespoons shredded manchego cheese 2 tablespoons extra-virgin olive oil 1 large onion, thinly sliced 2 1/4 pounds mixed heirloom tomatoes Kosher salt 3/4 cup shredded mozzarella cheese 1/4 cup mayonnaise 3 tablespoons breadcrumbs 3 tablespoons chopped fresh chives 3 tablespoons chopped fresh parsley 1 teaspoon chopped fresh thyme Freshly ground pepper
Make the crust: Pulse the flour, cornmeal and salt in a food processor. Add the butter and 3 tablespoons manchego; pulse until the mixture looks like coarse meal. Drizzle in 4 tablespoons ice water and pulse until the dough comes together. Turn out onto a sheet of plastic wrap and pat into a disk. Wrap and refrigerate until firm, about 45 minutes.
Roll into a 13-inch round and transfer it to a 9 1/2-inch deep-dish pie plate. Fold the overhang under itself and crimp the edges. Pierce the bottom of the crust all over with a fork. Refrigerate until firm, about 20 minutes. Meanwhile, preheat the oven to 350 degrees F.
Line the crust with foil and bake until the edges are golden, about 20 minutes. Remove the foil and continue baking until golden all over. Transfer to a rack to cool.
Make the filling: Heat 1 tablespoon olive oil in a large skillet over medium heat. Add the onion and cook, stirring, until golden, about 15 minutes. Let cool. Meanwhile, thinly slice the tomatoes; toss with 1 teaspoon kosher salt in a colander. Let drain.
Increase the oven temperature to 375. Combine the remaining 3/4 cup manchego, the mozzarella, mayonnaise, breadcrumbs, 2 tablespoons each chives and parsley, the thyme, 1/4 teaspoon each kosher salt and pepper and the sauteed onion. Spread in the crust. Arrange the tomatoes on top. Drizzle with the remaining 1 tablespoon olive oil and season with pepper. Bake until the tomatoes are browned, about 50 minutes. Top with the remaining 1 tablespoon each chives and parsley.
Frogmore Stew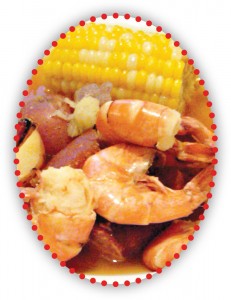 5 quarts water 1/4 cup Old Bay seasoning 4 pounds small red potatoes 2 pounds kielbasa, cut into pieces 6 ears fresh corn, broken in half 4 pounds unpeeled, large shrimp Old Bay seasoning Cocktail sauce
Bring 5 quarts water and 1/4 cup Old Bay seasoning to a rolling boil in a large covered stockpot. Add potatoes; return to a boil, and cook, uncovered, 10 minutes. Add sausage and corn, and return to a boil. Cook 10 minutes or until potatoes are tender.
Add shrimp to stockpot; cook 3 to 4 minutes or until shrimp turn pink. Drain. Serve with Old Bay seasoning and cocktail sauce.
To really make it fun, cover a picnic table in newspaper, dump the stew on top of the newspaper and let everyone serve themselves — or just pick at it while laughing and enjoying each other's company.
Cucumber Salad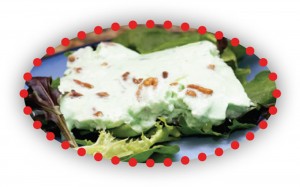 1 small box of lime Jello 3/4 cup of hot water 1 cup cottage cheese 1 cup mayonnaise 1/4 cup lemon juice 1 small onion, grated 1/2 cup peeled and chopped cucumber 3/4 cup chopped pecans
Dissolve Jello in a bowl with hot water. Set in the refrigerator for about 20 minutes to chill, but not long enough to congeal. Remove from the refrigerator and beat with a hand mixer until it begins to get foamy. With a spoon, add all other ingredients to the Jello. Pour the mixture into an 11×13 casserole dish and put back in the refrigerator until congealed, about 2 hours. Cut into squares before serving.
Vinegar Pie
1 1/2 cups sugar 1/2 cup unsalted butter 3 large eggs 2 tablespoons white vinegar 1  teaspoon vanilla 1 9" pie crust
Blend sugar and butter then whisk in eggs, vinegar and butter. Pour into pie crust, bake for 50 minutes at 325 degrees.