Fayetteville's restaurant scene has always been diverse  and delicious
By Rebekah Sanderlin & Kelly Twedell
Shopping at The Capitol almost always meant eating lunch upstairs at the beloved The Birdcage restaurant, owned by Ruth Poe. The Birdcage was located on the second floor of the department store, overlooking the grand rotunda. The popular eatery opened in 1958 and many people interviewed for this special issue of CityView mentioned The Birdcage as a highlight of the era.
On any given day shoppers could be found indulging on pie and coffee in the afternoon. "They were known for their great desserts," said Susan Bender, Mrs. Poe's daughter. "It was a time when ladies gathered for leisurely lunches."
Bender recalled that in the back of the restaurant were two large round tables. During the morning the lawyers in the courtrooms might be foes, but inside The Birdcage at lunchtime, they would share meals and conversation as they solved the world's problems. Mrs. Poe was known for her homemade lunch fare, such as her chicken salad platter atop large lettuce leaves and served with a scoop of congealed salad and cottage cheese.
"Mother did a really great chopped chef salad with ham, turkey and all the trimmings complete with her own Roquefort dressing," Bender said. "She also used some of the Junior League ladies as hostesses."
Ann Newberry Augustine, a lifetime Fayetteville resident whose family ties date back to the first landowner and millwright (see page 36), has fond memories of eating at The Birdcage with her mother after a day of shopping.
Augustine's favorite dish was the Crab Imperial, a casserole that was baked bubbly hot. For dessert, Lemon Chess Pie. Always.
Much like today, there were numerous places to eat, but many folks remember The Birdcage, The Green Lantern, The Highland Cafeteria and The Lighthouse best, as they were where families frequented after church on Sunday.
As if it was meant to be, Susan Poe ended up married to George Bender, the son of a prominent pharmacy owner from that era, blending their families together, both rich in Fayetteville history and having great stories to share.
Saunders Drug Store
In 1935, L.S. Saunders of Wilmington and W.M. K. ('Walker') Bender established Saunders Drug Store on Green Street. The shop was completely remodeled in 1953 to include a new storefront at 201 Hay St. after the business changed hands and became known as Bender's.
Walter's son, George, a second-generation pharmacist who is now retired, told how the sign over the corner store was made from black marble and the letters were etched in white. His dad saved money changing the 'Sau' to 'Be' to represent the Bender name.
Hellenic Hospitality
Many Greek families like the Skenteris' established eateries in town and their family names — Poulos, Kanos, Kalevas, Daskal, Manos, Karteris, Frangakis, Fasul and Boosolis — are still linked to Fayetteville's restaurant scene today. One Fayetteville resident, whose father was an early restauranteur from Greece, shared her family's story:
Dena Potter's father, Nick Fasul, happened upon Fayetteville in 1918 on the way, by train, to a wrestling match in Tennessee. He had heard about the vast expansion of the military base at Camp Bragg from a Greek man in Hamlet and Fasul knew, right then and there, that he could build a successful business here. Cutting his trip short, he cashed in his train ticket and set up business in Fayetteville.
Fasul was sent over to America as a younger boy with his uncle who lived in Athens, Georgia. Since they shared the same last name, his family sent him over acting as his uncle's son, to avoid navigating the proper channels at Ellis Island, as his uncle had already done years prior.
After getting off the train, he was walking down the street and happened upon two Greek men who owned The Central Café, one was Charlie Kalevas and the other was Tom Havilas. They gave him his first job shortly before he opened his own fruit stand. Not much time passed before he added a barbecue pit, located on Hay Street next to the post office, where the Arts Council now stands.
That idea took off and Fasul opened his first restaurant down the street at the 300 block of Hay Street and called it Steve's Restaurant. He named it after his oldest brother who had fought for the U.S. Army in France during the first World War. Breakfast, lunch and dinner were served at Steve's Restaurant, but it was also advertised as the first air-conditioned business in Fayetteville. Potter said they had a huge chunk of ice on top of the building and a fan blew on that, directing the cooled air into the store.
In 1936 Fasul went back to Greece to marry Eleftheria, whose name means "liberty". He brought her back to Fayetteville after the wedding. Potter said her mother loved her life here as a homemaker to four young girls, and she often entertained the other Greek families who came over to partake in traditional Greek foods and coffee.
Like many of the Greek families who settled here, the Fasuls attended the annual Greek church service for Easter in Raleigh, but St. John's Episcopal was their home church in Fayetteville. They celebrated the traditional Greek holidays and maintained many Greek traditions in their homes.
Potter remembers celebrating 'Name Days', rather than birthdays. On the birth date of the saint each child was named for, the families would get together and partake in a large feast.
"One lady who came over on Name Days always brought her rolling pin and she would roll out the thin layers of the phylo as her mother would layer them with the feta cheese, butter and spinach mixture," Dena said. "She was amazing to watch, they were time consuming to make."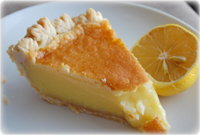 Lemon Chess Pie 1 unbaked pie crust 2 C sugar 1 TBS flour 1 TBS corn meal 4 eggs ¼ C butter ¼ C milk 4 TBS grated lemon rind ¼ C fresh lemon juice Mix sugar, flour and corn meal with a fork. Beat eggs well and blend into sugar mixtures. Melt butter, add milk, lemon rind and juice to it. Combine all ingredients, mixing thoroughly. Pour into unbaked shell. Bake at 375 for 30 to 40 minutes.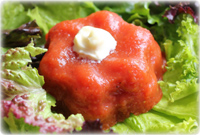 Tomato Aspic 1 ½ pkg lemon jello 1 C boiling water 1 C tomato sauce 2 TBS grated onion ½ C drained pineapple ½ C chopped celery ½ TBS Worcestershire sauce ½ tsp salt 1/8 tsp  pepper 2 or 3 drops of hot sauce Dissolve jello in boiling water. Add tomato sauce and other ingredients. Pour into a single or separate molds.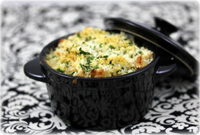 Ruth Poe's Crab Casserole ¼ stick butter 1 TBS finely chopped green pepper 1 TBS finely chopped celery ¼ C flour 1 C half and half 1 tsp Lawry's Seasoned Salt 1 tsp 2 or 3 drops hot sauce 8 oz. crab meat Buttered breadcrumbs and cheese Saute vegetables in butter on low heat until tender but not brown. Stir in flour until well blended. Add half and half (or milk if preferred). Cook stirring constantly until well blended. Add seasoned salt, Worchestershire sauce, and hot sauce. Stir in 8 oz. of crabmeat. Put in two individual casserole dishes. Top with buttered bread crumbs mixed with 2 TBS grated cheese. Bake at 350 til bubbly and brown. Serve hot. Serves two. (Note: canned or fresh crabmeat can be used. Doubled or tripled.)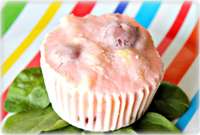 Frozen Fruit Salad 6 oz.cream cheese 1 C mayonnaise 1 C cream, whipped 1 can crushed pineapple drained well (20 oz. can) ½ C each of red and green cherries quartered 2 ½ C miniature marshmallows Cream mayonnaise and whip cream cheese, blending until smooth.. Fold in cream, fruit and marshmallows. Pour into a quart container or individual cupcake cups and freeze until firm. Fruit cocktail may be substituted for pineapple.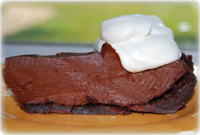 Chocolate Pie 1 unbaked pie crust 1 stick butter 1 square chocolate 1 C sugar 2 eggs Dash of salt 1 tsp vanilla Melt butter and chocolate. Mix with other ingredients, which have been blended together. Pour into unbaked crust and bake at 350 for 25-30 minutes. Top with whipped cream and serve.