How you like your chili depends on where you're from.
Whether it's a family recipe or your tried and true, hand-scrawled formula on a stained up 3×5 card, people know what they like when it comes to chili. And, much like ribs and barbecue, your preference often depends on where you were raised. For some, it just isn't chili if it isn't dotted with plump, dark red kidney beans. For others (namely those from the Southwest) adding beans to chili is just short of sacrilegious.
Regardless of your preference, cool weather practically requires a piping hot bowl of chili, and there are many places in town that will happily serve you their interpretation of the classic dish. Customers have already made chili a top seller at both Huske Hardware House and Great Harvest Bread Company.
Josh Collins, who owns Huske Hardware House with his wife Tonia, spoke to CityView about two hearty and popular Huske favorites — the restaurant's chili and a pint of Jack's Honey Badger Ale to wash it down. Jack's Honey Badger is a barrel-aged, American Strong Ale, infused with a little honey and aged in Jack Daniels whiskey barrels for two months according to Mark Fesche, Huske's brewmaster. "The hickory smoke overtones from the barrel compliments the spiciness," said Fesche. "It cuts the heat of the chili."
Whether served in a bowl as a meal, or as side to your entrée in a cup, the chili at Huske Hardware House hits the spot.
White Chicken Chili Looking for something on the lighter, spicier side? Great Harvest Bread Company, on Raeford Road, has been serving up White Chicken Chili for a few years. Customers line up at lunchtime for a to-go cup of the chili, often buying a grilled sandwich to go with it.
Emily Paine, the front-end manager of the bread store, said the recipe was created by former employee Shannon Taylor. The White Chicken Chili is only made on Tuesday and can be bought in an 8-ounce cup or a 12-ounce bowl to go. She recommends sopping it up with any of their fresh baked bread to enhance the flavor. Paine said they make homemade batches each week and it often sells out, especially on rainy or wintery days.
"It's busy in the winter and we get to help a lot of people, it's fun," said Paine. "We sell a lot of our baskets."
We couldn't convince Huske Hardware House or Great Harvest Bread Company to share their secret recipes, but two local people generously agreed to let you in on the chili recipes they've become known for making: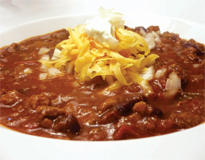 D'Chil's Easy Award Winning Chili Recipe
Derrick Childress Avid bass fisherman and club president of the Fayetteville Bassholes
15 oz. can of brand name tomato sauce 14.5 oz can DelMonte Diced Tomatoes with green pepper and onion 14.5 oz can DelMonte Petite Cut Tomatoes with Jalapenos 16 oz can Bush's Dark Red Kidney Beans 16 oz can Bush's Chili Beans — Hot 21 oz can Bush's Grillin' Beans – Black Bean Fiesta 12 oz light beer 1.5 – 2 lbs lean ground beef 1 yellow onion — diced 1 Tbsp brown sugar 3 Tbsps chili powder 1 tsp ground cumin 1 tsp black pepper ½ tsp cayenne pepper (or to taste) ¼ tsp garlic salt (or to taste)
Mix spice ingredients in small bowl. Brown ground beef with diced onion in sauté pan on high heat.Add half of the spice to beef and mix well. Mix in the cans of diced and petite cut tomatoes to sauté pan and simmer 2 to 3 minutes with the meat mixture. Add the remaining ingredients (including those in the sauté pan) into a slow cooker. Mix well and cook on high heat for 4 hours or low heat for 6 hours.
*You may add more spice if desired after the cooking is complete, the flavor will intensify as it cooks.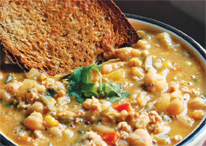 Katie's White Chili
Katie Gard Military wife and food and lifestyle blogger and photographer
1 lb sausage (I use Jimmy Dean Hot sausage) 1 lb (give or take) ground turkey (the more you use, the thicker your chili will be 1 green bell pepper 1 onion 4-5 small stalks of celery 1 Tbsp roasted garlic (I already had the jar of store-bought stuff and for the purposes of this chili, it works just as well) 1 package of taco seasoning 2 (15.8 oz) cans of great northern beans 1 (14 oz) can of chicken broth 1 (4.5 oz) can diced green chiles (can also use 4 fresh green chiles and diced them yourself) 1 (16 oz) can of refried beans with diced green chiles (This is the SECRET INGREDIENT)
Dice up your celery, onion and bell pepper. Warm up a pot over medium-high heat. Add the sausage, turkey, onions, celery, green bell peppers and green chiles if you're using fresh ones. Sauté everything for 10 to 12 minutes until the meat is fully cooked and the veggies are soft. Drain the excess grease and stir in the taco seasoning. Cover and let cook for about a minute to let all the seasoning soak into the meat. Remove the cover and stir in the remaining ingredients — roasted garlic, northern beans (including liquid) refried beans, chicken broth and the can of chiles if you didn't use fresh. Let sit on the stove, stirring occasionally, until everything is nice and warmed through. Serve with your favorite hot sauce on the side and enjoy!