Renovations to Gates Four's golf course return it to its former glory
By Michael Jaenicke
Tee boxes are kaleidoscopic lookouts points, peering over sparkling water hazards, twinkling bunker sand and undulating fairways, which meander to sheltered flagsticks, where prism-like reflections shine on emerald greens.
Visual and mental experiences are only part of the allure at the recently renovated Gates Four Golf course. Cast in the shadows of Pinehurst, Southern Pines, the Sandhills and Myrtle Beach, S.C., it takes more than history and eye-popping scenery to impress a golf fan. Keeping up with the finest courses in North Carolina isn't an easy task.
But the management at Gates Four Golf and Country Club have given attention to the smallest of details to craft a course that has become a Southern golfing showcase.
Nestled inside a gated community, this semi-private golf course is the crown jewel of developer J.P. Riddle. Just to set the record straight, the Willard Byrd-designed course is the Holy Grail of the property. A three-story 28,000-square foot clubhouse is the castle. The 635 homes and townhouses are stately mansions in the background.
The renovation, which started in November and was finished in June, focused on returning the course to its 1967 roots, molded by legendary designer Byrd, a Carolinas Golf Hall of Fame architect.
All 18 greens have been completely renovated. Work crews dug down nearly two feet to install new water filtration systems. New USAG-specification gravel, sand and dirt were added and in early March the greens were reseeded with bent grass. Many of the slopes and contours of the greens were altered.
The greens, which also increased by 10,000-square feet, can now handle up to 17 inches of rain per hour
"The life expectancy of greens are about 30 years," said Kevin Lavertu, general manager at Gates Four. Everything has gone pretty smoothly. We've been very pleased with the progress and the final product. There is really so much more to this than most people realize. It's very scientific and precise, like how the sand was made off site in a lab where it had to meet rigid specifications."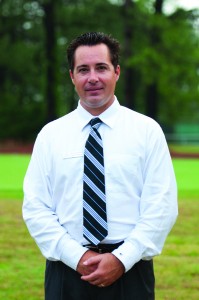 This is the eighth course renovation for the 32-year-old Lavertu, a Methodist College golfer and graduate of the school's Golf Course Management Programs in 2001. His first post-college job was as Gates Four's assistant pro. He went on to serve as head pro at Hoke County's Bayonet at Puppy Creek Golf Club, was general manager at Fayetteville's Baywood Golf Club and from 2005 to last year worked with the Hilton Head ClubCorp.
When he got to Gates Four he found that two blistering summers of at least 30 straight days of 100-degree temperatures had sizzled the aging greens.
So Lavertu and Joe Riddle hooked up with Kris Spence about a renovation project.
Every greenside bunker was torn apart and rebuilt. Other fairway bunkers were added into the mix. All told 43 bunkers were renovated. Pete Wish, who has been a club member since 1977, said the project would help preserve the course's reputation.
"Back in the '70s and '80s people from Southern Pines and Pinehurst would come here and say it reminded them of courses their way, which is a huge compliment because they pour millions upon millions into courses there," Wish said. "Gates Four has always been noted to have one of the best, if not the best, greens in the area and that's very important to golfers."
Spence has restored more than 100 courses, including Wilmington's Cape Fear Country Club and Donald Ross-designed courses in Greensboro, Winston-Salem and Asheboro. His forté is returning courses to their original design. Spence and his staff spent hours studying old maps and photographs of the course.
About 100 trees were chopped down and, while golfers often cringe at this idea, it serves many purposes, including letting the greens and fairways breath easier. Some fairways were reshaped and contoured slightly. Lavertu calls the axing of trees "deferred maintenance."
Returning holes to their original number is another big change in how golfers will attack the course. Last year's No. 10 hole is now No. 1.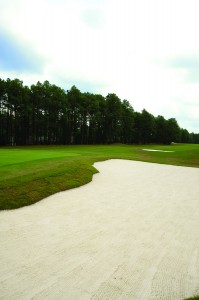 The first three holes on the front side are fairly open, with beautiful wooded holes starting at No. 4 and running through No. 9. Much attention was given to the ninth fairway. Mounds were added to the fifth fairway.
Openness follows on the backside until you reach the 15th, a par 3 where the gates of heaven seem to open up. The final three holes are gorgeous walks — with or without a club in your hand — filled with azaleas, dogwoods, rhododendrons, pines and hardwood trees and vegetation native to the region.
The 15th has long been the course's signature hole, and it now has a bunker that was in the original design but removed years ago. Another bunker was added on the No. 6 fairway.
"The enhanced fairway bunkers are strategically located so they come into play," said Russell Warner, a six-year member at Gates Four. "The same principles come into play in bunkers around the greens. They are catch-areas you have to play away from. Even on the old greens there are certain pin placements that make a lot of these holes so demanding."
Warner, who has a 6 handicap, said the course is liked by everyone who has played it and revered among elite players.
"It's a very challenging course that golfers love to play," he said. "That's what they say every time the Cumberland County Championships are hosted here, and when the Gates Four Invitational comes around it brings out what I call the big boys of golf. They come because they deem it a true place to test their skills."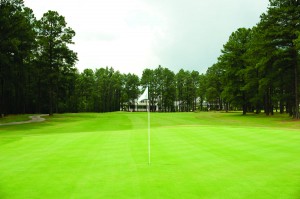 Reverting the holes to their previous numbers makes the new 18th a demanding dogleg left, par 4.
"I've seen many a Cumberland County champion fall to pieces on that hole," Best said.
Lavertu likes the new hole arrangements and feels the course's return to Byrd's design will entice golfers.
"It has changed slopes, undulation and you find yourself never using the same club twice," he said. "It forces you to have precise iron shots and work the ball both left to right and right to left. The A1/A4 greens will now roll faster than ever."