Gillis Hill Farm respects tradition while changing with the times
By Kelly Twedell
Family businesses seem to thrive in Fayetteville and the Gillis family is proof of that. The farm brings a community together while honoring their ancestor's roots. The Gillis family's history in Fayetteville dates back to the early Scottish settlers in the late 1700s. Gillis descendants have lived and worked on the farm for the past 200 years.
The family farm began with trees, corn, soybeans, tobacco, cotton and the essential vegetables. Today agri-tourism is the key to supplementing the traditional farm income.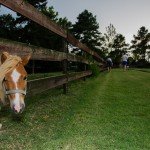 Self-guided tours are only $2 and each year in the fall busloads of school children come to tour behind the scenes of the farm, each taking home a pumpkin as a souvenir.
Andrew Gillis shared with CityView that the family expects to have a great corn harvest this year. He said though it's been hot, our area has had the rain to sustain the crop.
With Fayetteville's boundaries stretching towards surrounding counties, more people pass by the Gillis Hill Farm each day, often stopping by to enjoy some of the family's famous homemade ice cream.
Inside the timeless Ice Cream Shop, amongst the bright yellow walls, are the welcoming faces of Hannah Gillis and Marieke Gillis, both ready to serve up tasty homemade treats.
This past summer Andrew Gillis estimated that they made roughly 4,000 gallons of ice cream in the summer months alone. The original John Deere model ice cream maker is also on display.
Hannah Gillis, Andrew's sister-in-law, said that when strawberries are in season, the strawberry flavored ice cream is a top pick. But there is something for everyone, from peach to banana, mint chocolate chip, cookies and cream or the traditional vanilla and chocolate.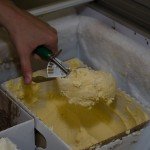 The ice cream shop will remain open through much of the fall and from September 3 through October 27 the hours on Thursday, Friday and Saturday are 1 — 8 p.m. Beginning in September, the family will offer pumpkin ice cream as we bid farewell to the long, hot days of summer.