BY: KIM HASTY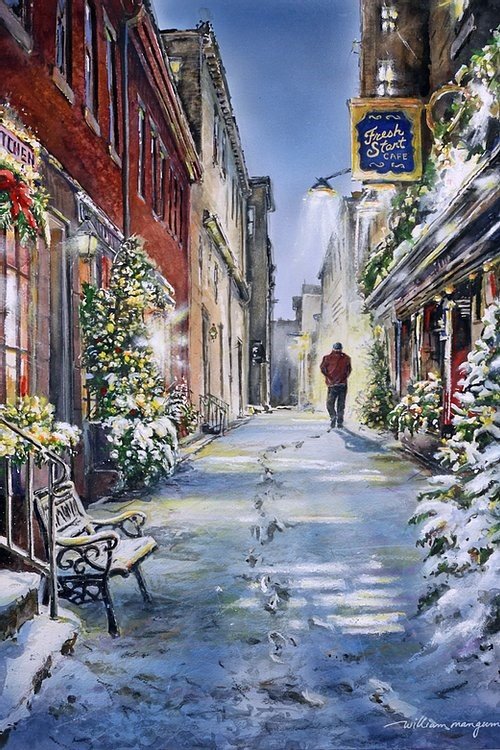 William Mangum's Honor Card Program, now in its 33rd year of helping the homeless and others in need, seems more relevant than ever in this year of unprecedented challenges.
Yet, Mangum's message has always been one of hope.
"No one could have ever imagined the impact of what the coronavirus has done to our lives and the world around us," Mangum said, regarding this year's Honor Card entitled "You're Gonna Be OK." "But every setback is also an opportunity to recover and a chance to become stronger."
Mangum, a North Carolina artist who lives in Greensboro, is a graduate of Fayetteville's Pine Forest High School. Fayetteville Urban Ministry is one of the organizations that benefit from his Honor Card Program, which has raised $8.5 million since Mangum created his first card in 1988.
Mangum was first inspired by his experience more than 30 years ago with a homeless man he befriended. Since then, the award-winning artist has created an annual painting that is reproduced on holiday cards that raise money for urban ministry organizations across the state. Mangum
The cards sell for $5, a price that has remained constant throughout the years of the program, and 100 percent of the donation goes to help others. Buy 25 cards and the cost decreases to $4 per card, or $100. The cards bear an inscription stating that a donation has been made to help those in need in the community in honor of the recipient. Expenses for the production of the card are underwritten by Mangum, an anonymous donor and the Wells Fargo Foundation.
You can order the cards through the Fayetteville Urban Ministry website or stop in the office near the corner of Whitfield Street and Camden Road. The cards are available now through January. Learn more at https://www.thehonorcard.com/