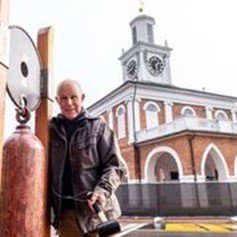 You may be aware of downtown's latest art – "The Unity Bell" at the corner of Hay and Green streets near the Market House. It is the work of John Shoneman of Efland, who is the father-in-law of Bianca Shoneman, president and chief executive officer of the nonprofit Cool Spring Downtown District.
"After first seeing John's work, I couldn't help but think about this turbulent past year and how it's attempted to divide our nation and our own community in many ways," Bianca Shoneman said. "We live in an area that's known for making significant history, going all the way back to when the delegates ratified the U.S. Constitution in downtown Fayetteville, not to mention all the history made by those who've answered the call and served at Fort Bragg over the past 100-plus years. If nothing else, my sincere hope is people will see this bell as a tangible symbol of that 'call to arms,' reminding us that, although we may be grieving and feeling divided at times, we're united in the belief that our diverse, resilient community can continue to overcome any challenge together. Quite simply put, that's why we're known as 'Can Do Carolina.'"
The 8-foot art of a gas cylinder, metal disks, chains and a steel gong is a collaboration of the Cool Springs Downtown District and the Arts Council of Fayetteville/Cumberland County. It will be here until the end of March and stands as testimony that unity is a clarion call incumbent upon all of us, no matter our political persuasions or the hue of our skin.
***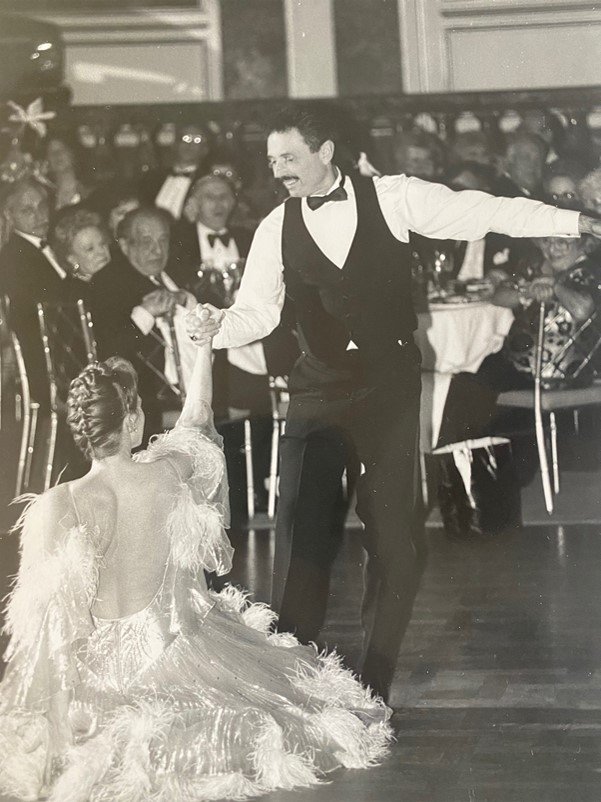 Eat, drink, be merry and dance the night away, Roland Bersch would want all of us to know rather than mourn his death.
Mr. Bersch co-founded Roland's Dance Studio more than 60 years ago and taught and trained the art of dance to all ages in this community from ballroom, the waltz, the foxtrot, the tango, the cha-cha, the rumba, the salsa, the East Coast swing, the West Coast swing, the shag, the hustle, the Lindy Hop and the two-step polka
"He started teaching ballroom dancing when he turned 23 in May of 1953," daughter Sunday Rochelle said. "He established Roland's Dance Studio here in Fayetteville with my mother in October of 1962. They had just won two big titles, both mambo and jitterbug champions. As soon as it's safe to have a big gathering, we plan to honor my father's wishes with a New Orleans-themed party with lots of good music and dancing. It's been a tough year. We look forward to the day we can have dad's big celebration."
Roland John Bersch Jr. was age 90 when he died of complications from COVID-19 on Jan.15.
***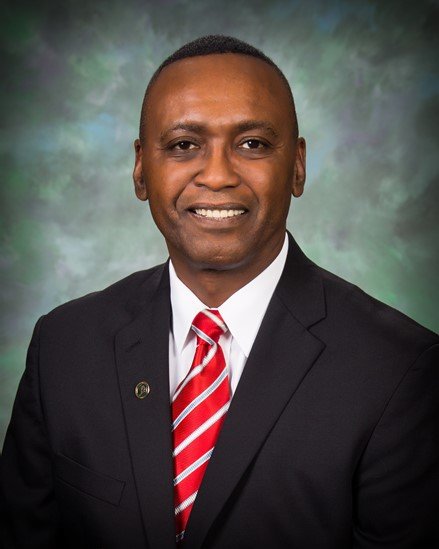 Charles Evans offered a warm smile on this chilly winter day. "This building is a transformation for our county," Evans, chairman of the Cumberland County Board of Commissioners, said on January 14 at an 11 a.m. groundbreaking for the Center for Medical Education & Research that will be home for the growing residency program and Neuroscience Institute adjacent to Cape Fear Valley Medical Center.
"The center for education will bring 900 new jobs and $500 million for the Cape Fear Region," Evans said about the $30 million facility. "I am excited to watch this building rise over the next 18 months, and thank you to Mike Nagowski and Cape Fear Valley Health for providing health care for everyone here in Cumberland County."
Others on hand for the groundbreaking were Dr. Donald Maharty, vice president of Medical Education at Cape Fear Valley Health; Dr. Charles Haworth, medical director of neurosurgery at Cape Fear Valley Health; Dr. J. Bradley Creed, president of Campbell University; Ryan Aul, president of the Cape Fear Valley Health Foundation; Sabrina Brooks; executive director of the Cape Fear Valley Health Foundation; Dr. Sandra Carr-Johnson, chairperson of the Cape Fear Valley Health Board of Trustees; Mike Nagowski, chief executive officer for Cape Fear Valley Health; John Szoka, representing Cumberland County District 45 in the N.C. Carolina House of Representatives; N.C. Rep. Billy Richardson; N.C. Sen. Kirk deViere; N.C. Sen. Jim Burgin; Joey Nelson, a liaison to U.S. Sen. Thom Tillis from North Carolina; county commissioners Glenn Adams and Michael Boose; Fayetteville City Council Mayor Pro Tem Kathy Jensen; and City Council members Courtney Banks-McLaughlin and Shakelya Ingram; and former Fayetteville Mayor Tony Chavonne, a member of the Capital Campaign Committee.
Bill Kirby Jr. can be reached at bkirby@cityviewnc.com, billkirby49@gmail.com or 910-624-1961