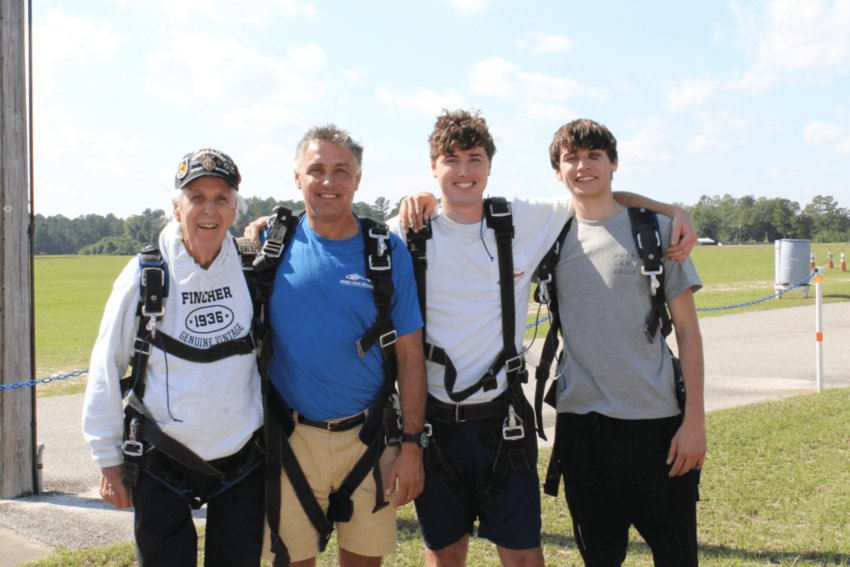 After a long and decorated military career in which he made over a thousand jumps, it was No. 1,126 that proved to be the most special of all for retired Army Lt. Col. Jerry Fincher. That's because this one came on Oct. 16 on the afternoon of his 85th birthday. And best of all, son Sean and grandsons Drew and Scott surprised him by jumping with him.
"It was a great jump and brought back a lot of memories," Fincher said. "It was such an experience to have three generations jump together."
It had been 44 years since Fincher's last jump in 1977. A Special Forces veteran who served in the 101st Airborne Division, the 82nd Airborne Division and the 5th Group, Fincher did three tours in Vietnam and was twice awarded the Purple Heart. His first Purple Heart came after a rocket attack sent fragments of shrapnel throughout his body, and the second came after a helicopter crash.
He lives in Eastover with his wife of 26 years, Sylvia, on New Frontier Ranch. Jerry built their home and all the buildings on the property after moving there in 1984. Until five years ago, he had Tennessee Walking Horses and beef cattle on the ranch.
Sylvia observed the jump at Skydive Paraclete XP in Raeford, along with their daughter-in-law Jennifer Fincher.
"My wife and daughter-in-law both talked about jumping too," Jerry said. "Maybe next year."