BY: TONY CHAVONNE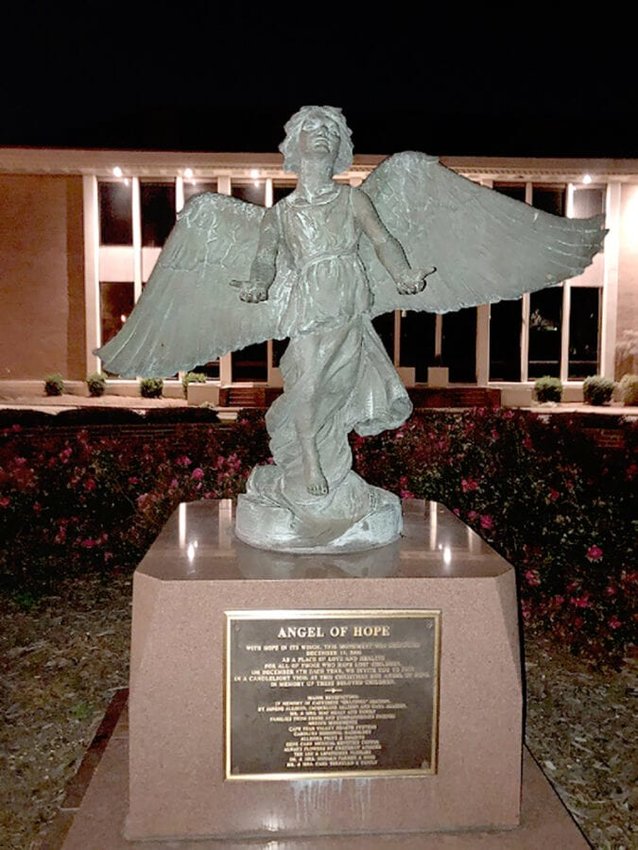 She is easy to miss in a quick drive by of downtown's Cross Creek Fountain. But there she stands, a childlike angel with upturned palms and outstretched wings, amidst the water spray from the fountain and under the watchful eye of the Marquis de Lafayette's bronze statue.
"The Christmas Box," a best-selling book and television movie by Richard Paul Evans, was the inspiration of Fayetteville's Angel of Hope statue.
In the story, elderly widow Mary Parkins mourns the death of her little daughter by making regular trips to the child's grave, which is marked with an angel statue – the Angel of Hope. The statue reflects a profound emotional connection between mother and child and helps convey important lessons about the true meaning of life to others. This gripping, spiritual story has brought hope to thousands of parents and family members who have endured the death of a child.
Evans originally wrote the story to help show his mother that he understood her grief in losing a child and to tell his own two daughters how much he loved them. But his book taught so much more as they discovered together the first gift and real meaning of family and the holidays.
Our children live in our hearts and lives forever. They live through us, and their lives touch many others through us. Parents need to feel hope that they will survive and move on, and that their children will never be forgotten.
It is never in the natural order of things for a child to die before the parents. There is often no opportunity to prepare or to even say goodbye. We are all challenged to know — to understand — where the spirit of this child has gone. Our basic beliefs about religion, about humanity and even about ourselves are challenged.
The first commemorative Angel of Hope statue matching the description of the statue in the book was placed in Salt Lake City in 1994. Since that time, over 125 Angels have been erected around the world. Our statue is the only one in North Carolina. In the 20 years since it was dedicated in Fayetteville, it has become known as a place of hope and healing for anyone who has suffered the loss of a child.
Each year on Dec. 6, our community comes together for a candlelight service at the Angel of Hope statue to share memories, dreams, hugs and tears. It is one time a year when we set aside the demands of the season for a few minutes to focus on healing and hope and shining a light on the ones we've lost.
In a solemn procession, each family member lays a white carnation on the base of the Angel of Hope statue in memory of their loss. For a few moments, the noise and drama of everyday life are set aside, and, in the quiet vista of a beautiful city park, we come together to remember.
If you look carefully, you will find the word "Hope" on the angel's right wing. The Angel of Hope Statue has become our city's symbol of hope - a place to reflect, a place of healing and a special place for people to grieve. May our angels' lights always shine. And may you never drive by the park the same way again.