By Bill Kirby Jr.
A criminal court summons charging Appeals Court judge John Tyson with assault with a deadly weapon has been dismissed.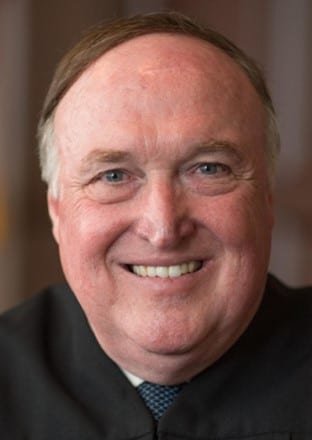 The summons was dismissed on June 11 by Charles A. Spahos, an independent prosecutor from Morehead City. Spahos represented an independent and impartial Conference of District Attorneys, according to a news release from Tyson's lawyer, after the Cumberland District Attorney's Office recused itself from hearing the case.
The summons was issued in May when a woman swore that Tyson almost hit her with his SUV near the Market House.
Spahos weighed the evidence of Warren's claim that the judge intentionally attempted to strike her and other activists with his SUV on May 7 and found "no credible evidence that a crime was committed."
'Rightful Dismissal'


"My client is pleased to hear of the rightful dismissal of the summons against him," lawyer David T. Courie said Monday in a news release. "False allegations should be dismissed. It is bad enough to be falsely charged and suffer a rush to judgment by some despite the evidence, but it need not be followed up by blind prosecution."
The Conference of District Attorneys, which represents prosecutors from across North Carolina, did a thorough investigation, according to Courie, interviewed witnesses and Fayetteville police, and found no evidence to proceed with prosecution.
"Ethical and objective prosecutors search for the truth," Courie said in a statement. "For that we are thankful. The local, state and nationwide smear of my client's good name and reputation is shocking in light of the clear and objective videos released to the public. The dismissal confirms his innocence and proved the allegation to be completely false. Now, Judge Tyson's accuser agrees 'that there was no evidence' to support (her) claim.
"All objective evidence shows my client was and is 100 percent innocent of the charge levied against him. This allegation was not for anything Judge Tyson actually did, but because of who he is. As the independent prosecutor stated in dismissing the false charge, 'The State finds no credible evidence that a crime was committed. The State finds that the witnesses listed herein told a story that the video evidence provided by city cameras does not support.' "
Courie described Tyson as an honored N.C. appellate court judge, respected attorney and successful businessman.
"Judge Tyson is forever thankful to the many people across Cumberland County and North Carolina, from all walks of life and points of view, who reviewed the objective evidence and extended love and support to his family," Courie said.
Epilogue
The dismissal document recorded in Cumberland County Superior Court says it all:
"The State obtained, reviewed and agreed to release six different city cameras that captured various aspect of the described event," the document says. "On 6/10/21, the State reviewed the recordings with Ms.Warren and her mother. After this review, Ms. Warren and her mother acknowledged that Ms.Warren was standing on the sidewalk, leaned up against the fence before, during and after Tyson's car passed by them. Tyson's vehicle never moved towards Mrs. Warren or any other protester present. They agreed that there was no evidence to support Ms. Warren's claim. The State finds no credible evidence that a crime was committed. The State finds that the witnesses listed herein told a story that video evidence provided by the city does not support. The video evidence clearly shows no interaction between Ms. Warren and Mrs. Tyson and no evidence of assault."
Bill Kirby Jr. can be reached at bkirby@cityviewnc.com, billkirby49@gmail.com or 910-624-1961