BY: BILL KIRBY JR.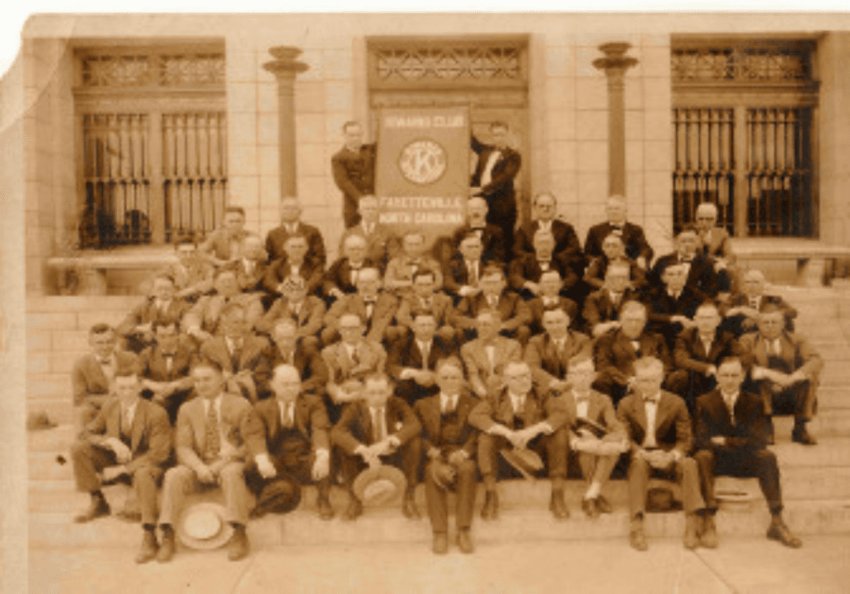 You won't find them gathered around the luncheon table each Friday afternoon for some idle chit-chat or to catch up on this and that, and then be on their way.
They are members of the Kiwanis Club of Fayetteville, with a pledge to carry on the mission of Kiwanis International, circa 1915, of "improving the world one child and one community at a time."
Chartered on Dec. 1, 1920, the club remains faithful to the mission of making a difference in young lives and making the community better.
"The club is a great asset to this community," Bruce Brown said, "and I am super proud to be a member."
As a former presiding officer of the club, Brown finds himself in distinguished company with former presidents, including community leaders from Danny Highsmith, John Malzone, Lee Warren and Talmadge Baggett to the late Charlie Rose III, Stacy Weaver, Brownie Schaefer and J.O. Tally, who became the Kiwanis International president.
Other longtime members include Glenn Jernigan, Bob Ervin, Norwood Bryan, Jim Ammons, Johnny Dawkins, Diane Parfitt and Diane and Gary Cooper, who currently serves as a trustee with Kiwanis International.
The club's history is rich. The club's history is time-honored. The club, today and yesterday, is rewarding for members.
"I joined the Kiwanis Club of Fayetteville in 1996," said current president George Turner. "This club maintains a commitment to serving the children of Cumberland County by the many programs we have. We are 175 members strong, and everyone works toward our common goal. Best of all, we all have a lot of fun. Our Friday meetings are well-attended, we have a caterer that cooks like your and my mama did, and this time we have together creates a lot of friends."
'Service Brings Its Own Reward'
On Nov.10, 1920, some 20 local businessmen gathered to hear about Kiwanis International and what a local club could mean to a community. Three months later, the Kiwanis Club of Fayetteville celebrated its Dec. 1, 1920, charter with more than 180 members in what a Fayetteville Observer headline described as "Kiwanis Club's Charter Night Most Elaborate in Entire History of City."
John A. Davis was elected president, and the board of directors of D.M. Varnedoe, Ben R. Huske Jr., C.B. Taylor, Dr. M.L. Smooth, J.S. Schenk, D.W. Currie and Claude Rankin, with a meeting staged in the American Red Cross tearoom downtown.
They adopted a club charter that mattered then and matters now.
"Kiwanis endeavors to inculcate and encourage among its members high ideals and business integrity," the charter read, "coupled with a spirit of generosity and unselfishness in service for the common good with the realization 'that service brings its own reward' and a true man lives not for himself alone."
The charter resonates with Worth Smith, the club's president-elect.
"That's one of the things I love about Kiwanis," Smith said. "There are a lot of good, 'true' men and women living for more than just themselves."
The club has lived up to its charter, from helping local needy families in 1923, with Christmas boxes to supporting clinics for infants at the old Massey Hill Babies Clinic at the corner of Southern Avenue to supporting a fundraising drive for a downtown YMCA and supporting schoolchildren throughout the city.
Member Testimonials Service to the community is without boundaries.
"I think two things account for the club's longevity and for the members who remain so faithful to it over such long periods" said Hal Broadfoot Jr., a past president, and a former Key Club member at Terry Sanford High School. "First, the meetings are fun. The irreverent, sly and sometimes silly humor of the members keeps everybody's ego in check, and it makes the meetings a 'don't miss' event every week. Second, the club does so much good work in the community.
"Whether you want to help teach high school students to be good, service-oriented citizens and community leaders or you want to foster reading in preschoolers, the Kiwanis Club offers you those opportunities and a dozen more service projects.
"Altogether, I've had some connection to the Kiwanis Club of Fayetteville for more than 40 years," Broadfoot said. "Amazingly, there are members whose actual membership approaches 60 years, and some of those members have decades of perfect attendance.
It introduced me to Kiwanians who were city leaders who would become my lifelong friends.
Many of my fellow Key Clubbers are now community leaders. We take pride in being a part of such a group." Jim Ammons joined the club in 1991.
"I wanted to give back to my community, and I wanted to belong to a group that had fun, did good things for Fayetteville and had a reputation that the public trusted," he said.
"I believe that the simple fact of the club's longevity has made us successful. When the public hears that the Fayetteville Kiwanis Club is involved in a project, they know it is a worthwhile project and a legitimate cause that they should support. When you look at the names that are on our awards cups over the past 100 years, you see the names of men and women who gave their time, talents and treasure to make Fayetteville and Cumberland County a better place for everyone. These people have inspired me for more than 30 years to do more for my community. I am very proud of the work we do as Kiwanians."
Young People Foremost Youth was important to the club 100 years ago, and young people remain today paramount in the life of the club.
Programs and projects include establishment of Key Clubs in Cumberland County high schools to encourage students to volunteer and give back to the community; Talent Night for students of all ages at the Cape Fear Regional Theatre; Terrific Kids to recognize and reward students for academic achievement; and Reading Is Fun, a literacy initiative that reached 1,800 Cumberland County elementary students in 2019 alone.
Reading to students is dear to George Turner's heart.
"One memory for me came very early on, when I was part of the Reading is Fun committee," Turner said. "This committee takes books to the elementary schools. We read to the children and give them a copy of the book to keep. At one of my first readings, I had a young girl who came up and sat on my lap while we read the book. When we were done, she asked me if I would be her grandpa. You can imagine how that feels. I still get emotional thinking about that." Bruce Brown will tell you as much, and Brown has been reading books to Elizabeth Robertson's Head Start class at Mary McArthur Elementary School for 15 years.
"Reading Is Fun allows me to read to Ms. Robertson's class once in the fall and two more times following Christmas," said Brown, a club member for 25 years. "And each child gets a book to keep as their very own each time I read."
COVID-19 has put a damper on the Reading is Fun project, and Brown can't wait until he can read again to the students and also take part in the Terrific Kids program that offers teachers an opportunity to recognize and motivate students with gift cards and other rewards, and a bicycle give-a-way at each school at the academic year's end.
Diane Parfitt is chairwoman of the Terrific Kids program, and the bike give-a-way is something she always enjoys.
"Truly a wonderful experience," says Parfitt, a club member since 2010. "For me, the greatest joy of being a member of Kiwanis is the work I do with the children through Terrific Kids and Reading is Fun. As a retired pediatric nurse, mother of two and now grandmother of two young children, I'm in heaven. I love reading to these children who are just sponges for learning. They are enthusiastic and loving, and it is a total joy."
The club's commitment to the public schools is not lost on educators.
"They are a community leader, and being involved in the school system means a lot," says Donna Vann, a member of the Cumberland County Schools Board of Education. "It makes a big difference. And what is better than having a reading program? They make a difference in being a community leader."
Other projects include Young Farmer of the Year and induction in to the Cumberland County Agriculture Hall of Fame; Iodine Deficiency Disorder; Maternal and Neonatal Tetanus; the Hope For Kids Golf Tournament; a Reverse Car Raffle; support for the Child Advocacy Center; support for the Salvation Army; and the Kiwanis Club of Fayetteville Endowment Fund through the Cumberland Community Foundation.
Epilogue
John A. Davis, D.M. Varnedoe, Ben R. Huske Jr., C.B. Taylor, Dr. M.L. Smooth, J.S. Schenk, D.W. Currie and Claude Rankin were among those 180 civic leaders who made a pledge to make a difference in their community no matter the call – a pledge still honored today by members such as Hal Broadfoot, Jim Ammons, Norwood Bryan, Bruce Brown, Diane Parfitt, Johnny Dawkins, Bob Irvin, John Malzone, Worth Smith, George Turner and Debbie and Gary Cooper.
"The friendships that have developed with our members through the service we provide to the children in our community is incredible," said Gary Cooper, a trustee with Kiwanis International. "There is nothing more satisfying than working on a service project with your fellow Kiwanian knowing that what you are doing will 'make a difference' in the lives of children.
Kiwanis is all about serving the children, particularly the ones that are less fortunate.
"I read something years ago that has stuck with me in my years as a Kiwanian. It is very appropriate as we celebrate our 100 years of serving the children.
"A hundred years from now, it will not matter what our bank account was, the kind of house we lived in or the kind of car we drove," Cooper said. "But the world may be different because we were important in the life of a child."
You won't find them gathered around the luncheon table each Friday afternoon at Honeycutt Recreation Center for some idle chit-chat or just to catch up on this and that and then being on their way. No, these Kiwanians will tell you they are working toward "improving the world one child and
one community at a time."
Contact Bill Kirby Jr. at bkirby@cityviewnc.com or 910-624-1961.
Read more of his columns in our weekly Insider Newsletter. Subscribe at cityviewnc.com or text CityView to 22999.