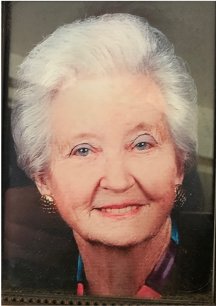 Hard for me to wrap my head around this week, particularly come Saturday.
The best of me, and the best I ever hope to be, had Marian McMillan Kirby lived, would have turned 100 on April 10.
How I wish I could hug her neck just one more time, not only on Saturday, but any hour of every day.
She was "Mama."
She made me who I am.
She made me what I am.
She taught me the skill of how to put pen to paper and keys to the screen monitor. How to reach out to those who were in need and broken down. How to stand for right from wrong. And how to write from the heart, or the written word would be without worth.
"Why," she would ask from her hospital bed in the last of her days, "are you so faithful?"
There was a moment of silence between a son and a mother.
But just a moment.
"Because," I would tell my Mama, "I love you."
From the time I was a kid, I was crazy about her and devoted my life to wanting to please her and make her proud of her only child.
Seems like wherever Mama was, I was on her heels. There are memories of trips downtown, where Mama would have her Saturday hair appointments, and she would drop me off at the old Broadway Theater to watch the westerns with Randolph Scott, Joel McCrea and William Boyd of Hopalong Cassidy fame.
There were shopping trips in the fall to Belk downtown, where Mrs. Long outfitted me for school. And not to forget forever stops at the old Hamont Grill for a hamburger steak, a slice of Mrs. Graham's homemade cherry pie and a glass of cold milk, and where Pete Skenteris always gave me a pack of Juicy Fruit chewing gum. And how could I ever forget a Mother's Day Sunday with Mama on the fifth pew from the back at Highland Presbyterian Church or taking communion with Mama.
Mama was a dental assistant on Fort Bragg for 35 years, and the hours were long and hard on her legs and feet and her back. I always loved it when Mama would come home from Fort Bragg, dressed in her white uniform with the scent of Dentyne and cloves. She came to know generals and colonels and captains in the dentistry field, but for Mama, they were no more important than a young buck private assigned to swab the floors. They came to love Mama, too, and she stayed in touch with all of 'em throughout their post Army dental careers and their family lives.
And when my newspaper career came along, Mama took such pride in knowing I would work with Ramon Yarborough as my publisher.
"You will never work for a better man than Ramon Yarborough," she would say, and was Mama ever right. "You will never go wrong."
When Mama died on December 17, 2009, Ramon Yarborough delivered her eulogy and led her coffin out of Highland Presbyterian Church.
She would have been so proud.
Life Along Arlington
Mama spent her retirement years in the red, scratch-brick home (circa 1956) with the white shutters and awnings along Arlington Avenue, where she loved spring when her yard full of azaleas of white and pink and purple and orange bloomed and gave her such joy.
Nor to forget the canines she nurtured over the years, and how they loved Mama, too.
"When I die, Mrs. Kirby, I hope I come back as a dog," Berry Bostic, the veterinarian, once told Mama, "so I can live with you and you can take care of me."
Mama had a tender heart for animals.
Osteoporosis plagued Mama's later years.
"Getting old isn't for sissies," she always would remind.
But age never compromised her sense of humor or her interest in the lives of other people in this community.
"Mama, you should be the news reporter," often I would say. "You see people and want to know all about them Where they grew up. Who their parents were. Who their grandparents were. All about their kids and all about their lives."
She loved writing her cards and letters from this, her cherry-secretary desk that looks over her azaleas. She wrote on the back of the cards, and when Mama forgot something she wanted to say, she wrote along the margins.
Epilogue
I am thinking all the more of Mama this day as her 100th birthday nears. I can see her still – how youthful she looked when she put on her plaid blouse, her earrings and her makeup. She was sporty. And still, I can hear that lilt in her laugh.
She was "Mama."
She made me who I am.
She made me what I am.
Bill Kirby Jr. was blessed to be the son of Marian McNeill McMillan Kirby, and I am honored for all of you to know that Marian McNeill McMillan Kirby was and always will be his mother come Saturday on her 100th birthday.
I am a son always in her debt.
I am a son who forever will be, because of the mother she was throughout my life.
Bill Kirby Jr. can be reached at bkirby@cityviewnc.com, billkirby49@gmail.com or 910-624-1961