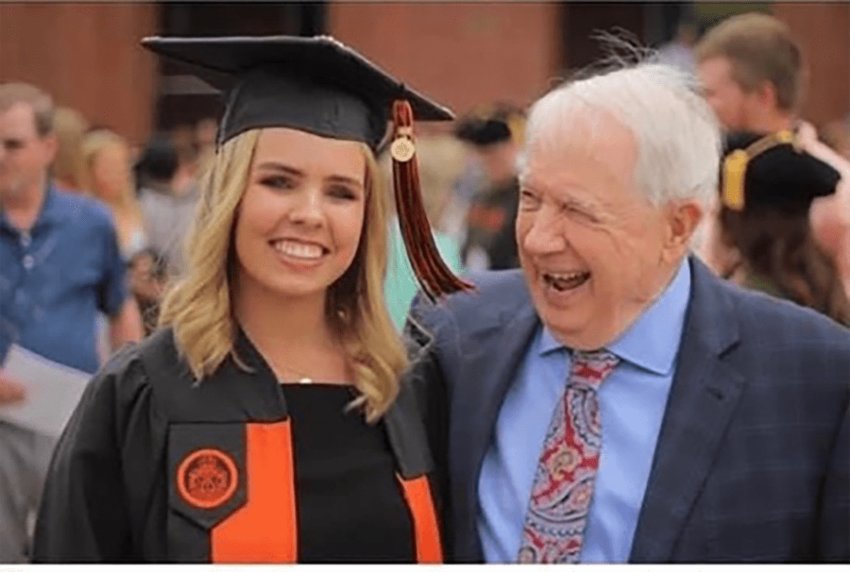 If you were struggling along life's way, those who knew him well will tell you, Ritchie Smith was someone you could count on, whatever your troubles. He was just that way.
"Relationships mattered to Ritchie," the Rev. David Blackman reminded family members on Oct. 3 at LaFayette Memorial Park as they came to remember a husband, father, stepfather, grandfather and great-grandfather. "He was always about the other person."
Ritchie Smith was born to Wilbur and Betty Gaskins Smith on Nov. 20, 1934, in Jacksonville, Florida, and you might say Ritchie Smith inherited his caring and goodnatured ways for others from his father. Wilbur Smith managed the old Sears & Roebuck from 1942 to 1965, when the department store stood tall along Hay Street downtown.

Ritchie Smith graduated from the University of North Carolina in 1956 and, in 1958, from the North Carolina School of Law at Chapel Hill. He would practice law in this city from 1959 to 2005, including a time as the city solicitor in the 1960s, before becoming a founding partner in 1973 of what would come to be known as the Smith, Dickey and Dempster law firm.

"Ritchie hired me to practice with him in 1978," Pitt Dickey said. "I spent almost 40 years practicing law with Ritchie. Every day was a real experience. Ritchie had an even stranger sense of humor than I do, so we got along great. As best I can remember, we never had an argument during our partnership.

"Ritchie was extremely generous. He had a condo in Chapel Hill that he frequently lent to people who had family members in UNC Memorial Hospitals, giving them a free safe haven during difficult times. He genuinely cared about his family, clients and the Tar Heel basketball team.

"He was one of the good guys," Dickey said. "I will always be grateful to him for hiring me. He will be missed."

And when it came to jurisprudence, Ritchie Smith earned respect from others in the legal profession. He once served as president of the Cumberland County Bar Association and served as a representative with the North Carolina State Bar.

FAMILY FIRST
But nothing for Ritchie Smith was more important than his family.

Smith was so family-centered, and son Allen said it was a wonder he was able to make a living, as there were so many times the phone would ring and Ritchie Smith would say, "I am with my family, and I can't talk right now.'"
Ritchie Smith couldn't spend enough hours in a day with his family, and particularly his children and later his grandchildren.

"He never missed a game or event when it came to his children," the preacher said. "He loved watching and supporting them."
If Smith wasn't with his family, you would find him with members of the Kiwanis Club of Fayetteville.
Ritchie Smith wasn't pretentious. He had a self-deprecating humor, and he could laugh at himself. Smith was a familiar face in the congregation of Hay Street United Methodist Church, where he was not only remembered by the Rev. Blackman, but by former pastor John Tyson, now senior minister at Haymount United Methodist Church.

"A prince of a fellow," Tyson said. "He was smart, sharp, gentle and kind."

And, the Rev. Blackman said, a reflection of God's righteousness. "That certainly played out in his love for people and his love for relationships," Blackman said. "Fortunately, Ritchie understood the value of receiving God's goodness and passing that goodness on to so many others, thinking more of his neighbors and a little less of himself."

'How thankful I am'
Wilbur Ritchie Smith Jr. was diagnosed with COVID-19 in September.
He died at age 85 on Sept. 27 at Forsyth Medical Center in Winston-Salem.

"The strength within Ritchie carried him right to the end of his earthly journey, where he lived out his final days the same way he lived his entire life – faithfully and fully," Blackman said. "God provided the blessing of being placed in a room with windows so that he could be with his family, so that he
could see them and so that he could share his goodbyes with them."

He didn't dwell on the perils of the coronavirus.

Instead, he counted his blessings. Ritchie Smith would assure the preacher that all was well with his soul, and no, there were "no regrets" along his life's way. "Not a one," Ritchie Smith would say. "I have lived a blessed and good life, surrounded by loving family and friends. How can there be any regrets?"
Smith would spend his last day reminding his family of the pride he took in all of them. "He was everybody's biggest cheerleader," says Allen Smith, who followed his father into the law practice. "His last words to every child was how much he loved us, how much they had done and how proud he was of us. And what I will miss most is his unconditional love."

EPILOGUE

The preacher would take pause at the graveside service, and with apology. "So, Ritchie, although I was unsuccessful in finding a way to incorporate one of your favorite songs, 'Sweet Georgia Brown,' I believe we can close out with this one," Blackman said. "It was originally a 19th century Protestant hymn, and has become the anthem of New Orleans, carrying a theme of redemption and salvation."

Oh, when the saints go marching in
When the saints go marching in
Oh, Lord I want to be in that number
When the saints go marching in

"Everybody loved Ritchie in the community," the Rev. Blackman would say, "and he simply and unashamedly loved people."
Bill Kirby Jr. can be reached at bkirby@cityviewnc.com or 910-624-1961.

Read more of Bill Kirby Jr. in our Insider Newsletter. Subscribe at cityviewnc.com or text CityView to 22999.