By: Claire Mullen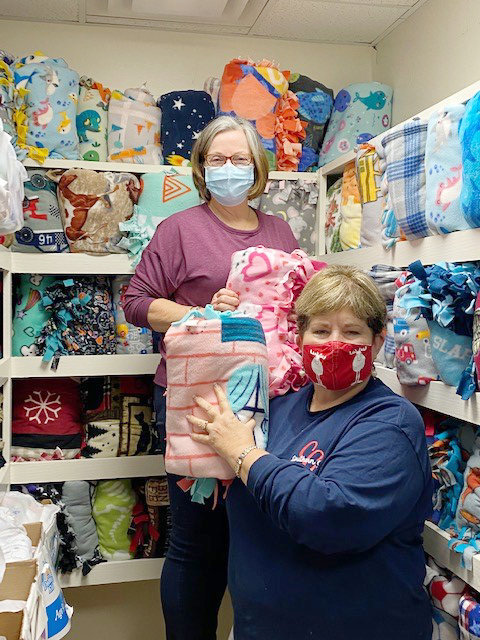 For far too many children in our community, a blanket, made quite simply from two rectangles of colorful fleece, stacked atop one another, fringed around the edges with scissors, and knotted together to bind them, is the most comforting thing they've been given in a long time. The blanket, to these particular children, is far more than just a way to keep warm on a cold February day. For those who have endured horrible things in their young lives, these blankets represent an act of real, unconditional love by someone who cares especially for them.

You see, the recipients of these blankets have been given them by a Victim Family Advocate following a forensic interview at the Child Advocacy Center of Cumberland County. This interview is conducted as part of an investigation into allegations of physical and/or sexual child abuse, and entails a specialist asking these children, in the gentlest way possible, very difficult questions about painful and scary things that have happened to them. At the conclusion of the interview, each child is handed a cozy, inviting blanket of their very own, hand-selected by a CAC staff member with the child's specific age and interests in mind. The child is told that someone in their community made the blanket specifically for them, and that the person who crafted their blanket cares about and believes in them. And the thought of that, to each and every child who walks out the door of the Child Advocacy Center, must feel just as warm as the special new blanket they're carrying home.

Faith Boehmer, the CAC's Prevention and Volunteer Coordinator, says of the blankets, "They are a tangible way to let a child feel comforted and loved in the midst of horrible circumstances. We have called the blankets 'Comfort Blankets' intentionally. These no-sew blankets become an item that a child can hold onto, snuggle up to and feel comforted by the very texture of it."

The Child Advocacy Center of Cumberland County on Rowan Street has been in operation since 1993. The organization exists to provide a safe, child-friendly hub, where 19 partner agencies can come together in one location to interview and offer support for abused children and their families.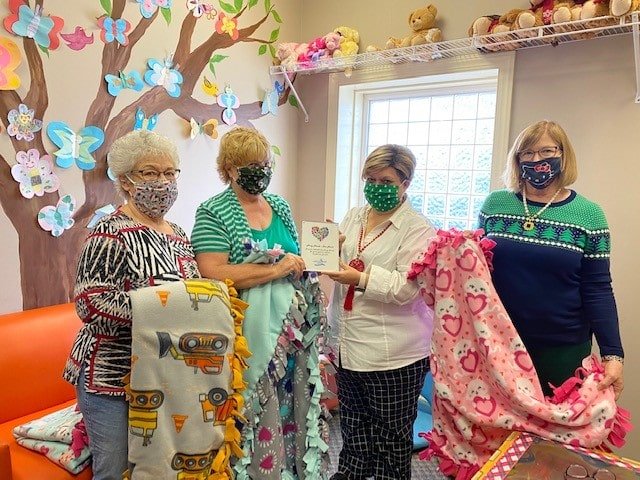 Prior to the Center's existence, victims were required to go from agency to agency, recounting the details of their abuse many times over. The Child Advocacy Center streamlines this process, allowing for a single forensic interview with a highly trained specialist in a warm, non-threatening environment. In the event that more information is needed following the initial interview, the child will meet with the same familiar interviewer.

The CAC assigns each child a Victim Family Advocate who assists with organizing every aspect of the victim's care, to include medical exams, mental health counseling and daily life needs. Every child's case is reviewed at the CAC by a multidisciplinary team composed of representatives from partner agencies including Cumberland County police departments, Child Protective Services, the District Attorney's Office, surrounding school systems, the Special Victim's Unit of the Sheriff's office and the Rape Crisis Center.
Each of these agencies is invaluable in the pursuit of justice and recovery for child abuse victims, and when they are able to come together as a team at the Child Advocacy Center, these goals can be achieved faster and more efficiently. And, because the CAC's services are funded through donations, grants, endowment funds and local fundraising activities, they are available at no cost to the children and families.
While the full-time staff and specialists of the CAC work tirelessly to advocate for the children who come through their doors (872 in the fiscal year 2019-2020, to be exact), contributing to the Comfort Blanket Ministry is a tangible way that community volunteers can step in to help. As word of the need for Comfort Blankets has spread, various groups have become regular contributors. Boehmer names churches Lafayette Baptist, St. James
Lutheran, and Berean Baptist as some of her largest and most faithful blanket donors.

During the CAC's "Blanket Frenzy" event in November, which ran in conjunction with its 19 Days of Child Abuse Prevention campaign, 11 groups and individuals participated, contributing a total of 267 comfort blankets.
While St. James Lutheran Church, with its whopping 100-blanket donation, was formally recognized as the winner of the "Blanket Frenzy," church member volunteer and blanket making dynamo Marcia Katt is quick to direct attention back to the heart of the cause. "For us, it isn't a contest. The real winners are the children who receive the blankets."
It must be a heartwarming feeling for staff members who know the stories of the children of the Child Advocacy Center firsthand to open the door of the Comfort Blanket storage closet and see the shelves stocked with neatly folded stacks of blankets, all handmade and organized by good-hearted volunteers. An adorable printed fleece emblazoned with kittens holding pink hearts for a sweet young girl. A yellow and gray construction-vehicle-themed blanket sure to make a truck-loving little boy very happy. A trendy aqua, hot pink, and purple pattern perfect for a more mature teenager. An understated blue-and-white plaid fabric for an often-unthought-of young man. Blankets for children who deserve the solace that they will provide, and so much more.

Perhaps you could lovingly select two coordinating swatches of fleece, tie them together with your hands to form a blanket, and all the while, pray that the child who receives it will go on to live a life of happiness and, yes, comfort.

Visit www.childadvocacycenter.com for more information about the Child Advocacy Center and other ways you can help, as well as instructions for Comfort Blanket assembly. Claire Mullen can be reached at clairejlmullen@gmail.com.