By Janet Gibson
Photos by Cindy Burnham and Matthew Wonderly

There are times in our lives when we feel a palpable energy that something wonderful is about to happen. Memories are waiting to be made. And, no matter the surreal circumstances, all of us will be better for the experience.

Like a stage play coming to life – with twists and turns, a bit of improv, pure heart and soul – we immerse ourselves into the production that is Bo Thorp's Birthday Parade.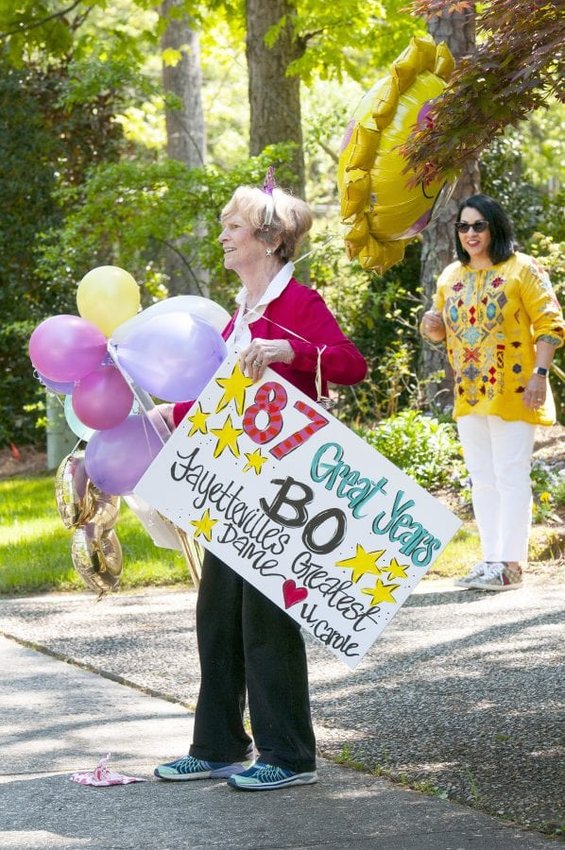 Bo Thorp holds a sign that longtime friend Carole Goforth made for her during a surprise drive-by birthday parade in honor of Bo's 87th birthday on April 11. Another longtime friend, Darlene Ransom, who spearheaded the event, looks on. Photo by Cindy Burnham©[/caption]
Act 1: The Gathering

Darlene Ransom, dressed in colorful apparel and a smile, grabs a megaphone to direct the crowd that she has secretly summoned to her home on Summertime Road. The time: 12:45 p.m. Saturday, April 11, aka the day before Easter and also the eve of Bo Thorp's 87th birthday.

Bo, of course, is the iconic founding artistic director of Cape Fear Regional Theatre and an actress of great renown in these parts. Bo also is Darlene's friend, neighbor and mentor – her collaborator in bringing to fruition Darlene's vision for "lumBEES: Women of the Dark Water," a story about her people, in 2019 at CFRT.

Somehow, that seems so long ago. Probably no one could have written the story of today. With an invisible villain in our midst, the coronavirus, Bo, like so many of us, has been "sheltered in place" at home.

How could we have imagined this thing called social distancing and a decree to stand 6 feet apart? Even brief hugs are verboten? Wear a mask and there's no masquerade party? Stare into windows to say howdy and not be accused of peeping?

But maybe there are ways to work around a pandemic. Theater folk are industrious that way. A birthday is still a birthday.

Among the first to arrive – in a truck decorated with a handmade sign calling for "Bo 4 President" – is Deborah Martin Mintz, her husband, Lawrence "Larry" DiLucchio, and their rescue dog, Cayley.

Deborah, the retired executive director of the Arts Council of Fayetteville/Cumberland County, goes way back with Bo – to the early 1980s, when she first arrived in town as a young actress. She ended up working various key positions at the theater and acted in numerous productions. "She is an amazing woman," Deborah says of Bo. "I am only one of the many, many people she and Herbert (Bo's late husband) have touched, helped, fixed. I love her." 

Lauren and David Allred, decades-long supporters of the theater, also are here – in a decorated SUV. Lauren, a stalwart member of CFRT's board, says it's a good thing she was a teacher. Paper, scissors, markers and imagination were readily available to craft a birthday sign at home.

Also on hand, after driving all the way from Robeson and Hoke counties, are several of the theatrical "BEES," Lumbee women who have taken Bo under their wings and adore her like a spiritual sister.
(Scroll down for rest of the story)


Act 2: The Procession

All told, about 20 vehicles line up for the "drive-by" celebration. They are led by Darlene's husband, Mike, in a big, black Chevy Silverado, festooned with a "Happy Birthday" banner and balloons of Easter pastel colors.


.
Over the next few minutes, with horns honking, the vehicles slowly make their way down Summertime, wind left and then right on Skye Drive and proceed to Bo's home.

We see smiles. We hear laughter.

Among those waving from their Suburban are photographer Cindy Burnham and her husband, videographer Rick Allen, who is beginning his own birthday celebration on this day by honoring Bo. In tow is the couple's Golden Retriever rescue, Sir Edward Thatcher – grinning from ear-to-ear.

It's a modern-day Norman Rockwell painting come to life.

Act 3: The Grand Finale

Bo is waiting in her driveway, thanks to Darlene, who persuaded her friend to go outside under the pretense of taking her to see a large cross fashioned from flowers at a local church.

An expression of "What's going on?" quickly turns to sheer awe as the action unfolds.

One by one, the vehicles drive by, windows rolled down, to shout out birthday salutations. By this time, Bo is also holding gifts of large Mylar balloons in an "8" and a "7" and a birthday sign half as big as her petite frame.

Neighbors Tiffany and Andrew Pennink join the parade, on bicycles and pulling a child carrier containing young son Brooks and daughter Stella.

Dr. Jo Ann Chavis Lowery – a retired educator and counselor, artist and singer – is wearing one of the Native American-print masks that she sews for healthcare professionals. She also is holding a small gift bag for Bo that she manages to deliver while still maintaining an arm's length.

Carole Goforth, who has served on the CFRT Board for some 35 years, comes running with a large smiley-face balloon and an oversized homemade card.

Mary Kate Burke, CFRT artistic director, is waiting in the wings – to deliver a bouquet of Bo's favorite yellow roses.

The crowd, while respecting the social distancing edict, bursts into song, wishing Bo a "Happy Birthday," as she offers back "air hugs" and jokes, "Y'all must not have had anything else to do today."

A few seconds pass by, as another voice – gospel singer Sherry Carter – fills the air, and the crowd joins in:

"Amazing Grace, how sweet the sound
That saved a wretch like me
I once was lost, but now am found
T'was blind but now I see …
"Through many dangers, toils and snares
We have already come.
T'was grace that brought us safe thus far
And grace will lead us home."

And so it goes. Not a dry eye in the crowd. Good thing several people were wearing masks. But we can see emotion in the eyes. A grand celebration for the Grande Dame of Fayetteville Theater. In a pandemic – amid the stillness of a neighborhood street with dramatically blue skies overhead and sunshine filtering through the towering pines and oaks and flowering dogwoods. "God set the stage," says Darlene.

"It was like we were in heaven," Bo marvels, "the skies were so blue."

She adds in inimitable Bo style, "I thought getting older was supposed to be a bad thing, but everything about this is good."