By Kathryn Kelly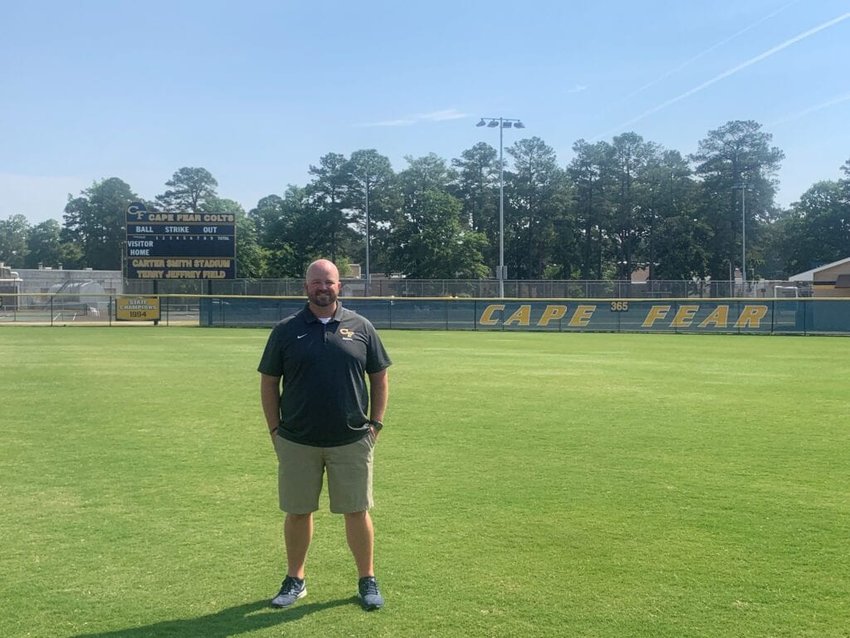 For Cape Fear baseball coach Jarrod Britt, staying connected to the baseball community has taken on a whole new meaning. What started as a creative outlet – something to pass the time while teachers occupied empty buildings during online learning – has turned into a large following on the video-sharing app TikTok.
Britt has been the head baseball coach at Cape Fear for two years and previously coached baseball, among other sports, at Pine Forest High School. He has been both a coach and teacher for 12 years, teaching American History, Civics & Economics and AP Government. He thinks his experiences in coaching and teaching helped him gain his social media following.
At the time of this writing, Britt (@coachbritt86) on TikTok has 122,400 followers. He started his TikTok in June of 2020 and has since noticed a swarm of users all over the country fascinated by his job, his interests and his wisdom when it comes to baseball and life.
"I really started to notice growth and engagement when people began commenting and messaging me questions about teaching or baseball," Britt said. "Then I realized I had something to offer, and people were enjoying it."
Britt also posts content related to his love of cooking, his family and his favorite things to do when he's not in the classroom or on the field.
Besides his thriving TikTok career, Britt also boasts a successful season and an outstanding team of athletes. Their current record is 9-1. After a year of inconsistent interaction and missed opportunities for connection, he's still found a way to keep his team close and motivated.
"These kids are successful because they're grateful," said Britt. After a prematurely cut 2020 season and unprecedented circumstances for schooling, these students are more thankful than ever to be on the field and to have a coach who supports them and shows them off to the world.
To wind down from practice or to celebrate a big win, Britt will round up his team for a TikTok, a practice that has become a habit and warranted many an "Is this going in a TikTok, coach?" inquiry from his players.
Whether through a 60-second video or a three-hour baseball game, Jarrod Britt's ability to make a connection is a home run.