Folks who can tell you just about everything when it comes to the Massey Hill community like to do something called noodling.
They do a lot of noodling early in the morning.
Noodling is where you get something on your mind and figure out the best way to bring a thought to fruition.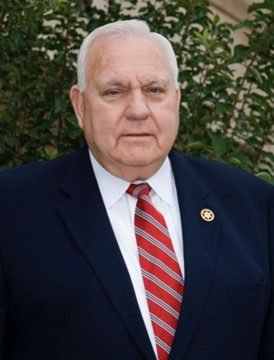 Say hello to Larry Chason.
"I woke up one morning with it on my mind," Chason says about just how he would go about renaming Princeton Street in Massey Hill for retired Cumberland County sheriff Earl "Moose" Butler.
He petitioned the county planning board, and then his request went before the Fayetteville City Council for final disposition.
Tuesday morning, city and county officials were on hand for unveiling of Moose Butler Lane right there beside Massey Hill Baptist Church.
"I've put a lot of time on that street going to church there," Butler, 84, was saying before the unveiling. "About 59 years of my life has been in that church. It's a big part of my life. I've been a deacon for most of my active service membership there, served on the board of trustees and taught Sunday School there."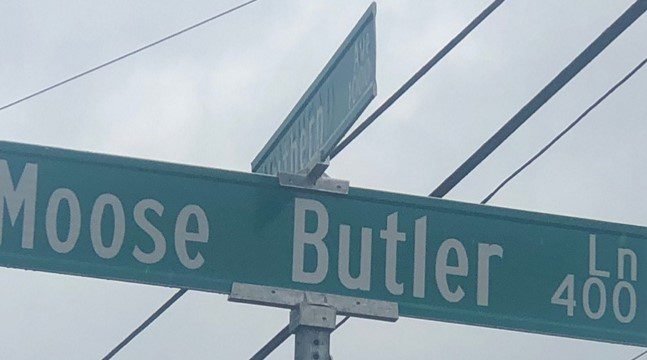 He married Julia Sherrill, his Massey Hill High School sweetheart, in the church on July 21, 1962.
There's nothing Earl "Moose" Butler can't tell you about Massey Hill, the mill community where the looms spun hard in the 1930s, the 1940s, the 1950s and the early 1960s from Tolar-Hart to Poe's Bottom to Lakedale.
He graduated from Massey Hill High School in 1956, where he was a gifted football player under Coach Young Howard. He earned an athletic scholarship to the University of North Carolina at Chapel Hill and played tackle for the Tar Heels and Coach Jim Tatum.
He was drafted by the Pittsburgh Steelers of the National Football League, but eventually returned to Cumberland County to work as a probation officer and in 1994 was elected the county sheriff, a post he would hold for 22 years until Dec. 31, 2017.
But always at his core was Massey Hill Baptist Church.
"I felt like Moose has contributed so much to our county and community," Chason said. "And he has been a faithful member of Massey Hill Baptist Church just about all of his life. He has just been a servant, and I felt this would be something his family, the county and the community could cherish. He grew up in the ranks of Massey Hill and it's a great tribute."
No argument from Fayetteville mayor Mitch Colvin, Mayor Pro Tem Kathy Keefe Jensen or council members Shakeyla Ingram, D.J. Haire, Chris Davis, Larry Wright, Courtney Banks-McLaughlin and Yvonne Kinston in giving unanimous approval.
Earl "Moose" Butler is humble that a city street will carry his name, but all the more proud that it's a street by Massey Hill Baptist Church.
"We still have a pretty good crowd of people," he says. "And Rev. Tim Evans and his wife, Amy, do a great job there. Julia and me are active there on Sunday and Wednesday" or whenever there is call. "We love our church, have been supportive and we enjoy it. I've always said that, 'To make a friend, you've got to be friend.' I'm in good health and I've had a good life, been blessed and blessed with good friends."
Bill Kirby Jr. can be reached at bkirby@cityviewnc.com, billkirby49@gmail.com or 910-624-1961