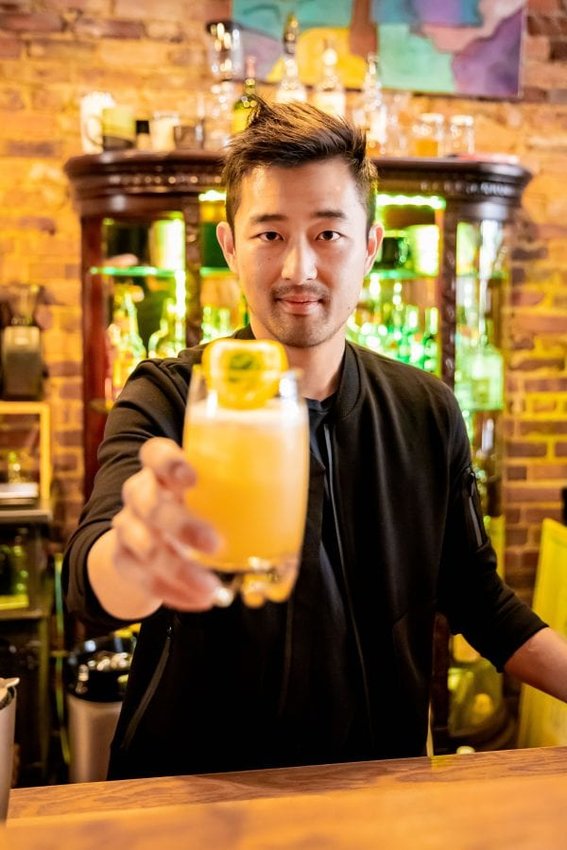 By Kim Hasty
The unique craft cocktails are on hold for now. So is the opportunity to come in and cozy up with friends. The coronavirus and the need for social distancing precludes those for now.
But at Winterbloom Tea, there is still the trademark friendly vibe and the offer of a cup of comfort. Stop by or call in an order and Josh Choi, along with assistants Annie Patrick and Ariel Matthews, will get busy concocting something special for you.
Choi, who has been steeping soothing cups of lavender Earl Grey, jasmine mint and myriad other tea varieties, as well as coffee, since he opened his business in 2016, is one of our many local business owners making adjustments to cope in these uncertain times.
And he has just the right homeopathic prescription for you at 238 Hay Street. Anyone for a cup of Get Well?
"Echinacea is the star in that show," Choi said. "And there's ginger, peppermint and licorice root to soothe your throat. And then if we still need something to get us going, there's yerba mate."
Billed as having properties that foster happiness and that can even serve as an appetite suppressant, yerba mate is a traditional caffeinated drink brewed from the dried leaves of an evergreen holly.
It's no surprise that Choi, like other enterprising types, is adept at thinking on his feet and coming up with creative ideas. He's the one, after all, who decided to create tea-based cocktails to add to his extensive tea menu last November. He spent months studying the components of both his teas and the spirits he planned to use as he waited for his liquor license.
"It's just understanding the raw ingredients and studying how the palate operates," he said. "You want very complimentary pairings. The cocktails are an extension of what we're continuing to do and allowing us to appeal to a broader demographic. It's really helping us showcase what we can do on a broader spectrum."
The Florist, for example, starts with jasmine and rose tea. Choi adds elderflower liqueur, peach and orange blossom vodka and chartreuse, another liqueur.
"Chartreuse has over 130 botanicals in there," he said. "So, it felt very fitting to call this The Florist."
The absinthe-spiked Hemingway, which starts with jasmine green tea and peppermint, is named after the famed author Ernest Hemingway. When he teamed up with neighboring Blue Moon Café for a collaborative event in early March, he came up with his own take on the Algonquin cocktail named for the famed Manhattan hotel. This one, however, paid tribute to Fayetteville's own iconic hotel.
"We have a very tropical tea," he said. "It's papaya, peach, pineapple, pear mango. We make that into a concentrate and put it together with dry vermouth, limoncello and some bitters. We called it the Prince Charles cocktail. We wanted our hotel to get some recognition.
"We're trying to keep it local," he said. "We really want to put a stamp on Fayetteville. Not just on our personal success, but on citywide success."
Even those who usually saddle up to the bar for a Jack and Coke or gin and tonic – neither of which is available – have largely approved.
"If you come in and we didn't have whatever your go-to is, that's our opportunity to say, 'Hey, you're here, so why don't you try this?" Choi said.
Choi is required by state law to charge a membership fee to anyone wishing to order a cocktail. He donated the first $500 he collected from his $1 per person annual fee to The Capitol Encore Academy on Hay Street.
The cocktails have added to Winterbloom's welcoming vibe, enhanced by the vintage feel of the 1914 structure that once housed Central Café and is listed on the National Registry of Historic Places. Winterbloom offers comfortable chairs and sofas, as well as tables for two or four and a table that can accommodate larger parties.
"We started with tea, and then we started roasting our own beans for coffee," Choi said, "Now we have cocktails. Our goal is to make the best beverage possible through whichever process. Our next goal is to enhance that even more."