By Earl Vaughan Jr.
The conditions will be far less than perfect, but Cumberland County's high school swimmers aren't complaining. For now, it looks as if they'll be able to have a competitive season.
Practice began earlier this week, but the coaches and swimmers are still waiting for school officials to sort out the complexities of when their matches will be held.
One certain change on this year's schedule is they won't be swimming indoors at Fayetteville State University's Capel Arena pool.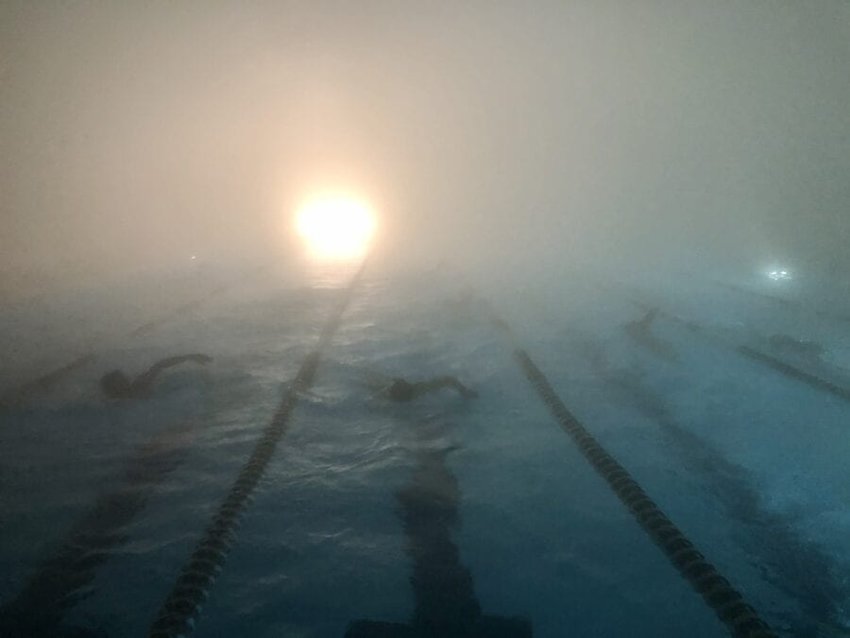 Fortunately, they already had a backup plan in place as portable domes have previously been used at the outdoor pools at the Westover and College Lakes Recreation Centers.
All practices will be held at those two locations, with the meets scheduled to take place at the Westover pool.
There will be numerous restrictions in place during the season. During team competition, each school can only bring 10 boys and 10 girls to a match. Each school will be limited to two entries per race.
No spectators will be allowed to attend.
Veteran Cape Fear High School swim coach Amey Shook understands the need for the safety protocols but worries it's going to hurt the sport's chances to continue to grow.
"One thing that's hurting us is being virtual,'' she said, referring to the fact that classes in Cumberland County are still being held remotely.
"They don't see the coaches at school,'' she said. "They don't see the kids on the team. It's a new normal for them.''
The swimmers themselves haven't been in pools as a team since March when the pandemic shut everything down.
Shook has a solid group of swimmers back, especially on the girls' side.
Her daughter, Amelia Shook, won the 500 freestyle, 100 backstroke and was on the winning 200 freestyle relay team in last year's conference meet.
For the boys, her son Nicholas Shook won the 100 freestyle while Hudson McFadyen took the 100 backstroke.
Terry Sanford coach Jared Kaiser is trying to stay optimistic by being creative.
"One of the big goals for all the teams this year is going to be getting the kids active again and being able to work around the limitations we have,'' he said.
He's splitting his practices between boys and girls. "It's not as much pool time, but they're getting out of the house and getting active,'' he said.
He thinks dealing with the restrictions at meets is going to require a learning curve. "I'm sure the first meets will be slow,'' he said. "After the first meet or two, we'll get into a rhythm. We've had to adapt to different facilities before.''
All of Kaiser's top returnees are on the female side. Among the best is Briana Jimenez-Vasquez, who won two individual and two relay titles last year in the conference meet.
Cheryl Li had an individual and two relay wins, while Betsy Shepard had one individual and two relay wins.
Jimenez-Vasquez said her biggest concern is when the warm water in the heated pool mixes with the colder outside air and creates fog inside the dome.
"Half the time you are running into the lanes and the other swimmers,'' she said.
She said the dressing facilities are limited. That, combined with the COVID-19 limits of only four swimmers in the dressing room at a time, will be a challenge at each meet for taking turns changing before and after matches.
She's also concerned about new swimmers and how they'll adjust to being in the bubble.
Despite all that, she's glad for the chance to compete, even if she has to wear a mask while catching her breath after leaving the pool after a race. "I was scared for my senior year we weren't going to have a season,'' she said. "I'm happy that so far it looks like we will.''
Cape Fear's McFadyen said the thing he'll miss most is a large group of teammates cheering him on during a race. "I don't think I'm going to be able to have that experience this year, having a whole team come up and say you did well,'' he said. "It will definitely be a big change.''
He also said the water temperature varies at times from too warm to too cold. In either case, it creates what he calls an unnatural swimming experience.
Despite the problems, he's got his sights set on a record. The current school mark for the 100 breaststroke is 1:11. He swam 1:14 last season and is looking to top it this year.
Like the other swimmers, Cape Fear's Amelia Shook has concerns about some of the minor differences in the dome at Westover. For example, she said the starting blocks are much higher than ones they use elsewhere, making the dive into the water a little different.
It's also claustrophobic inside the dome, but she's hopeful with fewer participants allowed this year that problem will be alleviated.
But none of that has sapped her zeal to compete.
"Whatever we have to do to have a season I'm willing to do,'' she said. "It's my senior year and I want to have one season for one of my sports.''