As an expectant mother years ago, food blogger Katie Crenshaw had such a sweet tooth that she ate her dessert before she ordered her meal whenever she ate Mexican. All these years later, Crenshaw's copycat Mexican fried ice cream is a hit with everyone who tries it. Using a recipe she posted on her A Fork's Tale blog, she makes it look easy to whip up a batch of the authentic-tasting treat at home. "I loved it so much, I wante
d to create it myself," she said. "I looked at other people's recipes and tweaked them." She starts by pan-frying crushed cornflakes in butter and sugar until crispy. The sugar caramelizes to make a crispy coating. She spreads half the cornflakes in a 9-by-13 pan, she mixes softened vanilla ice cream whipped topping and cinnamon together and spreads the mixture over the cornflakes. She then tops the ice cream layer with the other half of the cornflakes, then drizzles it with honey and freezes it for five hours or overnight. To serve, cut into squares and top with chocolate or caramel syrup, whipped cream and cherries. "I'm an everyday cook," Crenshaw said. "If I can make it, anybody can."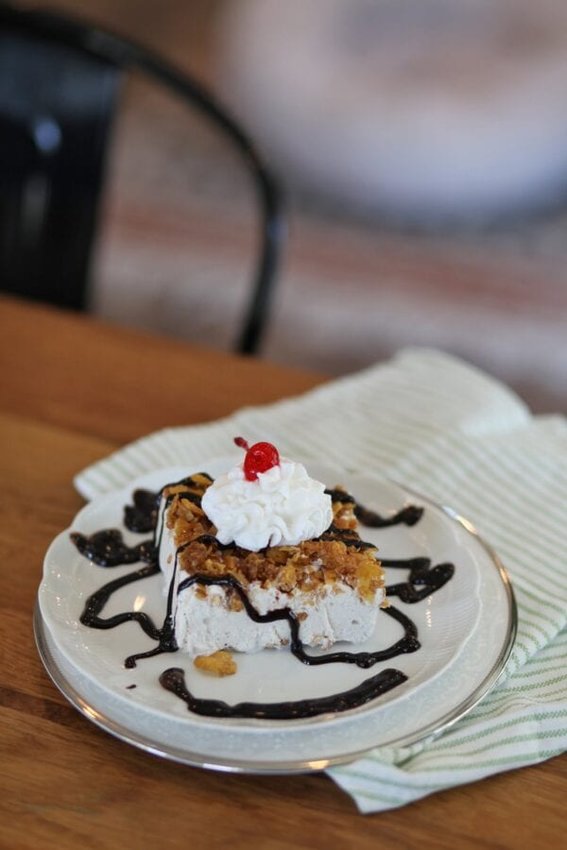 MEXICAN FRIED ICE CREAM
3 1/2 cups crushed cornflakes measure after crushed
3/4 cup sugar
1 stick butter or ½ cup 1 quart vanilla ice cream
16 ounces whipped topping
1 tsp cinnamon
1/4 cup honey chocolate syrup caramel syrup, whipped cream, and cherries for garnishing (optional)
Set 1 quart of vanilla ice cream out to lightly soften. Meanwhile, melt ½ cup butter in frying pan over medium heat.
Add crushed 3½ cups cornflakes and ¾ cup sugar, mixing and stirring continuously.
Be careful not to burn.
Cook until crispy.
Remove from heat.
Spread half of cornflakes on 9-by-13 baking dish.
Mix ice cream, whipped topping and cinnamon.
Spread ice cream mixture over cornflakes.
Spread remaining cornflakes over ice cream.
Drizzle honey over cornflakes.
Cover pan and freeze five hours or overnight.
Cut in squares to serve