By Earl Vaughan Jr.
Athletes and coaches aren't the only ones having to deal with the COVID-19 pandemic as high school sports resume across North Carolina.
Officials like Tony Haire, who has called high school football for 24 years for the Southeastern Athletic Officials Association, are also coping with protocols and doing everything they can to make sure games are held with safety for everyone in mind.
Officials have specific pre-game routines they follow. The marching orders for high school football have changed considerably during the delayed season currently in progress.
For basketball season, the officials were allowed to go inside the building to change into their uniforms before a game started.
Since football is an outdoor sport, the officials never go inside, arriving at the game location in full gear just 15 minutes before the scheduled starting time.
They used to hold an extended pre-game meeting when they arrived about 90 minutes early and dressed indoors. Now, that meeting is held via a Zoom conference either the Wednesday or Thursday prior to a Friday game.
Another change for the officials this year was the entire preseason preparation. Normally they conduct up to a half dozen meetings before the season ever starts. Those meetings began via Zoom as early as last summer, when the fate of the fall football season hadn't been determined.
Separate meetings are also held on Zoom involving officials who have different responsibilities during a game, and with the crew chiefs on Sundays.
The annual state clinic with N.C. High School Athletic Association supervisor of officials Mark Dreibelbis is usually held in person, with Dreibelbis visiting each region of the state during the fall and conducting a session at a central location with all officials in that area.
This year, Dreibelbis recorded the session and posted it on the NCHSAA website. Each official viewed the video and when it ended, they got a digital token they could use to indicate they had actually watched it.
One of the main challenges for football officials this delayed season is monitoring the wearing of masks on the field by the players.
Haire said one thing that helps is many players are wearing a mask that is attached to the facemask of their helmet, and as long as they are wearing the helmet, the mask is in place.
Some players are still using the masks that attach to the ears, and when they go to the sidelines they pull the mask down, then buckle their chinstrap over it when they return to the field.
Haire said officials have adopted a three-stage procedure to warn players not wearing a mask. The first step is a warning to simply put the mask back on. If a player is caught without a mask after the first warning, he has to leave the field and return after putting it on.
If a player gets a third warning in a game, his team is assessed an unsportsmanlike conduct penalty. The season is less than half over, but so far Haire says he's only sent a couple of players to the sidelines and has given no one a penalty.
Haire said he's less concerned of problems with spreading COVID during football season than he was with basketball.
"You're outside, and I don't feel as threatened in an open area,'' he said. "The common denominator is the ball. We don't handle the ball as much in football as we do in basketball.''
Haire said he reminds players every week that the reason they're able to play football now is that they're wearing masks. He encourages them to wear their masks properly and follow all the safety protocols.
"If they don't, we're not going to be able to play,'' he said. "We saw it in high school basketball. We're going to see it in the NCAA tournament.
"It's imperative that everybody follows the protocols. It's no guarantee, but it's the only chance we have to play.''
Cumberland County coaches and athletes were among those honored this week when Conference 7 announced its all-conference team for girls' lacrosse.
Rita Beal of Jack Britt was recognized as Coach of the Year, while Terry Sanford's Reese Walker was named the Player of the Year.
First team players from the county included McKayla Martin of Cape Fear; Grace Wiegand and Cecilia Beal of Jack Britt and Patton Davis, Maggy Watson, Kaitlyn Zuravel and Savannah Patton of Terry Sanford.
Chosen second team were Kaye Davis of Terry Sanford and Hannah Garinger and M.J. Loper of Cape Fear.
WIDU AM 1600 and FM 99.7is airing a weekly radio show recapping high school football highlights from Friday night on Saturday mornings beginning immediately after the 8 a.m. news.
I am honored to be sharing the microphone with longtime E.E. Smith High School backer Jimmy Harvey. You can listen live over the air or on the internet at www.widu1600.com.
PHOTO OF THE WEEK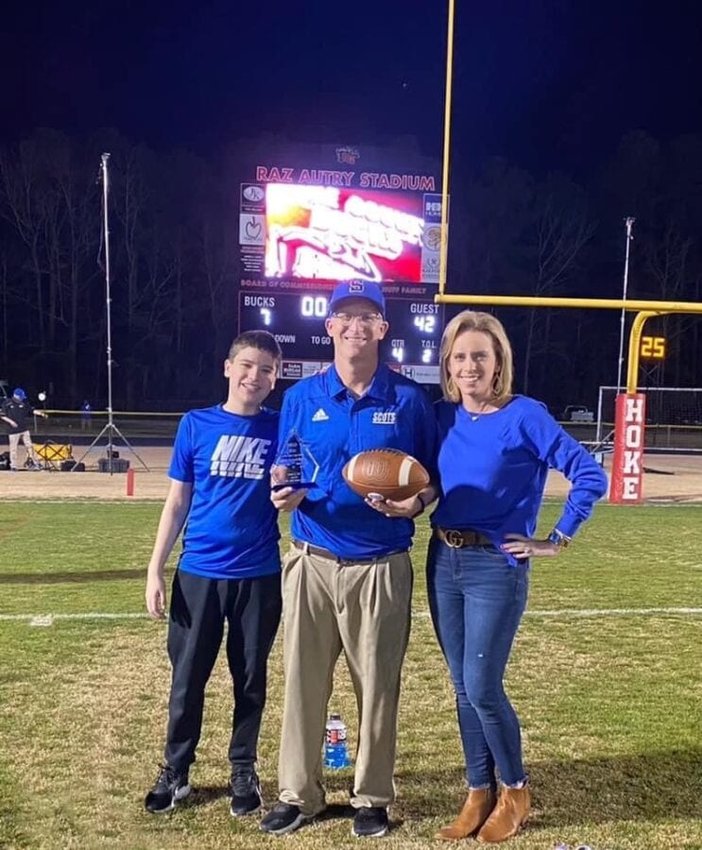 Richard Bailey founded the football program at Jack Britt High School and almost immediately turned it into one of the best in Cumberland County. He's continuing his tradition of coaching success at Scotland High School. His Fighting Scots defeated Hoke County, 42-7, Friday night, giving Bailey his 100th victory since becoming the school's head football coach nine years ago. Through 21 years as a head coach, Bailey has compiled a record of 219-62, a winning percentage of 77.9 percent. Pictured with Bailey are his son Carson and wife Laura.[/caption]
LAST WEEK'S SCORES
March 12
Football
Seventy-First 48, Lumberton 34
Gray's Creek 35, Cape Fear 29
South View 45, E.E. Smith 0
Terry Sanford 43, Douglas Byrd 0
Baseball
Freedom Christian 9, Coastal Christian 6
March 15
Girls' lacrosse
NCHSAA playoffs
Chapel Hill 20, Terry Sanford 10
Baseball
Harrells 11, Freedom Christian 1
March 16
Boys' soccer
NCHSAA playoffs
First round
Apex 8, Pine Forest 0
Cardinal Gibbons 3, Jack Britt 0
March 17
Baseball
Fayetteville Christian 16, Northwood Temple 0
Girls' lacrosse
Fayetteville Academy 17, St. David's 11
Boys' soccer
NCHSAA playoffs
First round
Terry Sanford 1, Northern Guilford 0
Girls' soccer
Terry Sanford 2, Overhills 0
Cape Fear 8, South View 1
Hoke County 10, Seventy-First 1
Jack Britt 7, Lumberton 0
Softball
Overhills 5, Terry Sanford 4
Jack Britt 5, Lumberton 0