By Earl Vaughan Jr.
Westover High School's D'Marco Dunn continued to pile up individual honors despite the challenges of the COVID-19 pandemic.
This week, Dunn was named to the North Carolina roster for the annual Carolinas Classic All-Star basketball game.
Because of the pandemic, the game will not be played. However, game officials still decided to choose a team to recognize some of the top players in the Class of 2020-21.
As of this week, Dunn was leading Cumberland County Schools players in scoring with 25.3 points per game. The University of North Carolina commit is third in the county in rebounding with 9.0 per game and third in 3-point goals with 20.
Entering today's final day of the regular season in the Patriot Athletic Conference, Westover wraps up its schedule at home against Overhills.
The Wolverines are a half game behind Cape Fear in the league standings at 5-2 to the Colts' 6-2. Terry Sanford, which leads the league with an 8-1 conference record, appears certain to clinch the regular-season title as it visits last place and winless Douglas Byrd.
Because of the pandemic, the Patriot Athletic Conference has elected not to hold a conference tournament this season and will not resume play until Feb. 23 when the NCHSAA state playoffs are scheduled to begin.
***
Cape Fear High School's Amelia Shook was the only county swimmer to qualify for this week's N.C. High School Athletic Association 3-A swimming championships at the Triangle Aquatic Center in Cary.
The meet was scheduled Thursday.
Shook qualified in two events, the 100 backstroke and the 100 fly.
***
Former Cape Fear High School softball standout Aubrey Reep earned a place in the Wingate University record book.
Earlier this week in a game against Augusta, Reep recorded six strikeouts to give her 542 for her career, a new Wingate record.
In 2019, Reep was named the Southern Athletic Conference Player of the Year.
***
A number of local high school administrators were recently singled out for recognition.
Vernon Aldridge, Cumberland County Schools student activities director, was named an Athletic Director of Excellence by the N.C. Athletic Directors Association.
The same organization presented citation awards to athletic directors Leslie Neal, Douglas Byrd High School; Qusheba Collins, Seventy-First High School; Michael Lindsay, Jack Britt High School and Leslie Snyder, Fayetteville Christian School.
PHOTO OF THE WEEK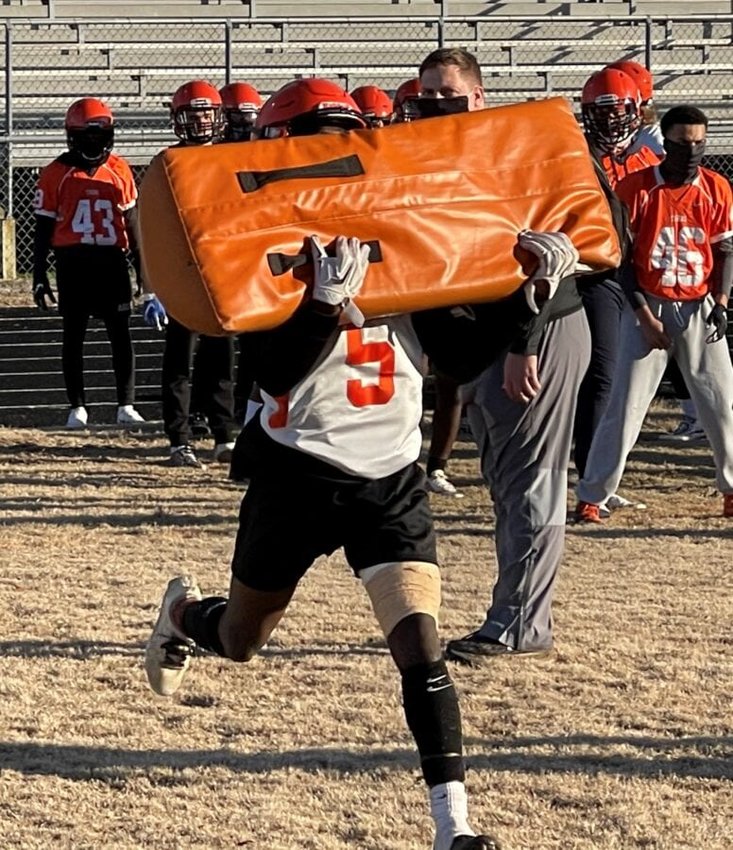 South View High School's Raheem Baldwin does battle with a blocking pad during a form tackling drill at the start of the delayed spring football season Monday. The Tigers joined other schools across the state in beginning official workouts for an abbreviated seven-week schedule of regular-season games that is set to start on Friday, Feb. 26. The Tigers are scheduled to open the season on that date with a nonconference home game against Cleveland High School. The rest of the first week schedule has Cape Fear at Overhills, Pine Forest at Douglas Byrd, Terry Sanford at Westover, Jack Britt at Scotland and Pinecrest at Seventy-First. E.E. Smith and Gray's Creek have open dates.[/caption]
LAST WEEK'S SCORES
Feb. 5
Lacrosse
Boys
Pinecrest 16, Cape Fear 0
Girls
Union Pines 12, Cape Fear 6
Pinecrest 16, Jack Britt 5
Basketball
Boys
Westover 58, E.E. Smith 53
Cape Fear 78, Douglas Byrd 40
Pine Forest 58, Gray's Creek 31
South View 66, Overhills 61
Seventy-First 79, Purnell Swett 46
Hoke County 69, Jack Britt 49
Northwood Temple 89, Fayetteville Christian 47
Freedom Christian 71, Village Christian 47
Cape Fear Academy 67, Fayetteville Academy 19
Girls
E.E. Smith 66, Westover 20
Pine Forest 50, Gray's Creek 23
South View 50, Overhills 42
Cape Fear Academy 62, Fayetteville Academy 60
Feb. 8
Basketball
Boys
Overhills 57, E.E. Smith 48
Cape Fear Christian 55, Village Christian 52
Girls
Fayetteville Christian 30, Northwood Temple 34
Freedom Christian 38, Cape Fear Christian 32
Trinity Christian 64, Village Christian 25
Soccer
Boys
Cape Fear 1, Overhills 0
Pine Forest 2, South View 1
Terry Sanford 3, Gray's Creek 2
Jack Britt 3, Hoke County 2
Purnell Swett 2, Seventy-First 0
Feb. 9
Basketball
Boys
Terry Sanford 76, E.E. Smith 35
Cape Fear 81, Westover 70
Pine Forest 79, Douglas Byrd 31
Gray's Creek 71, South View 55
Richmond Senior 72, Seventy-First 60
Pinecrest 58, Jack Britt 44
Northwood Temple 104, Fayetteville Christian 27
Girls
Terry Sanford 51, E.E. Smith 50
South View 47, Gray's Creek 38
Cape Fear 59, Westover 37
Cape Fear Academy 39, Fayetteville Academy 30
Lacrosse
Boys
Pinecrest 19, Jack Britt 3
Cape Fear 20, Terry Sanford 3
Girls
Terry Sanford 23, Cape Fear 2
Feb. 10
Basketball
Boys
Lumberton 89, Jack Britt 55
Northwood Temple 65, Freedom Christian 60
Girls
Jack Britt 59, Lumberton 47
Village Christian 62, Northwood Temple 55
Soccer
Boys
Terry Sanford 4, Gray's Creek 0
Pine Forest 2, South View 2
Cape Fear 2, Overhills 1
Richmond Senior 9, Seventy-First 0
Pinecrest 2, Jack Britt 1
Feb. 11
Basketball
Boys
Westover 92, South View 78
Fayetteville Christian 64, Village Christian 51
Girls
Village Christian 59, Fayetteville Christian 36