By Earl Vaughan Jr.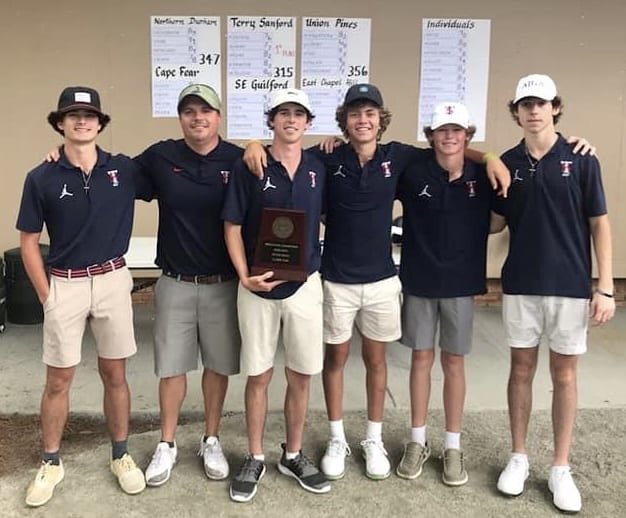 During one golf match this season when Terry Sanford senior Graham MacLeod was having a tough day, head coach Jeff Morehead told him not to worry because there were three matches that counted most for the Bulldogs.
One was the Patriot Conference match, the second the 3-A Mideast Regional match and third the state championship match.
MacLeod and his teammates have earned wins in the first two of those events, and now go for a third as they head to Longleaf Golf and Family Club Monday for the one-day state finals.
The championship competition is normally a two-day event but was shortened to one day this season because of the COVID-19 pandemic.
The Bulldog golf tradition is one of the richest in Cumberland County as the school has won multiple individual and team state titles during its long history.
Morehead said some of the members of this year's team got the chance to play with another former Bulldog great, touring professional Chip Beck, last summer when he came home for a visit.
The current Bulldog team recorded one of the best team scores in school history this season, shooting a 295 in a conference match at its host course, Highland Country Club.
Morehead said the close relationship between the Bulldog team and Highland is a big factor in this year's success. He praised Highland director of golf Micah Vugrinec for working with both the boys and girls golfers at Terry Sanford.
"He has done a really good job growing the game,'' Morehead said. "He encourages young kids to play. He is very supportive and definitely aware of what is going on with my guys.''
Another reason for the team's success is the way the players support each other. Morehead said they love golf and wish they could play all day. "When I see them on the course they want to know how their teammates are doing,'' he said. "They're offering advice and encouragement to each other.''
The Bulldogs were led in the regional win by a pair of freshmen, Ethan Paschal and Thomas Horne. Paschal led the team with a 76 while Horne shot a 77 in the match played at Keith Hills. Rounding out the scoring for the Bulldogs was MacLeod with an 80 and Spencer Barbour with an 82 for a team score of 315.
The team will get a practice round at Longleaf before Monday's championship match, but everyone but MacLeod has played the course before.
Paschal recorded a blistering round of 67 there in a junior tournament two months ago.
"I think I can repeat that on Monday if I play my game,'' he said. His main concern right now is his putting, but he said it's all in his head and he hopes to get it worked out before the title match.
MacLeod said any Pinehurst course is going to be tough, but he's optimistic. "We've yet to put together our best round,'' he said. "I think we can score out there.''
"Every tournament starts with finding the fairway,'' Morehead said. "It's hitting the center of the green and taking chances with your putter.
"It comes down to a good drive, good iron shot and hopefully your putter is hot on Monday.''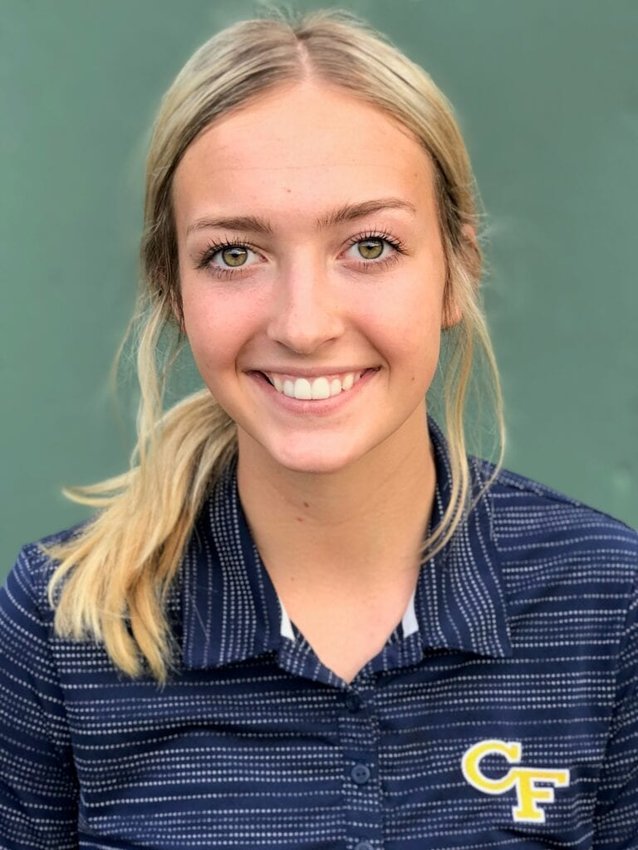 • Also headed to the state golf championship next week in the 3-A girls tournament is Cape Fear's Gabby Bynum. Bynum won her third straight trip to the NCHSAA finals with an 88 Tuesday at Willow Springs Country Club. The 3-A girls state final will be played at Beacon Ridge Golf and Country Club in West End.
• A trio of former Cumberland County high school baseball players recently earned roster spots on minor league teams.
Pitcher Austin Warren from Terry Sanford is playing for the Triple-A Salt Lake Bees of the Los Angeles Angels organization.
Infielder Cobie Vance of Pine Forest is with the Lansing Lugnuts, the High-A affiliate of the Oakland Athletics.
Playing closest to Fayetteville is pitcher Davidjohn Herz of Terry Sanford, who is with the Myrtle Beach Pelicans, the Low-A affiliate of the Chicago Cubs.
• Congratulations to former Terry Sanford High School football player Mark Gilbert, who has been rehabbing from injuries suffered while playing at Duke University. After not being chosen in the recent NFL Draft, Gilbert signed a free agent contract with the Pittsburgh Steelers.
If bloodlines mean anything, Gilbert definitely has NFL potential. He is the nephew of Sean Gilbert, who spent 11 years in the league and is currently head coach at Livingstone College in Salisbury.
Mark Gilbert's cousin is Darrelle Revis, a first-round draft pick of the New York Jets, for whom he played most of his 11-year career in the NFL.
• Rumors have apparently started that the National Federation of State High School Associations, which writes the rulebooks for most high school sports in the United States, were going to add a shot clock to high school basketball.
The NFHS issued a press release this week denying that any decision on adding the shot clock to the high school game has been made.
There had been increased pressure in recent years for the NFHS to make the shot clock a part of the high school game because of its use for years in both the college and professional ranks.
High school has resisted the change largely because the vast majority of high school players will not advance beyond that level to play basketball.
PHOTO OF THE WEEK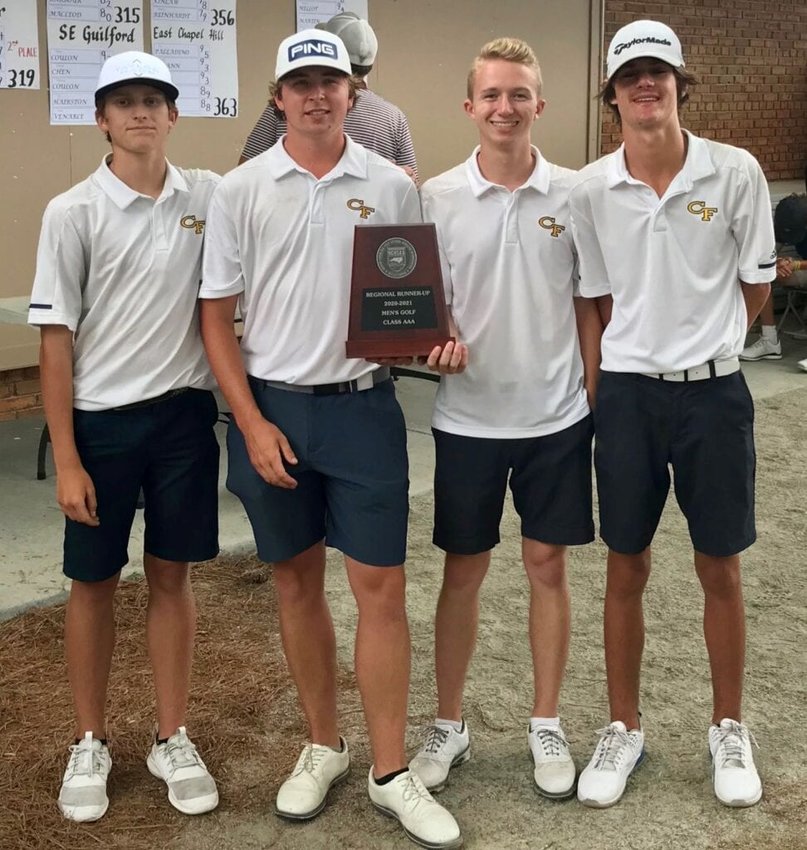 SCORES
April 30
Baseball
Cape Fear 16, Pine Forest 2
Gray's Creek 11, South View 1
Terry Sanford 11, East Bladen 10
Scotland 16, Jack Britt 11
Freedom Christian 14, Village Christian 8
Softball
Cape Fear Christian 10, Fayetteville Christian 0
Girls' soccer
Village Christian 4, Freedom Christian 0
May 3
Softball
3-A playoffs
Gray's Creek 3, Western Alamance 2
Cleveland 8, Cape Fear 0
4-A playoffs
South View 16, Raleigh Sanderson 1
Purnell Swett 12, Pine Forest 0
Wilmington Hoggard 2, Jack Britt 0
Girls' soccer
3-A playoffs
Chapel Hill 9, Gray's Creek 0
4-A playoffs
Raleigh Broughton d. Pine Forest on PK's, 4-3
May 4
Baseball
Gray's Creek 3, Pine Forest 2
Lumberton 8, Jack Britt 5
Village Christian 11, Fayetteville Academy 4
Parrott Academy 21, Fayetteville Christian 0
NCISAA playoffs
Harrells Christian 16, Northwood Temple 2
Girls' soccer
NCISAA playoffs
Fayetteville Academy 8, Freedom Christian 2
Coastal Christian 9, Fayetteville Christian 0
St. Thomas More 9, Northwood Temple 0
Harrells Christian 3, Village Christian 2
Girls' lacrosse
NCISAA playoffs
Fayetteville Academy 16, Cape Fear Academy 15
Softball
Riverside Christian 5, Fayetteville Christian 4
May 5
Softball
3-A playoffs
Gray's Creek 11, West Carteret 1
4-A playoffs
Fuquay-Varina 11, South View 1
May 6
Baseball
Gray's Creek 9, Pine Forest 5
Soccer
NCISAA playoffs
Fayetteville Academy 2, Harrells Christian 0
Softball
Riverside Christian 13, Village Christian 0