By Kim Hasty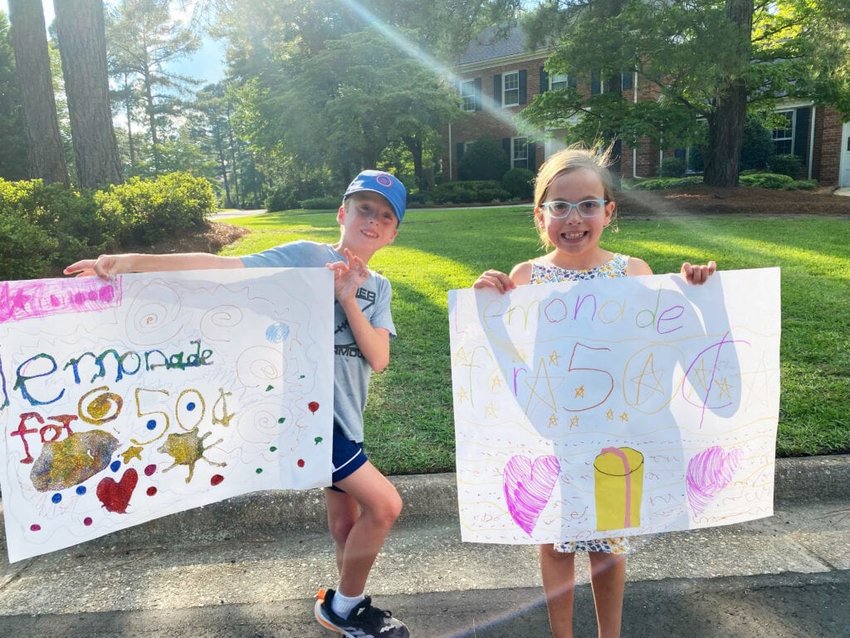 The fireworks this time of year are always so pretty. So are the hydrangeas, the gardenias and the American flags flying in the breeze. Colorful beach umbrellas and sparkling turquoise swimming pools. America the Beautiful, evident from sea to shining sea.
And, sometimes, never more than right down the street. Sometimes, never more than in the heart of a child. The dedicated customers of Maggie and Davis Townsend's
lemonade stand can surely attest to that fact. On June 23, the twins got to work with some red Solo cups, homemade signs and a plastic picnic table to hold their wares. They charged 50 cents a cup and beckoned to friends and family who happened to be driving by.

But they weren't intent on making a little extra money for Star Wars figurines or new Legos. They donated every penny they raised to Cape Fear Valley Health Foundation's Friends of Children, the organization that provides funding for a variety of child-related services.

Their total? That would be $695, including every bit of money Maggie had saved in her piggy bank from Christmas money and birthday gifts.

"We had great support from friends, family, neighbors and coworkers," said Vance Townsend, Maggie's and Davis's dad. "The cups were 50 cents each, but most gave much more than that." Maggie and Davis, who will turn 8 years old in August, both benefited from the care they received in Cape Fear Valley Medical Center's neonatal intensive care unit when their mother Lauren delivered them 29 weeks into her pregnancy. Each weighed just under 3 ½ pounds at birth, but Maggie was able to come home after six weeks, and Davis followed after 11 weeks.

Their parents have often told them the story of their birth, kept in contact with the nurses and doctors who set them on their way to healthy childhoods and have been avid supporters of Friends of Children and the March of Dimes. And something else, too. "We always wanted them to know about their sisters," Lauren Townsend said. "They are part of our family, too."

On Feb. 19, twin daughters Taylor and Mary Margaret were born prematurely. Taylor lived a day and Mary Margaret lived six days. Since then, the Townsends created Team Taylor and Mary Margaret and have raised thousands of dollars for the March of Dimes toward the cause of preventing premature births. Their goal is to raise $1 million.

Thanks to the kind and caring hearts of a young sister and brother, they are ever closer to that goal. America the Beautiful? On a warm summer day, it was never
more evident than in a simple cup of lemonade.