By: Kim Hasty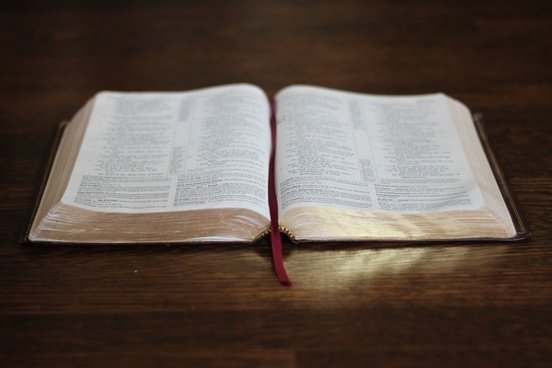 One of my earliest lessons of faith was when I was a young girl, and my mother told me you should never place anything on top of the Bible. Back then, remote controls for televisions had yet to even be invented, but that would have been one of the things you do not ever place on top of the Bible. Not your reading glasses, your coffee cup, or the earrings you remove at the end of the day. As an adventurous child and a somewhat rebellious teenager, believe me, I broke many, many of my mother's rules,
but to this day, each of the Bibles in our home remain unencumbered by a single thing placed on top of them.

The Bible was a lamp unto my mother's feet and a light unto her path. Through the years, my mother came to love many things. She loved my father from the time they were teenagers themselves. She loved her family and extended family. In her early years, she loved being outside and "taking a suntan" as we called it back then, blissfully
unaware of any harm we might be doing to our skin other than being sure to heed "time to turn so you won't burn."

She loved old movies, Tyrone Power, Ben Casey, and, along with my dad, had exceptional taste in music. Looking back, I'm amazed at their insight: "Winchester
Cathedral," "A Taste of Honey," "Ring of Fire," "The Wichita Lineman" and "For the Good Times" all were represented in the tower of vinyl albums that stretched to the ceiling in our home. And, of course, her all-time favorite, the Okie from Muscogee himself, Merle Haggard.

My mother loved competition, and many a third-base bag met her acquaintance with either a hard slide or a winning play. She loved the North Carolina Tar Heels with a passion that sometimes made you shake your head.
For instance, many times when the game was on the line through the years and even when her favorites like Steve Previs, Walter Davis or Michael Jordan were tasked with
bringing the ball up against a full-court press or standing on the free-throw line, she would get up and leave the room. The most exciting part of the game and she just
couldn't bear to watch. In more recent years, she loved shopping with my cousin, arguing with her son-in-law and attending holiday celebrations at the home of other cousins. Those celebrations were supposed to be potluck, and I always thought that meant everyone brought one dish and you took your chances on what kind of meal would come together. But my mother's idea was to bring most of the pots herself. And everyone will tell you, the lucky part was represented by those who got to enjoy her cooking. As one of my brothers-in-law wrote to me upon learning of her passing, and I quote: "She was one of a kind and could deliver the goods at Thanksgiving single-handedly."
My mother adored my children, her grandchildren, absolutely unconditionally and perhaps never was she more of a perfectionist than when it came to giving them
anything they wanted, from copious bowls of ice cream when they were little to hairstyle appointments when they were older with her favorite hairdresser, Fernando. Her heart was easily large enough to accommodate two more when my grandchildren were born, and she loved nothing better than when they came to visit.

But for someone who loved so many things, none of those things ever came before her Lord and Savior Jesus Christ. Believe me, through the years, her faith was tested
and shaken. But she remained a steadfast believer. In fact, I noticed it once again recently on the last day I would see my mother alive on this earth. Her pretty pastel-colored Bible next to her on the nightstand. There were tissues and medicine bottles too. But not a single one of them was placed on top of that Bible.