BY: KIM HASTY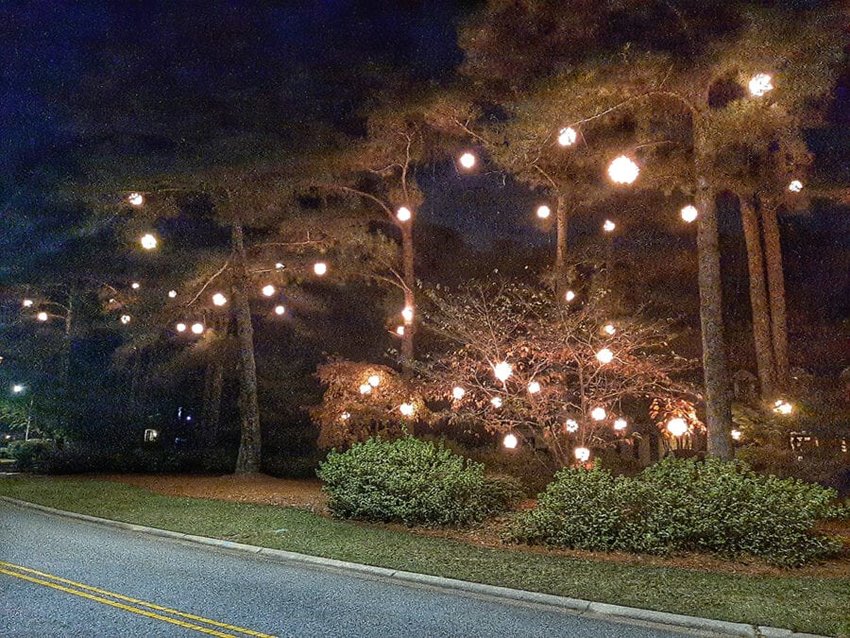 Berry Bostic had no idea his spheres of light would have so much meaning.
"I just liked the way they looked," he said. Bostic, retired now and with time for the golf course and a variety of other pursuits, had a long career as a veterinarian, the kind who cared not only for the plethora of pets brought to his office, but also the kind who was never too busy to make house calls to help neighborhood children who had come across injured birds or squirrels.

Some years ago, Bostic took a liking to the balls of twinkling lights that often hang from tree limbs this time of year. Before the lights had acquired the growing commercial success they now seem to possess, Bostic decided to fashion some himself.
The early spheres were made of chicken wire, which, as it turns out, does not lend itself to easy malleability and has since been replaced in some circumstances by plastic.
Bostic began as a purist, with a roll of chicken wire. Once he had wrestled the wire into spheres, it was an easy matter to wrap each of them with strands of white lights. Hanging them, on the other hand, requires things like fishing wire, a potato gun and a method too complicated for a journalistic brain to comprehend.
At least this journalistic brain. He shot 20 or so into the convenient limbs of the trees in the front yard of the Summertime Road home he shares with his supportive, and equally talented wife, Helen.
And then something happened. On a street that lends itself to regular evening walks, people began stopping and
complimenting Dr. Bostic on his lights. One friend, recently widowed, stopped to say how much the lights meant to her. How they were a source, somehow, of a bit of hope in an otherwise gloomy time.
"And that made it all worth it," Dr. Bostic said.
Over the years, Bostic has added more spheres. "I counted," said friend and neighbor Louis Metz. "There are
fifty-one now." Another set of friends and neighbors, Lauren and Doug Allred, decided to carry Bostic's idea to their own yard just up the street. Bostic moseyed over to give them a hand to help them get started.

Last year was a tough one. Bostic's bad back got the best of him and he underwent surgery in August. How would he possibly be able to shoot those lights into those trees come Thanksgiving?
"But he did," said Helen Bostic, shaking her head. "At one point, he was out there lying on his back."

This year, of course, is even more challenging. Do any of us really feel like getting out our potato guns and shooting lights into the trees (if, that is, we had any idea how to do that)?
Well, of course, Berry Bostic does. And there they are, glowing from the trees for all to see.

"The light display is absolutely beautiful and a gift to the neighborhood and all who drive by," another neighbor, Marsha Lunt, said. "The children love the lights almost as much as the adults. I am grateful they have put them up in the past and even more so this year. It is a symbol of love and hope.
"It would just not be Christmas on Summertime without the Bostic light display and gesture of the Christmas spirit,"
she said. "This story is about the Christmas spirit and love of one's neighbors."

And so even in a year in which darkness has threatened to prevail, at least in some corners of the world, the light still shines.