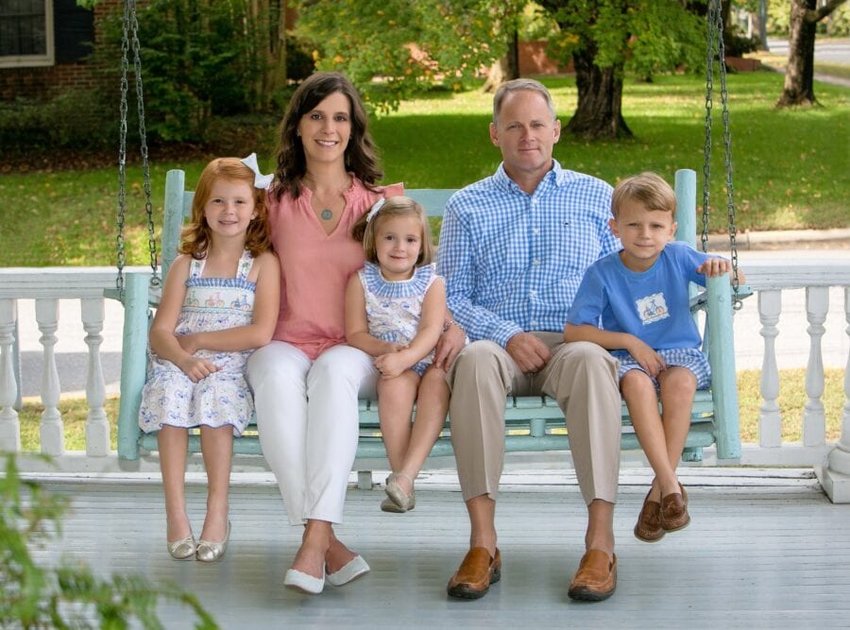 November. A month on the American holiday calendar that offers each of us the opportunity to spend the weeks leading up to Thanksgiving reflecting on what we are all generally most grateful for. For some families, November also heralds in an annual observance more specific in nature: Prematurity Awareness Month, with World Prematurity Day falling on November 17 each year. For one Fayetteville physician, prematurity awareness has come to impact just about every aspect of her life. She champions this special cause both at home and work and shares her family's story in the hope that it will offer comfort to those going through a similar experience. She also hopes to inspire others to join in the effort.
Kristen Coggin entered medical school at East Carolina's Brody School of Medicine in 2001 knowing that she wanted to work with babies. In fact, the Rocky Mount native says that as far back as she can remember, she only ever wanted to be a doctor, specifically one who cared for children.
As Kristen moved through her fourth-year rotations, she spent a month in the neonatal intensive care unit and knew that that's where she wanted to stay. She went on to complete a pediatric residency at UNC, followed by a three-year neonatology fellowship at Wake Forest University's Brenner Children's Hospital. In 2012, the young physician, fresh out of fellowship, accepted a position with Cape Fear Neonatology and settled, along with her husband, Myers, and their 3-month-old daughter, here in Fayetteville. She went right to work caring for Cape Fear Valley Medical Center's tiniest patients. What Dr. Coggin did not know when she began to practice her lifelong calling was that something would come to happen in her own life that would take her commitment to premature babies from professional to deeply personal.
In October of 2014, Kristen's younger sister, Lauren McGee, was pregnant with her first child when she went into preterm labor at only 24 weeks. She was admitted to Vidant Medical Center in Greenville and subsequently transferred to UNC for high-risk obstetric management. Kristen suddenly found herself pulling double duty as concerned sister and knowledgeable medical specialist. She was present during the prenatal consult with the McGees' neonatologist, and was there in Chapel Hill one week later, on Oct. 24, 2014, when Lauren and Trent McGee's first baby girl was born at just 25 weeks' gestation. The following day, during her on-call shift in the NICU at Cape Fear Valley, Kristen received a call from the UNC neonatologist to let her know that serious complications had arisen for her tiny newborn niece. She finished her morning rounds and went to be with her family. Kristen was there when, at just 30 hours old, 1 pound 15 ounce Adelyn Jane McGee gained her wings.
While a glass-half-empty-inclined person might have difficulty seeing past the tragic irony of her family's loss given Kristen's profession, this faithful and resilient physician is able to recognize the ways in which Adelyn's death, although profoundly heartbreaking, has, as she puts it, "made me a better neonatologist and person in general." She says that her own personal experience allows her to tell families facing the loss of their babies that "there is life on the other side of infant death. I've seen my own sister and brother-in-law survive and even thrive, in the wake of losing Adelyn".
These days, Lauren and Trent McGee are the proud parents of healthy 4-year and 18-month old little girls who were both full-term births.
Kristen and Myers Coggin have their own three children, ages 8, 6 and 4. Along with their extended family and a lot of supportive friends, they've spent the years since they lost Adelyn honoring her. In 2015, they formed "Team Adelyn's Hope" to raise money and awareness through the March of Dimes' annual March for Babies walkathon event. To date, Team Adelyn's Hope has participated in six marches, grown to over 100 participants and become the largest March of Dimes team in Greenville.
They have raised over $112,000 for the March of Dimes, which funds research and programs for the prevention of premature birth, birth defects and infant mortality. They have inspired other friends who have experienced premature birth, like Fayetteville residents Kerry and Luke Wheeler and their twin first-grade daughters.
The Wheelers' first baby, Cole Holmes Wheeler, arrived stillborn at 21 weeks. Kristen is currently serving on the Board of Directors of the Eastern N.C. chapter of the March of Dimes and is careful to point out that her favorite nonprofit exists to promote the health and well-being of all babies, not just preemies and their mothers as well. She shares the comforting ways that her family has found to honor Adelyn.
"We consider her a part of our family even though she is not here on earth with us," Kristen said. "Every year, we have some sort of birthday celebration for her. We each have some sort of space in our homes for pictures and other memorials of her. And more importantly, we say her name out loud to each other and to others. We talk about her to keep her memory alive for ourselves and for our children."
Although Dr. Coggin took a polite pass on joining her two sisters in having "Adelyn Jane" tattooed on her feet, she does always keep her toenails painted pink in memory of her precious first niece. Those pink-polished feet will continue to march on for Adelyn Jane McGee and the millions of other babies born too early each year. Because, as a Winnie the Pooh quote special to Team Adelyn's Hope goes, "sometimes the smallest things take up the most room in your heart".
www.marchofdimes.org
Claire Mullen can be reached at clairejlmullen@gmail.com.