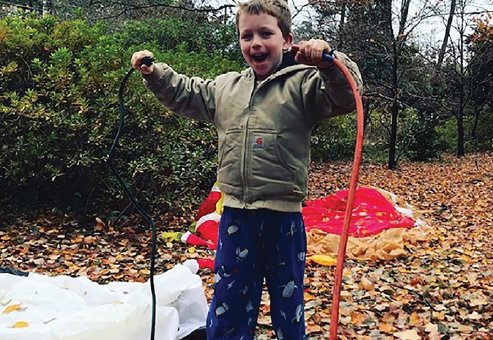 Most times of year, if you should find yourself traversing the Forest Lakes neighborhood, you would likely pass 306 Sylvan Road without a second glance. The stately two-story home is situated on a corner lot of a residential intersection and is mostly hidden from street view behind lovely old magnolias and pines. Easy to miss if you're in a hurry.

But neighbors and folks familiar with the five residents of that house know that as soon as there's a chill in the air, what can be seen on the lawn of 306 Sylvan is well worth a stop along the way, taking the long route home, or even a special trip.

In the weeks leading up to both Halloween and Christmas each year, The Kells family's yard becomes a veritable holiday wonderland of dozens of seasonal inflatables complete with a light show synchronized to spooky songs or Christmas carols that can be broadcast from your car's FM radio. Decorations cover just
about every square inch of the expanse of grass, and a few even dangle from the treetops.

The display is truly something to behold and an obvious great undertaking by someone who truly loves the process. The creative genius behind these complex, fantastic displays? An 8-year-old boy with an adorable grin, the occasional cowlick and a sprinkling of freckles across his nose.

John Palmer Kells' fascination with all things inflatable began at just 3 years old, when his godfather gifted him a blow-up owl with a Santa hat atop its head. That was the very first in a collection that would, over the next five years, grow to over 50 holiday inflatables.

That same Christmas, his parents drove him by what they came to refer to as "The Singing Light House" on Mirror Lake Drive in Vanstory Hills. According to his mother Lacy, their toddler was so utterly mesmerized by this holiday musical light show that they dedicated an hour every night that Christmas season to
parking on Mirror Lake and simply letting John Palmer watch in wonder.

When Christmastime rolled around again, John Palmer began begging his parents to erect a display in their own yard, which at that time was on Valley Road. Lacy admits that she initially stood in strong opposition to the idea of replacing her tasteful, grownup decorations with a yard full of inflatables, but the persistence of a preschooler is a powerful thing. Much to John Palmer's delight, his mama eventually relented, under one condition: John Palmer, with a little help from his dad John, would oversee the operation from start to finish.

Today, Lacy Kells marvels at the evolution of her son's holiday displays and says with a laugh, "Honestly, I just assumed it was a phase."

On the contrary, with every passing year, The John Palmer Kells Halloween and Christmas displays have grown bigger and better, and as word of the extravaganzas continues to spread, more cars line their street each holiday.

John Palmer constantly pursues new ways to expand his knowledge and skills. In fact, he was recently featured on the local news in Daytona Beach, Florida, for being the youngest ever to attend their Christmas Expo to take classes on electrical wiring. And what does the third-grader think of this publicity and mounting attention around town? "Well, it's retty crazy," he said. "It's a lot more than I ever thought that I'd get!"

Last fall, the Kells family relocated just around the corner to Sylvan Road, in Lacy's childhood home built by her greatgrandfather in the late 1940s. With both sets of grandparents living within a block, the displays have naturally become a family affair. Susie and Prescott Godwin and Dick and Dee Dee Kells are most certainly their grandson's biggest supporters. They've contributed new inflatables and invested time in teaching him how to repair or replace damaged motors and electrical parts.
Dick Kells, affectionately referred to as "Ga" by his grandchildren, purchased John Palmer's all-time favorite blowup, a mammoth 12-foot Snoopy airplane and helps to hoist it 20 feet up into the trees. When asked about the very best part of creating his displays, John Palmer's answer is heartwarming, "I like spending time
with Daddy and Ga. We have fun figuring out how to make everything work."

John Kells estimates that his son spends 30 to 40 hours of his free time preparing and installing the Christmas decorations. Once the shows are up and running, John Palmer rises around 6 every morning to give each and every component a final check before heading to school.

"People who watch his shows should know how much attention to detail he puts into his displays," Lacy Kells said. "He spends hours and hours making sure his decorations are working well, lit properly, and that they look nice. He checks every plug, cord, outlet and strand of lights for months before the shows and really cares about how it all looks. He wants people who drive by to enjoy and see it just the way he envisioned."

John Palmer aims to have the Halloween display up and running by Oct. 1 and kicks off his Christmas show the weekend after Thanksgiving. Both shows typically run from 6 to 10 p.m., seven nights a week.

Consider a visit. Those of us who have already experienced the wonder at the hands of one ingenious young boy can promise that his displays will make your holiday a whole lot brighter. Thank you, John Palmer.

Claire Mullen can be reached at clairejlmullen@gmail.com.