BY: CLAIRE MULLEN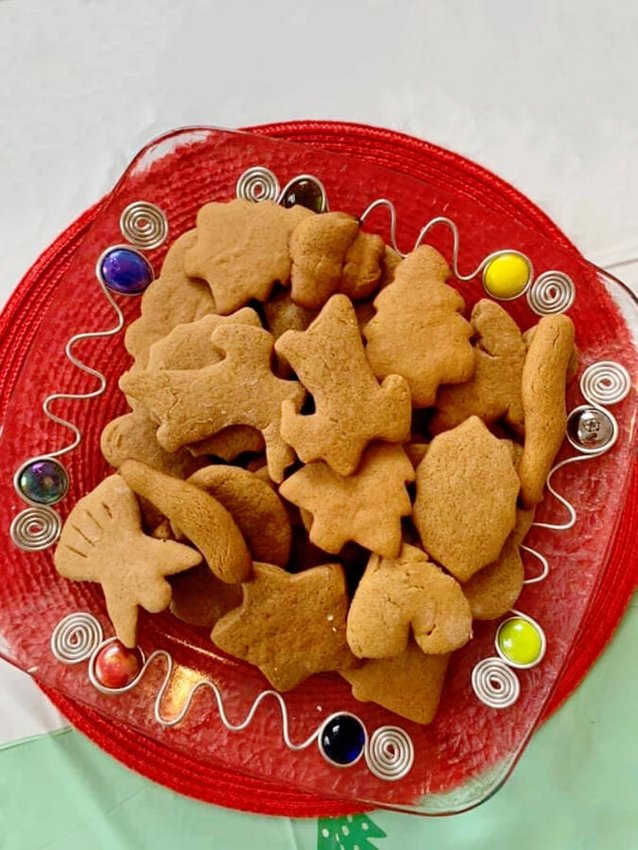 Last year, on the Saturday morning before Christmas, I found myself standing with fuzzy-slippered feet in my flour-bombed kitchen, over a plate of warm-from-the-oven cookies, inexplicably weeping and laughing all at once. I remember thinking that the frenzy of the holiday season had officially done me in.

A breakfast of three cups of black coffee with a side of pilfered cookie dough would make just about anyone a little unhinged, I reasoned. I dried my eyes, shooed my two "helpers" from the kitchen, and went about wiping little dusty white handprints off countertops, mopping the floor of gritty spilled sugar and putting upended containers of ingredients back in their rightful places. Before I packed the few dozen cookies into a Tupperware container, I took a photo of them for memory.

This snapshot is the most recent in a series of others on my cellphone camera roll that documents the evolution of annual Christmas cookie making in my own little family. The oldest photo depicts my daughter as a toddler, sitting atop our kitchen counter beside my trusty stand mixer. She's wearing a big pink hairbow and a tiny matching apron with her name embroidered across the front. It's a candid picture that I snapped as she snuck a spoonful of dough from the bowl when she thought I wasn't watching.

In the next holiday baking photo taken two years later, the same not-quite-so-little girl is finally tall enough to reach the mixing bowl while standing atop our kitchen stool. And then, a picture of a kindergartener, rolling pin in hand, making room at the counter for her little brother to stand beside her for the first time.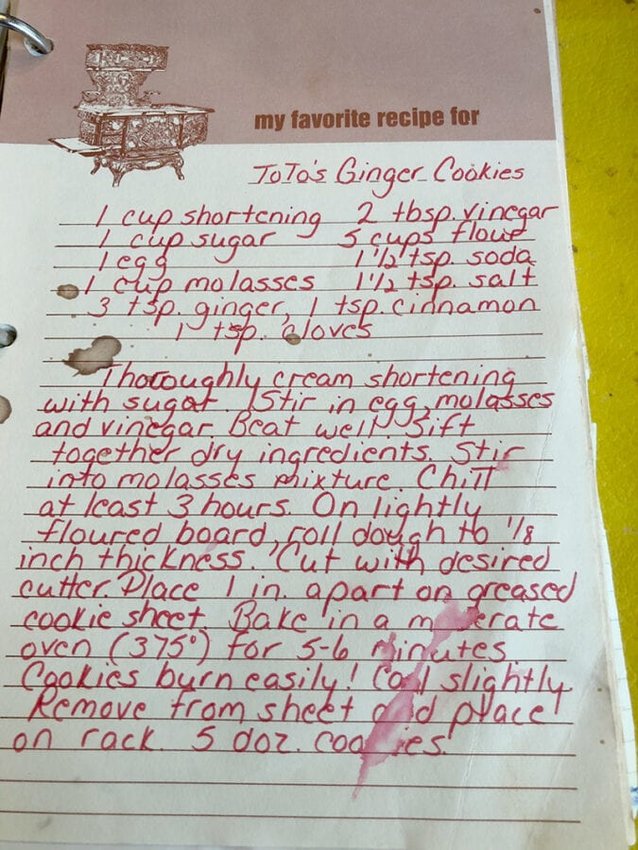 The recipe for these old-fashioned ginger cookies has been passed down in my family from my great-grandmother, Mary Virginia Joyner Brown, or "ToTo" as we knew her, which makes the recipe at least five generations old. I have vivid memories of gathering around our kitchen island with my three younger siblings to help Mama cut them out. She would turn on Amy Grant's "Home for Christmas" album (those songs still take me right back to that kitchen) and lift a wicker basket full of metal cookie cutters of all holiday shapes and sizes down from the tallest cabinet.

It was a once-a-year novelty for the four of us to sort through those cutters and hurry to choose our very favorite. We thought it was so funny to roll the last bit of dough that wasn't big enough for a cookie shape into a skinny log and call it the "Christmas snake". We always argued over who got to eat that darn snake. Nowadays, for nostalgia's sake, I always make sure that each of my children has their very own, traditional Christmas serpent.

When my family lost our Mama to cancer, I came home from college and found great comfort in sitting at our big kitchen table and flipping through her recipe books and boxes, examining her handwriting on each well-loved recipe. Tangible reminders of happier occasions. I penned my very favorites, careful to include "ToTo's Ginger Cookies," onto blank sheets of paper, which to this day, stay folded in a spiral bound Haymount United Methodist Church cookbook that my Mama bought, labeled with my name and tucked away for me when I was just 10 years old.

I recall being a newlywed and insisting on continuing the ginger cookie tradition in my own family. The first time I attempted to make them by myself, we were living in Durham while my husband attended dental school. It didn't feel right to make them alone in our tiny kitchen, so I packed up all the ingredients and traveled with them to Fayetteville. The cookies would be baked at Dad's house, around his big island, the Amy Grant carols barely audible over the laughter of my three siblings.

The following year, in our own new Fayetteville home, I rushed into the recipe without taking inventory of my sparse kitchen equipment. I didn't own a sifter and ended up sifting five cups of flour with a mini strainer that was maybe 4 inches in diameter. I toiled through baking five dozen cookies on the one small baking sheet I possessed, and after hours of work, every single one came out of the oven black on the bottoms and doughy on the tops.

I spent the Christmases before motherhood getting the recipe down to a science. I baked the cookies with great precision, making sure that I had even numbers of each shape and that every cookie was cut to exactly the same thickness. This way, they baked perfectly crisp on the outside and a touch soft in the middle.

On this most recent Christmas, I thought back and laughed (and yes, weeped) at that version of myself as my two children overtook the ginger cookie operation in their pajamas. One used a Play-Doh roller for his dough and poked patterns in his cookies with the wings of an action figure. My daughter was finally old enough to use a "big girl knife" to carve pretty little details into her cookies. She didn't need help with a single thing and, with great pride, rolled out her own Christmas snake. I just stood by, watched and remembered.

My husband likes to poke good-natured fun every time I pull out my stack of tattered, splattered family recipe pages and has helpfully suggested that I type them up, print them on uniform cards and place them in a legitimate recipe box. I just can't bring myself to do it. Because one day, a grownup girl in her own kitchen, all decorated for Christmas, might just sit down with her Mama's faded yellow church cookbook, leaf through the pages in search of her great-great-grandmother ToTo's ginger cookie recipe and smile when she sees her mother's messy scribble scrabble.
She might remember a time on a Christmas past, when she was just a little girl wondering why her silly Mama was crying over a plate of homemade cookies, and finally understand why. Claire Mullen can be reached at clairejlmullen@gmail.com.