Some are sweet. Some are savory. But either way, a handwritten recipe handed down through the years is a special legacy to generations of beloved family cooks. On these pages, our readers share some of their meaningful recipe box memories.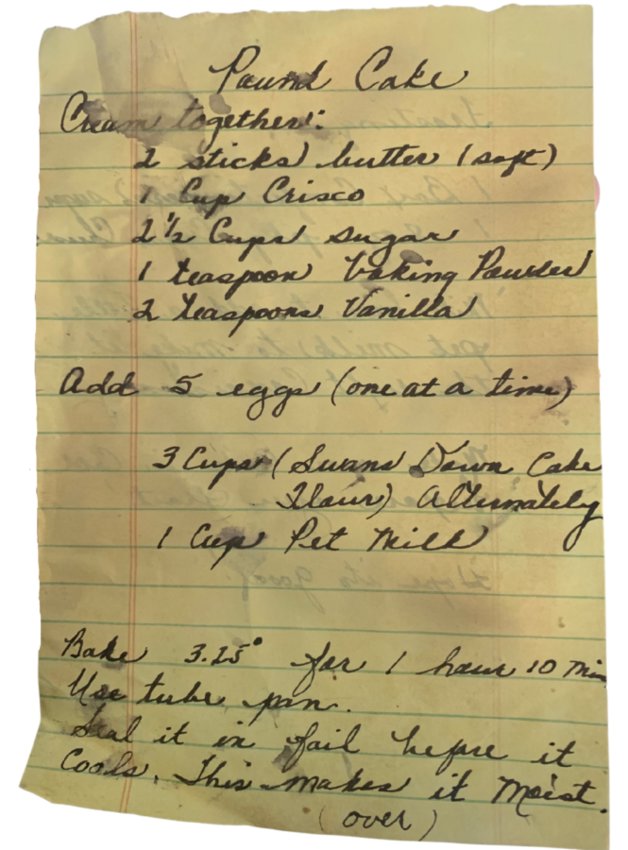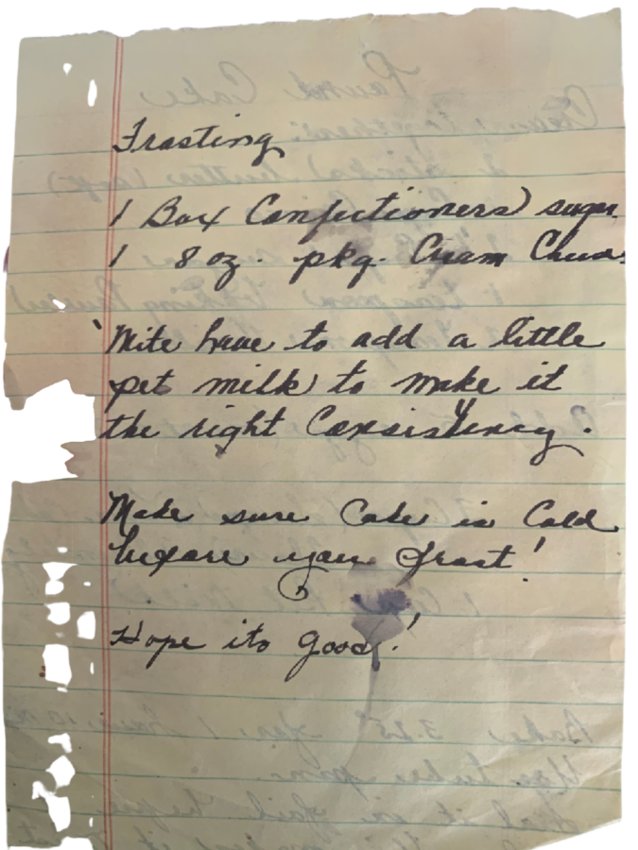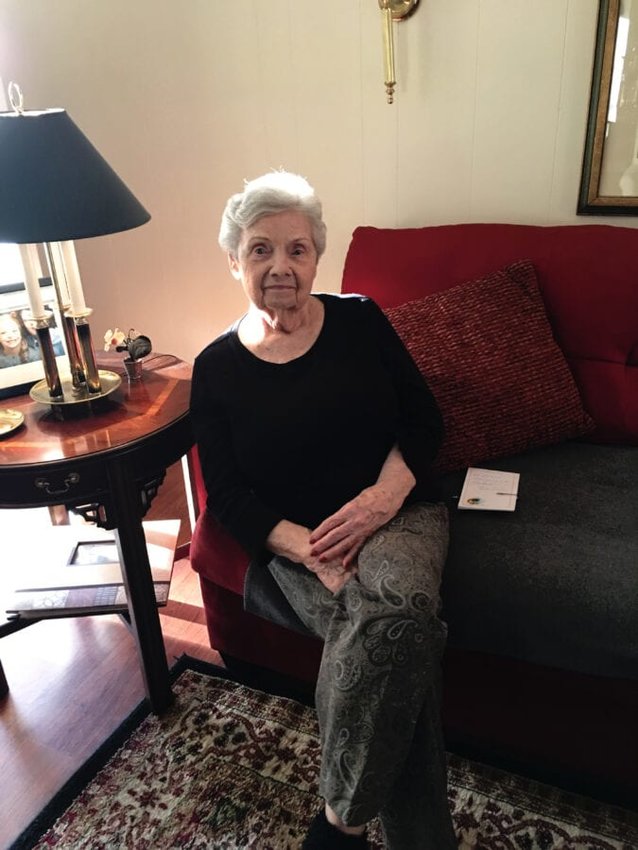 Clarice Stroup was born and raised in Fayetteville, worked downtown at First Citizens Bank for many years and attended Snyder Memorial Baptist Church. "She knew everyone!" says Winifred Miller, her best friend and neighbor for over 40 years.
Clarice baked cakes for everyone and was especially known for her pound cake. Her cakes are lovingly remembered by the Miller family as a treat made with love for every Christmas and family birthday.
She'd regularly walk down the hill from her home on Emeline Avenue to Fairfield Road to deliver Mrs. Miller her cakes to ensure she had them on hand for any special occasion. We'll never know if she used those cakes as an excuse to visit or used the visits as an excuse to bake a cake.
Clarice, now 93, resides in the Asheville Retirement Center and hasn't baked a cake since her 90th year. Over 25 years ago, Winnie asked for the recipe for the day that Clarice would no longer show up with her cakes in time for the Millers' beloved family celebrations. She keeps it safely tucked away in her recipe box and even made a copy for safekeeping but hasn't made it on her own yet for fear it could never match up to her friend's signature gift that was made with love across the street for so many years.
– Kathryn Kelly, Winnie Miller's granddaughter
POUND CAKE
Cream together:
2 sticks butter (soft)
1 cup Crisco
2 ½ cups sugar
1 teaspoon baking powder
2 teaspoons vanilla
Add 5 eggs (one at a time)
3 cups (Swan's Down Cake
Flour) Alternating
1 cup Pet milk
Bake 325 degrees for 1 hour 10
minutes.
Use tube pan.
Seal it in foil before it cools,
this makes it moist.

Frosting
1 box confectioners sugar
1 8 oz. package of cream
cheese
Might have to add a little
Pet milk to make it right the
consistency.
Make sure cake is cold before
you frost.
Hope it's good!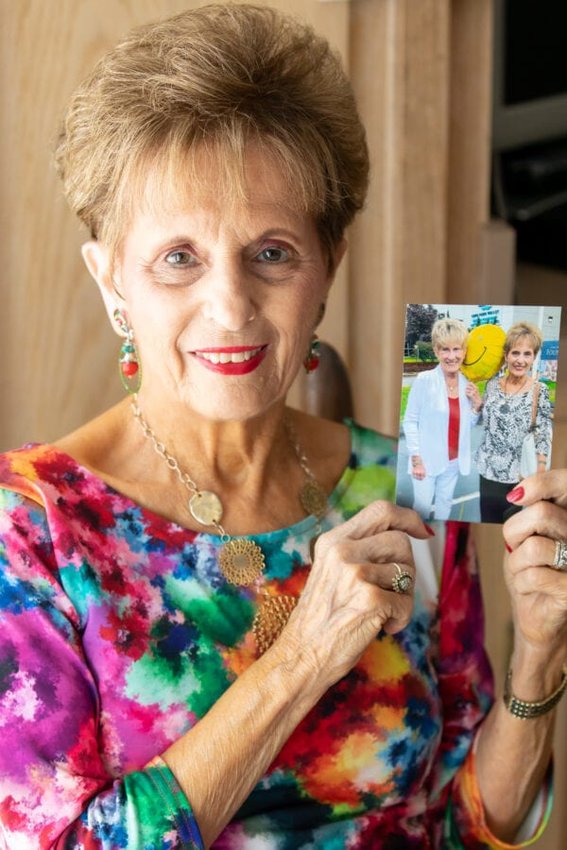 When I opened my recipe box (which I have not done recently), I found four of my family's favorites which I made almost every holiday when our daughters were growing up. When my father-in-law passed away in 1977, I started having the Thanksgiving and Christmas lunches/dinners at our house with my mother-in-law and my husband Frank's aunts! When all of them passed, my daughter Lynne began having these at her home because we "downsized" - now she has her own family including our first great-grandchild!
I never rewrote the recipes because they were so precious to me!
- Judy Dawkins
SWEET POTATO CASSEROLE
6 tablespoons Butter
3 eggs (beaten)
¾ cup sugar
½ cup pecans
½ cup milk
½ tsp vanilla


Pour into 1 ½ quart casserole.
Topping: ½ cup brown sugar
½ cup flour
1 cup nuts
1/3 stuck butter, melted
Bake at 350 degrees for 35
minutes.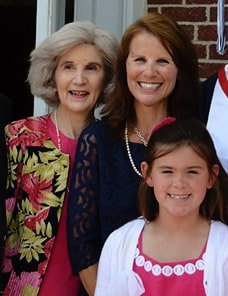 A recipe given to me by my sweet mother, Ann Lawson, who passed away in June. My mother, Ann Lawson, was the consummate hostess and always had some homemade dessert or sweet creation to share when someone stopped by her home. Mother started making this candy at Christmas when I was in high school. It was always one of my favorites, and I've made it every Christmas since I've been married. My husband Hector and my children love it too! This Christmas will be bittersweet with the absence of my mother. However, I am so thankful for wonderful memories of a caring and loving mother who shared her love of cooking with everyone she knew.
- Cheryl Lawson Ray
CHOCOLATE CANDY
1 bag milk chocolate pieces
1 bag peanut butter pieces
2 tablespoons cooking oil
2 cups dry roasted peanuts
Melt milk chocolate and
peanut butter pieces with oil in
microwave, 1 minute at a time -
the stir - usually melts with 2-3
minutes. Stir in nuts. Drop by
teaspoonful onto waxed paper
or into miniature candy cups.
Can refrigerate to set.
May need to refrigerate for
storage.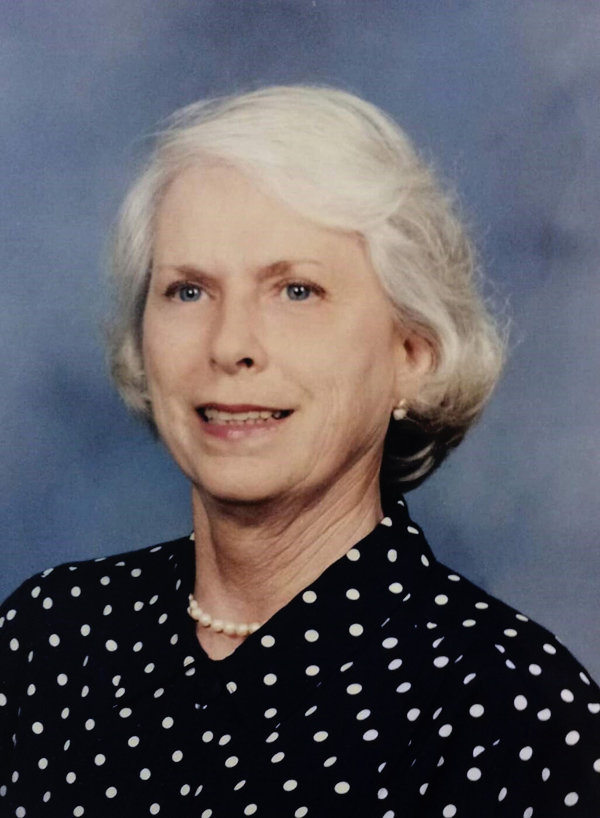 My late grandmother, Frances Hasty, loved to bake and try out new recipes. For many years for the holidays, she would always order Superior Bakery's lemon meringue pie, and it was great. One year, she decided to try to recreate it at home. She made a lemon meringue pie with a little twist, it was Geegee's Lemon Pie. This is my favorite recipe of hers and I know she would love to share it with the Fayetteville community. – Lia Hasapis
LEMON MERINGUE PIE
1 cup sugar
2 tablespoons flour
½ stick butter
Juice of 1 lemon
3 eggs, separated
1 cup whole milk
Grated rind of lemon
1 baked 9-inch pie shell
Mix sugar, beaten egg yolks,
flour and milk in a saucepan.
Add butter. Cook over medium
heat, stirring constantly while
mixture is hot, add lemon juice
and rind. Cool until thickened.
Make meringue, adding 2
tablespoons of sugar.
Spread on custard in pie shell.
Bake at 350 degrees for 10-15
minutes.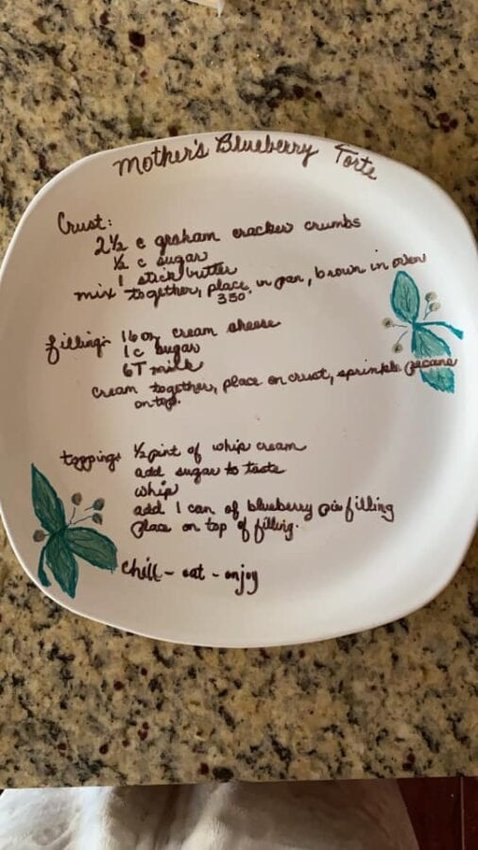 Debbie Johnson, once a beloved Fayetteville schoolteacher who has since retired and moved to Wilmington, grew up in a family of six sisters. Her mother, Jean Craddock, made a simple, but scrumptious blueberry torte that was a family favorite.
"There weren't many leftovers in my house," Johnson said. "That was one of the good memories from my childhood."
Johnson's sister Betty became the keeper of the recipe after their mother died. Over the years, she fielded so many calls from one sister or another wanting her to repeat the ingredients and directions that she finally came up with a solution.
"She made us all a plate with the recipe on it," Johnson said. "It's so easy to prop it up and follow the directions. Those memories we take for granted, sometimes tend to disappear. Now I always know where it is."
BLUEBERRY TORTE
Crust: 2 ½ cups graham cracker
crumbs
½ cup sugar
1 stick butter
Mix together, place in pan, brown
in oven at 350 degrees.
Filling: 16 ounces cream cheese
1 cup sugar
6 tablespoons milk
Cream together, place on crust,
sprinkle pecans on top.
Topping: ½ pint whipping cream
Add sugar to taste. Whip.
Add 1 can of blueberry pie filling
Place on top of filling
Chill – eat – enjoy
CHOCOLATE SHEET CAKE
1 stick of butter, soft
1 cup flour (all-purpose)
1 cup sugar (granulated)
1 tablespoon vanilla
4 eggs
1 can (regular size) Hershey's
chocolate
Beat all ingredients together in
bowl. Bake at 350 degrees for
25-30 minutes.
Icing: In saucepan, add 1 stick
butter; 1 cup sugar, ½ cup
evaporated milk. Bring to boil,
boil 2 minutes. Remove from
heat, add ½ cup chocolate
chips and 1 cup pecans.
Spread over cake.
PEANUT BUTTER PIES
8 ounces cream cheese
1 cup powdered sugar
½ cup crunchy peanut butter
½ cup milk
1 carton prepared whipped
topping
2 graham cracker crusts
Beat cream cheese with
sugar. Add peanut butter and
milk. Blend. Fold in whipped
topping. Pour into 2 pie crusts.
Put in freezer.
Thaw slightly before eating.
Sprinkle with nuts.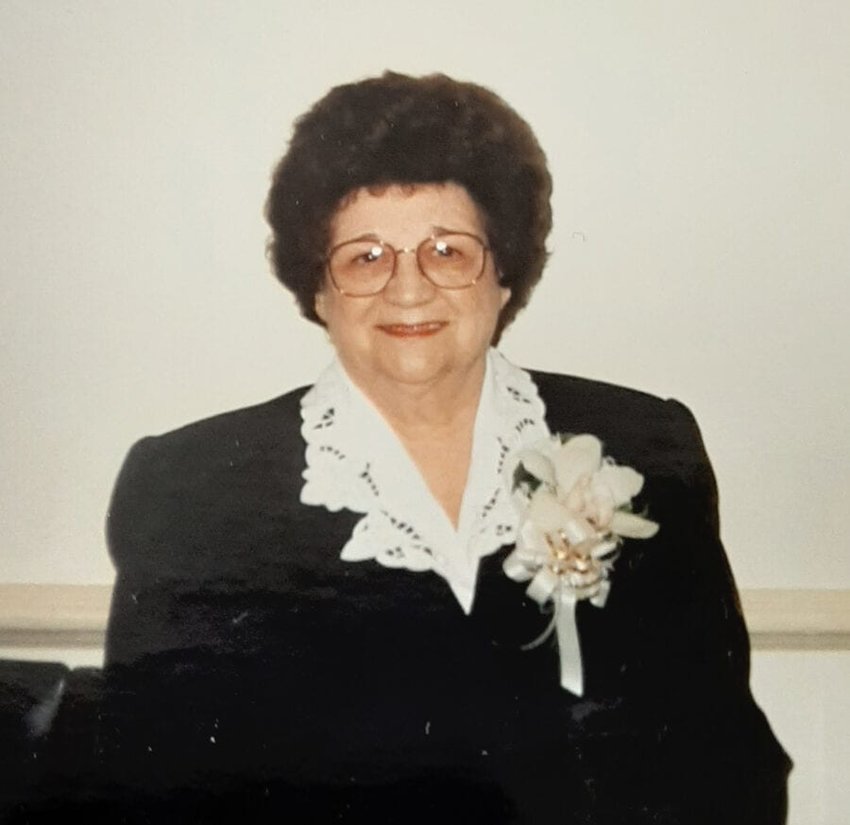 No one could make chicken and pastry like my grandmother, Pauline "Granny" Tyndall. Not only was it my favorite meal, but as a child I would watch in awe as she rolled out her pasty, slicing each piece like she had a ruler on it. Granny Tyndall's table every holiday would be overflowing with Southern cuisines and love. I have never attempted to make it the way she did, but I cherish the memories of watching her as a little girl making my favorite meal.
– Angela Tyndall Godwin
CHICKEN WITH DUMPLINGS
1 frying chicken (about 2 1/2
pounds), cut up
3 cups water
1 onion, chopped
1/2 bay leaf
2 slices lemon
Salt and Pepper
Dumpling Batter
1 cup sifted flour
1 teaspoon baking powder
¾ teaspoon salt
Dash or more of nutmeg
1 teaspoon minced onion
2 egg yolks
1//3 cup milk
Simmer chicken with all
ingredients, except dumplings,
35 minutes, or until tender.
Remove bay leaf and lemon.
Drop Dumpling Batter on top
of chicken with teaspoon.
Cover tightly, and simmer 15
minutes without removing
cover. Serve at once.
DUMPLINGS
Sift together dry ingredients.
Add onion. Beat egg yolks with
milk and, add to dry mixture.
Mix lightly until blended.