BY: KIM HASTY
PHOTOGRAPHY BY: CINDY BURNHAM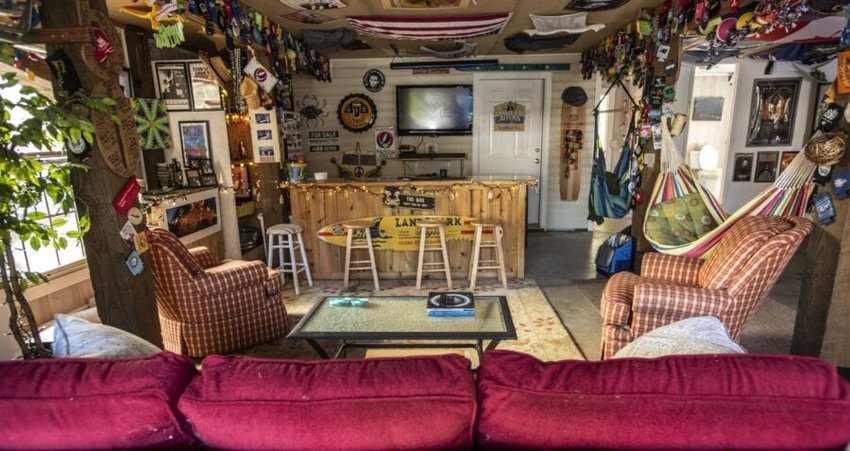 Fascination abounds in the people, places and events right here in Fayetteville.
But another of the nice things about living here is our convenient proximity to other enjoyable destinations.
For this, the first in an occasionally recurring feature on some of those destinations, we tag along with some fun-loving Fayetteville residents who have made a welcoming second home in the coastal town of Oak Island.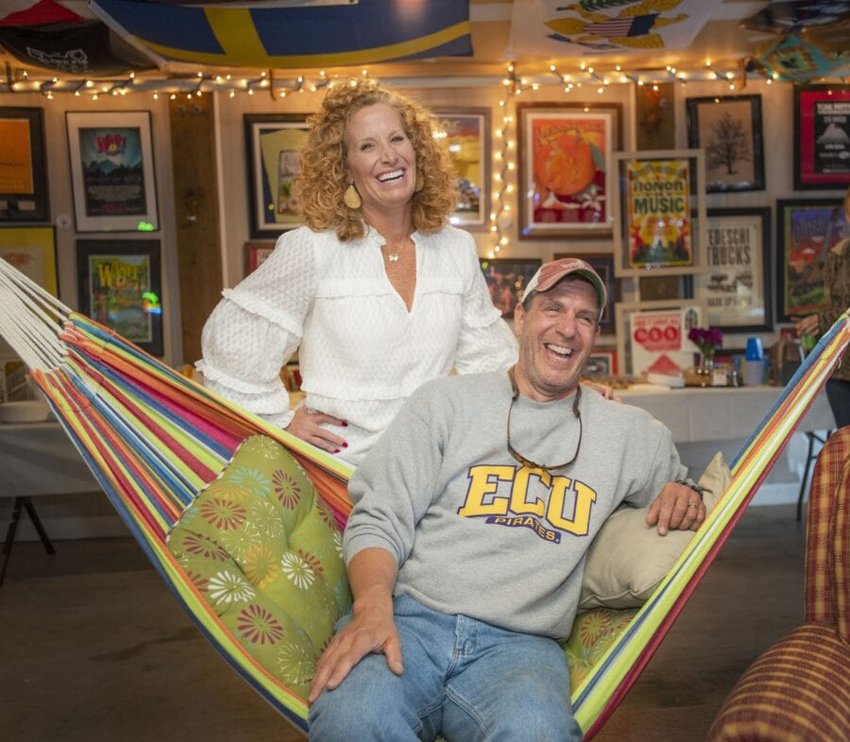 For Mary Frances and Jeff Morketter, part of the fun of owning a beach house is welcoming friends and family members to shuck an oyster, pop open a cold drink and listen to some good music.
***
The oysters are steaming, the coolers and the fridge are stocked, and friends are gathered around the backyard fire pit to easily ward off a mild
December chill. The twang of guitars is filling the evening air as the band starts to tune up.
Welcome to the Oak Island vacation home of Fayetteville natives Mary Frances and Jeff Morketter. The first time the Morketters pulled up here, they were surprised to find an unofficial welcome committee awaiting them.
"Seven or eight couples were here to meet us," Mary Frances said. "They told us, 'You're moving to the best street on the island.'
"We've been friends ever since," she said. "We feel like we were meant to be here."
It didn't take long for the neighbors to realize that when it comes to fun and friendliness, the Morketters were going to fit right in. They've created a relaxed atmosphere that features thoughtful touches inside the elevated three-bedroom, two-bath home, as well as a large backyard perfect for conversation and get-togethers like the couple's annual oyster roast.
The home also features everybody's favorite hangout – the garage that sits under the main living area. That's because this garage isn't a place for parking their cars, but rather it's where they've added a comfy seating area, wide-screen TV and Jeff 's captivating collection of music memorabilia. This is where they like to spend their time whenever they aren't watching the sunsets on the beach.
Or when they aren't busy preparing to steam oysters.
"I couldn't have asked for better neighbors," said Donna Smith. She and her husband Addison own the home next door and were among the couples waiting to greet the Morketters that first day. "They've been fantastic and awesome."
The Morketters' first home on Oak Island had three bedrooms and just one bathroom, though they added an outdoor shower that came in especially handy when guests came to visit.
"It was great for 10 years," Mary Frances said. "But I finally got to the point where I said, we need another bathroom."
She still loves Wrightsville Beach, where her parents have a vacation home.
But she and Jeff have fallen in love with Oak Island.
"This is our home," she said. "This is where we'll retire."
***
The inspiration for the Morketters' favorite hangout started with Jeff Morketter's love of music and a second-hand wooden bar. When Van Herring decided to close his Time for BBQ restaurant off Raeford Road in Fayetteville, Jeff purchased the bar and had a sheet of plexiglass cut to fit over the top. His collection of concert tickets – mementos of the 350 or so performers he's seen live – fit perfectly underneath the glass.
The walls are decorated with framed concert posters and other music memorabilia.
His love of music dates back to when he was in seventh grade and his older brothers gave him a Sound Design stereo and four albums for his birthday.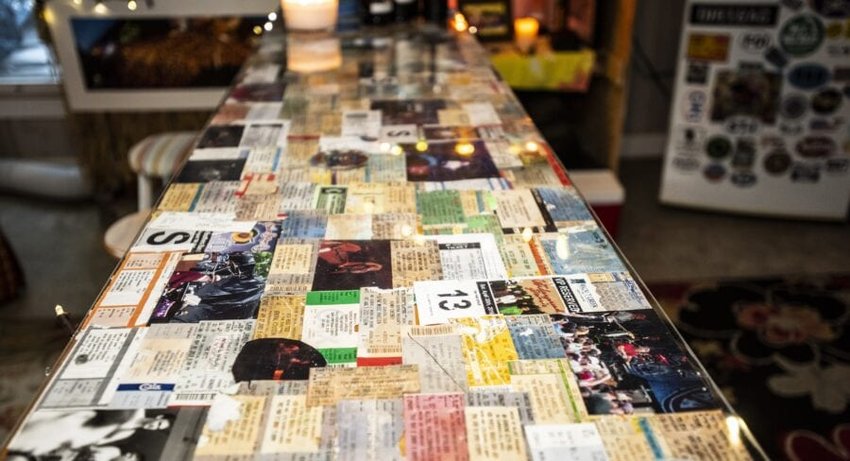 "I still remember those four albums," he said. "Boston, The Outlaws, Led Zeppelin 4 and Poco's Legend."
Not long after, the brothers gave him a ticket to see Boston in concert with Sammy Hagar at the Cumberland County Memorial Arena in 1979.
"And my life changed because of that," he said. "I knew I had to do something to be around music."
Jeff, a marketing consulting for Beasley Media Group who also is a passionate amateur photographer, since has seen many of the greats, including B.B. King, the Allman Brothers, Ray Charles, Van Morrison, Bruce Springsteen, The Who and The Rolling Stones. "Music can take you to places where you miss your mom and your friends," he said. "But you can feel them and their presence through the music that reminds you of them."
***
The living area of the Morketters' Oak Island home is highlighted by Jeff's photographs and by Mary Frances' love of color. The wall above the sofa features a collection of his framed photos of beach scenes. A marble-topped pie safe that once belonged to Jeff's late mother Sarah is a standout piece. Mary Frances painted it in a soft coral hue and replaced the tin panels with glass. Several accessories are the work of local island artist Heather Sullivan, including a light fixture that features a piece of the old Oak Island pier and another over the dining table made from weathered olive buckets.
For the Morketters, an oyster roast starts with a trip to Haag and Sons Seafood on East Oak Island Drive, where fishmonger Jon Haag has been serving up oysters and a smorgasbord of other fresh catches for more than 25 years. And where Jeff's buddies Alex and Allen Thompson are helping him haul away a couple of bushels of Haag's best oysters from Texas and Topsail Island.
Jon Haag had a serious health scare a couple of years ago when he suffered a brain aneurysm.
"But he was back eight months later, selling me oysters," Jeff said.
The global pandemic put a damper on the huge gatherings that oyster roasts can draw, but not on the quality of the oysters. Not only that, but Haag said the old saying about only eating oysters in months that contain the letter R is no longer true.
"It's acceptable now to eat them all year round," Haag said.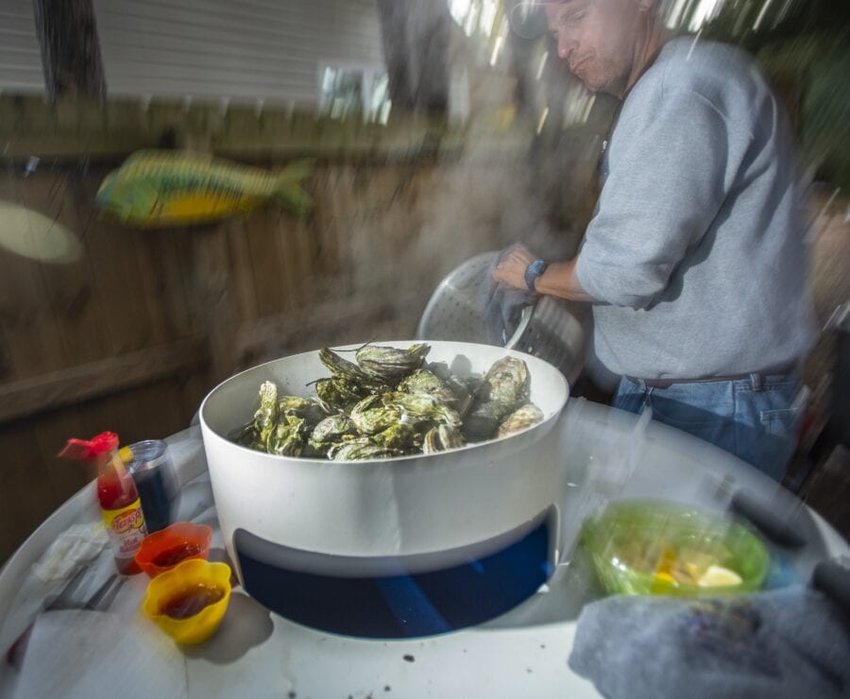 He prefers to prepare his oysters "au naturale," placing them in a single layer on a sheet pan and roasting them in the oven just until the shells start to open and no longer than that.
"People will take a lovely, luscious, succulent oyster," he laments, "And turn it into something that resembles a pistachio nut."
Back home, Jeff Morketter has an impressive operation up and running. After rinsing the oysters, he roasts batches of them in huge steamer baskets inside pots over individual propane burners.
When the shells begin to open, he dumps them onto two oyster shucking tables that sit atop 55-gallon drums for holding the discarded shells.
Nothing, it seems, goes with the beach and oysters better than live music. Morketter and some longtime buddies cap off the evening with a couple sets of original songs and popular covers. Clyde's Cabin Band – Morketter on the drums, lead singer Tim Godwin, and brothers Rob and Allen Thompson and their cousin Alex on various guitars – was named for a dog who showed up at a cabin on the Thompson family's Merry Bee Farm in Raeford.
All the band members have full-time day jobs, but they've been asked to play quite a few gigs over the years. They've performed at the Stoneybrook Steeple Chase in Hoke County, at Louie's Sports Pub in Fayetteville and, most recently, at Dirtbag Ales in Hope Mills. This gig in the backyard is smaller, more personal and, at least for a few hours, there's a chance to sit back and relax by the fire. And to raise a toast to good friends, good food and good music.