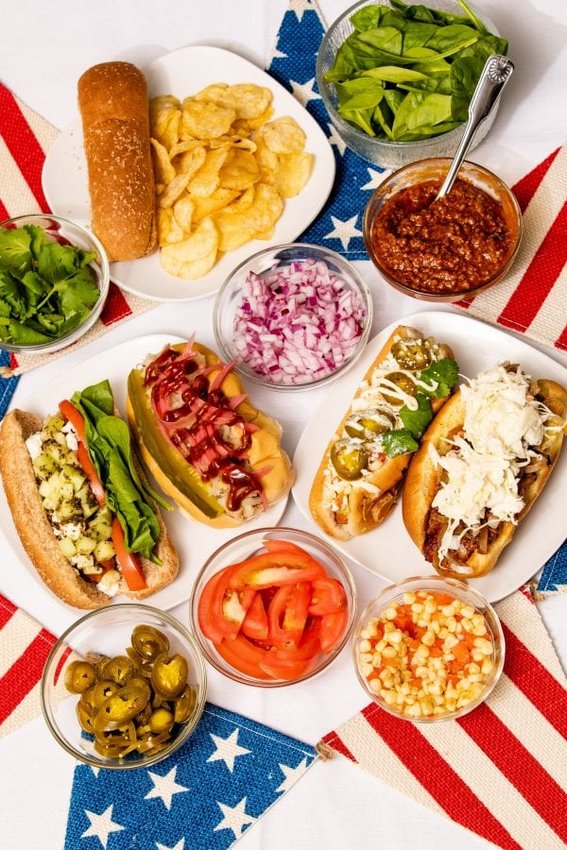 Through her Dorothy's Catering 2 business, Jelisa Montalvo has cooked for the likes of NFL players, celebrities and politicians. But when it comes to hot dogs, she relies on recipes that have passed muster with the toughest of critics: her own family. "Hot dogs are my mother's thing," she said. "She doesn't eat much meat, but my mother loves hot dogs. Our Tex Mex dog is inspired by her."
Hot dogs top the menu when the family gathers for their trademark big cookouts at Montalvo's house.
"Everyone brings friends, and we up having a huge crowd," she said. "We grill out and have
a good time." Montalvo, 32, first learned to cook in the kitchen of her late grandmother, Dorothy McEachern, founder of the original Dorothy's Catering. McEachern, who died in 2012, was both well-loved and proficient. She set high standards for her business, which included serving as food service director at Snyder Memorial Baptist Church.
"Her customer service skills were outstanding," Montalvo said. "She believedin love and caring and making sure your customers are happy. She also always reminded me that you eat with your eyes. It always has to look pretty."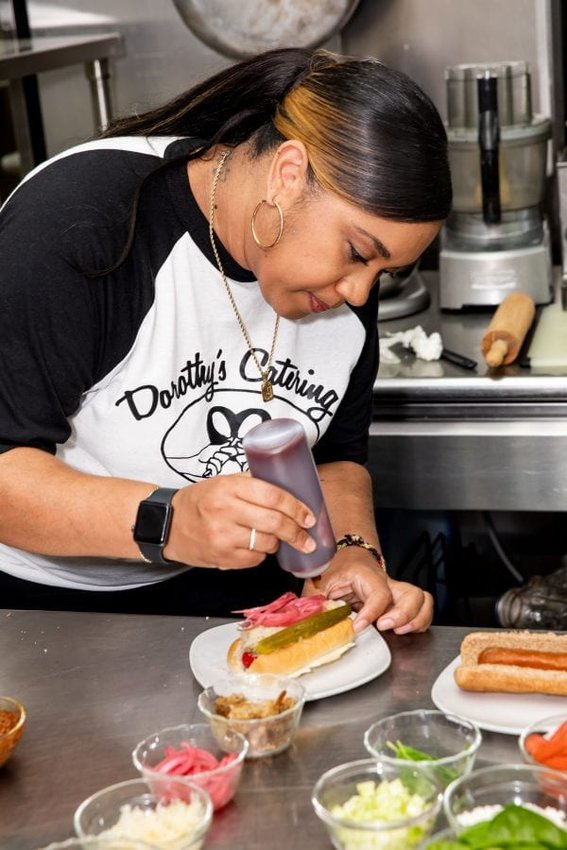 Montalvo, who had been helping in the business, originally planned to pursue a legal career, but put that on hold to not only carry on her grandmother's legacy, but to create one of her own. By all accounts, she's done that. "We love Jelisa, her staff and her meals," said Jenny Beaver deViere. "Her meals are simple like my grandmother would have cooked, but Jelisa's food is always delicious. She's great at helping prepare a menu for whatever event theme you are planning." During the COVID-19 pandemic, she and right-hand woman Danielle Jenkins and the rest of her staff have fed the community, giving away some 3,000 meals to those in need. "Food is a love language for any race, culture and gender, and I use it to bring everyone together," she said. "I am teaching my children just like my grandmother taught me, how to be givers and help the community."
Even something as simple as a hot dog becomes special with Montalvo. She recently whipped up four original hot dog concoctions: Tex Mex Turkey Dog, Veggie Dog, Carolina Dog and Bacon-Wrapped Beef Dog.
The turkey dog is served in a classic bun and topped with guacamole, Mexican street corn, chopped purple onions, cilantro, sliced jalapeños and is finished with a drizzle of lime mayo.
The veggie dog, served on a whole-wheat bun, is topped with diced cucumbers, sliced tomatoes, spinach, feta cheese and a signature vinaigrette salad dressing from her grandmother's well-loved recipe.
The Carolina Dog, served in a split bun, features toppings of pork barbecue, pickled onions, sauerkraut, a dill pickle slice and barbecue sauce. Finally, the bacon-wrapped beef dog is served on a potato bun with chili, sautéed onions, chopped onions and coleslaw.
All the ingredients are homemade. "They're amazing," Montalvo said. "They're really good. You can experiment with everything. We have tried every type of dogs."
By Kim Hasty | Photography by Matthew Wonderly