By: Kim Hasty
Photography by: Cindy Burnham
The fairy garden workshops are Green Side Up's most popular offering. For $25 guests receive a pot, soil, three plants and discounts for all the little accessories they wish to purchase.
Madi Fulkerson lulls us into a fascinated trance as she works with the meticulous skill of an artist. Her tools are scoops of dirt, pebbles and rocks, tiny ferns and a variety of tiny creatures with amazingly detailed features. All those things, including fairies, mushrooms, mermaids, even dinosaurs, remain steadfastly still wherever she puts them.
Unless, that is, she decides to move them.

"Sometimes, I end up not liking where my plants are," she said. "I'll pull everything out and start again. But I try to have a story in mind before I start."
Fulkerson holds the official title of nursery nanny at Green Side Up Garden and Gifts. Among her favorite responsibilities is bringing these little make-believe worlds to life and teaching others how to do the same. Green Side Up offers a variety of Saturday workshops in subjects such as starting seeds indoors and preparing raised bed gardens.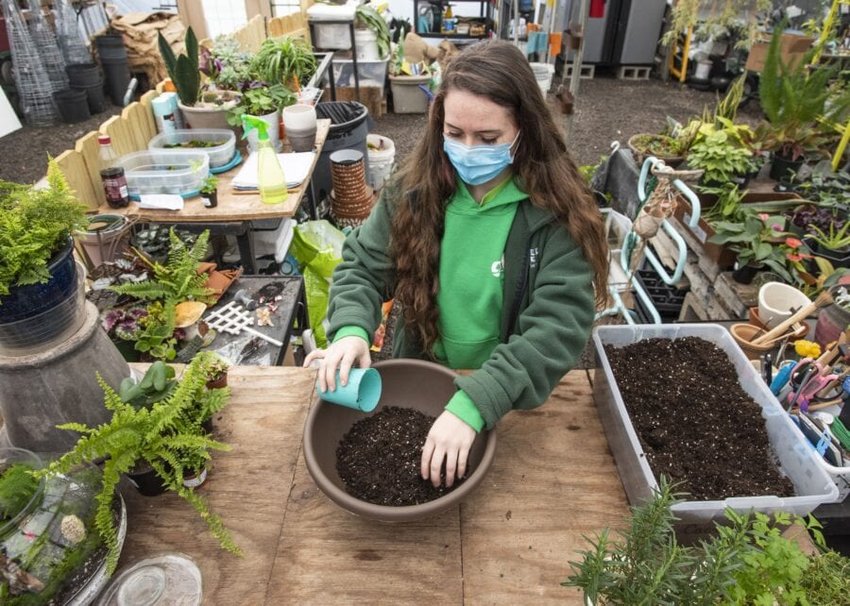 But among their most popular workshops are the fairy garden classes Fulkerson leads. For $25 guests receive a pot, soil, three plants and discounts for all the little accessories they wish to purchase. The February classes were sell-outs, but at least two more will be offered in March, one on March 6 and another on March 13. In keeping with social distancing guidelines, each workshop is limited to 10 participants.
The workshops are open to all ages, and Fulkerson said the fairy gardens naturally appeal to the youngest of gardeners.

"One little girl brought in her own crystals," she said. "She did a Little Mermaid garden."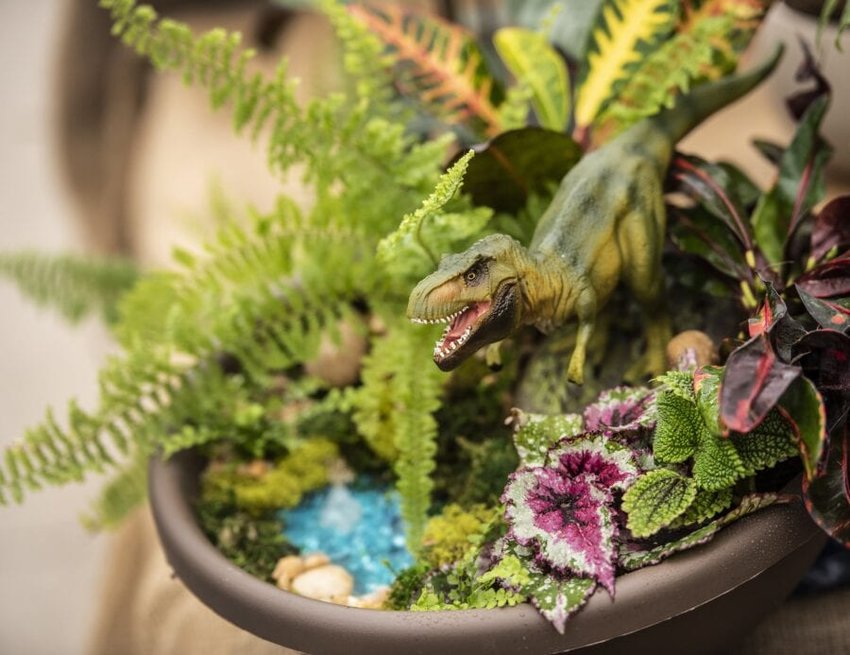 Fulkerson wasn't always so adept at skills such as shaking out the root ball of a tiny fern or keeping a T-Rex in place in the middle of colorful foliage. She said she's learned
a lot in the less than a year that she's been a keeper of the gardens.

"I've always liked art," she said, carefully brushing away sand from a tiny cobblestone path and then beginning the task of peeling off layers of moss to place near a miniature pond.

Fairy gardens have been popular for years now, perhaps for the element of nostalgia they offer or for the immense variety of themes that are limited only by the imagination. For horticulturalists of any age, fairy gardens teach lessons in plant compatibility, elements of design and soil science.

Go to https://www.greensideupgifts.com to sign up or for more information.