By: Michael Futch
Photography by: Cindy Burnham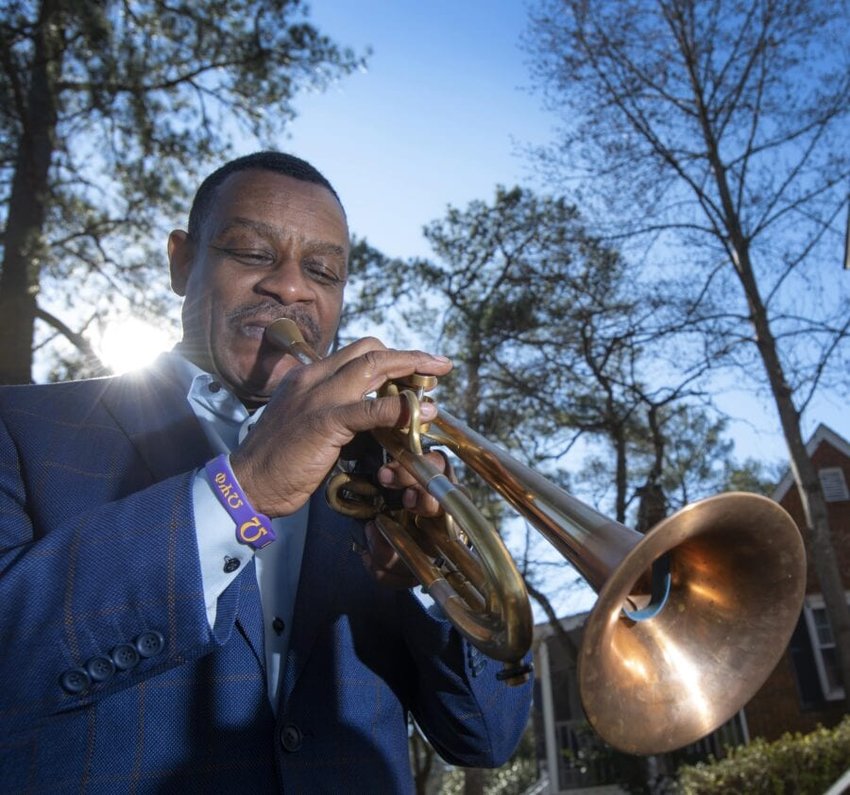 Earlier in Willie Bradley's life, addictions to alcohol and cocaine mounted up to become the bane of his existence. "I could do good for a while," he repeated twice, "and then stop."

He's a former music instructor for 14 years in the Cumberland County and Fort Bragg school systems and current independent professional musician whose credits include touring as a sideman with bebop great Dizzy Gillespie.

A contemporary soft jazz trumpeter, Bradley has chart credentials on his resume. For the week of Sept. 26, 2020, Bradley's recording "It's On Now" reached No. 1 on the Billboard Smooth Jazz chart.

The song, from his upcoming fourth album, "It's My Time," also features soul jazz flautist and vocalist Ragan Whiteside.

Sadly, drugs and spirits are familiar elements in the creative music industry and have been for ages – from Charlie Parker and Billie Holliday during the early heyday of jazz on up to Kurt Cobain and Amy Winehouse in the rock and pop fields, respectively.

Temptations run amuck.

Among others, a jazz-heroin connection was graphically chronicled in the Nelson Algren 1949 novel, "The Man With the Golden Arm."
In an interview from a Haymount home, he said, he never graduated to heroin. But Bradley was introduced to cocaine while playing for the Tampa Bay area-based pop Top 40 band Ooh-La-La that toured nationally as an opening act for Gloria Estefan and Miami Sound Machine during the 1980s.

The habit would consume much of his life, as his 5-foot-5 frame shrank from roughly 158 to 109 pounds.

Bradley already was drinking heavily at the time.

By the latter days of his drug dependence, along 2008, he said he was getting high on crack cocaine.

"My habit was then out of control," Bradley recalled. "That's when things really started to catch up to me."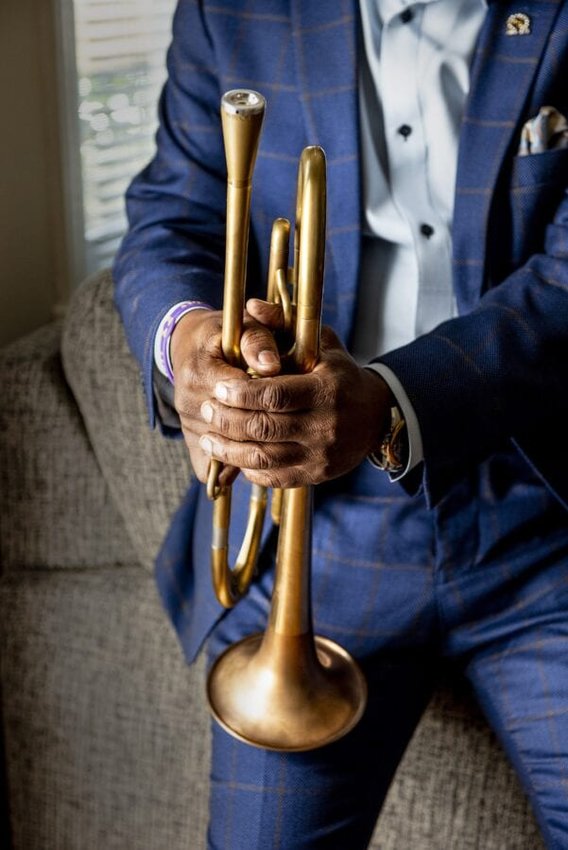 On the road, playing some of the finer hotels of the day during the '80s, he had his own room and a bar tab. "It wasn't hard. You're partying all night and sleeping all day," he said.

Bradley now talks about his "journey" with his demons during live stage performances worldwide. "That's what the Lord has called me to do," he said.
"... I get to tell the people there used to be a period in my life where I struggled with alcohol and drug addiction," he added. "And I tell them about the six DWIs and the totaling of the three new cars and the rehab."

He said he did drugs for about 30 years. "It's countless. It was a lot. I emptied my pockets," he replied, when asked how much he may have spent on cocaine over that long stretch of time.

Bradley, a 58-year-old native of Sumter, South Carolina, who grew up in Orangeburg, South Carolina, has lived in Fayetteville since 1990. He's married, and he and his wife, Karren, have three children, ages 19 to 29.

His lean, small-boned frame resembles an earlier Miles Davis, one of the greatest trumpet players and musicians of the 20th century. Bradley wears a neatly trimmed mustache and dresses for shows in expensive fashion, culling his look from some 35 European-cut suits.

Bradley's custom-made $8,500 Harrelson jazz trumpet has an extra-large bell and mouthpiece built to his specifications. The instrument was designed so that he can perform with more ease and provide more endurance on stage during his 90-minute sets.

"It's very easy to play," said Bradley, who has been playing the trumpet since he was 10 or 11.

He attributes his mother, Mary Catherine Bradley, who died of cancer in March, as helping him begin breaking the cycle of addictions.

"If it wasn't for my mother … I don't know … She was a saving grace on everything," he said. "No matter how bad times appeared to be, she made it seem like everything was going to be alright."
When Mrs. Bradley found out her son was in bad shape on the tour with Estefan, she got other members of Ooh La La to tell him that the group was disbanding so he could go home, rehab and finish college. In actuality, the band had not broken up, but she wanted Willie to stop all his drinking and drugging and finish college.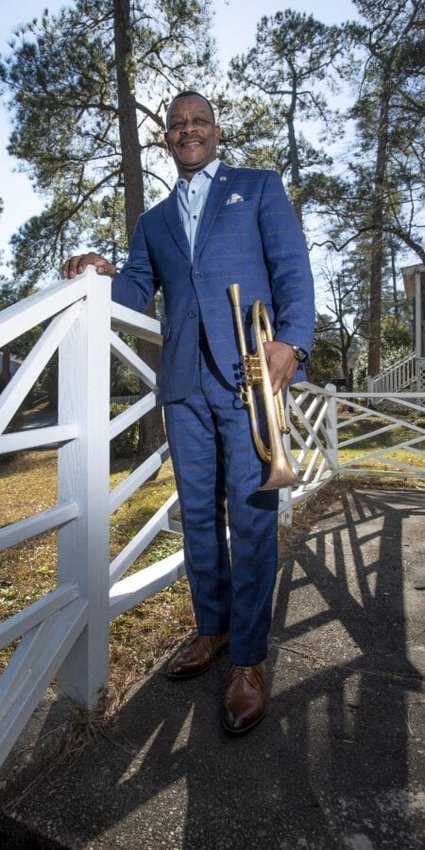 "From the bright lights to a country town," he said. "I was devastated."

But he finished with a double major in music education and music performance.

But his addictions would resurface.

Thirteen years ago, Bradley landed an extended 22-month stay at the Myrover Reese Fellowship Home, a halfway house for alcoholics in Fayetteville. Initially, he had checked into Myrover Reese for a court-ordered six months.

"That place saved my life," he said.
His sobriety date is April 11, 2008.

Locals may remember Bradley as a member of the funk band Big Bertha, and Bradley also continues to play locally with the church-oriented Kingdom Builders and the urban jazz ensemble Essential Elements.

In the fall of 2019, he performed on the bill of the inaugural All-American Jazz Festival in Fayetteville.
For the last 12 years, he has been strictly touring, often performing at smooth jazz festivals.

Bradley's initial album release with the Kingdom Builders was in 2009. In 2014, Bradley released "Another Day & Time," a gospel jazz recording. Three years later, he came out with his first jazz CD, "Going With the Flow," which was nominated in 2018 for a Grammy in the Best New Contemporary Jazz Instrumental Album category.

Currently, he's wrapping up his trumpet solos on a couple of tracks on what will be his fourth album, "It's My Time," a collaborative effort with various artists that he hopes to issue in March or April on his website www. williebradley.com and all digital media.
His smooth jazz can be heard on the Sirius XM satellite radio Watercolors channel and on the DirecTV's Music Choice Smooth Jazz channel. While revisiting his dark past onstage during concert performances, Bradley said he likes to tell the audience about his saving grace: "If he did it for me – I know I don't look like what I've been through – but if you have a desire to really, really put your life together, you can. No matter how terrible things are in your life, you can overcome it. And don't feel like you have to do it alone. I had some help. I had a lot of help. But I had to be willing to
make the change in my life."