By: Janet Gibson
Photography by: Cindy Burnham
Athina Pavlikianidis Gonzales' life was changed in an instant at age 17 when a horrific car accident left her with a traumatic brain injury. But that hasn't stopped her from becoming an author. Twice, in fact.

The 31-year-old Fayetteville native recently self-published her second book, "Snoot! A rant from a brain gone wild" under her first and middle names: Athina Angelene. The paperback is based on humorous observations of the world. She admits that much of her inspiration comes from people-watching at her regular table in front of Rude Awakening a downtown coffee shop. There, she drinks copious amounts of coffee on weekday mornings and has never met a stranger. Just call her the "sidewalk sage."

"Snoot!" is a nod to Athina's dissatisfaction for people who act superior to others or are too self-involved - in other words, snooty. She blends equal parts of sass and humor to paint pictures of everyday life – and challenge others to analyze their own behaviors.

More serious in tone was Athina's first book, self-published a few years back (both books are available on Amazon). Through journal entries and photos, "If Love Could Speak: A Journey Of The Heart" takes readers back to her life before and after the Feb. 24, 2007 accident at the intersection of Cliffdale and Rim roads and her miraculous road to recovery. A speeding Suburban reportedly ran a stoplight and barreled over Athina's compact Chevy, causing the vehicle to spin and hit a pole. A young woman in Athina's passenger seat sustained foot injuries and was treated and released from a local hospital.

Athina was life-flighted to UNC Medical Center with multiple life-threatening injuries. After being thrown into the backseat, her limbs were mangled, her pelvis was broken, and she had sustained damage to her liver and a kidney. She would lay in a coma for a week, undergo procedures to stop the bleeding from a gash in the back of her head, to insert a drainage tube in her skull, and reset her pelvis. A tracheotomy was performed, and a feeding tube placed in her stomach. A neurologist told Cathey that Athina wouldn't be able to walk again, return to school or ever hold a job. The diagnosis was severe traumatic brain injury.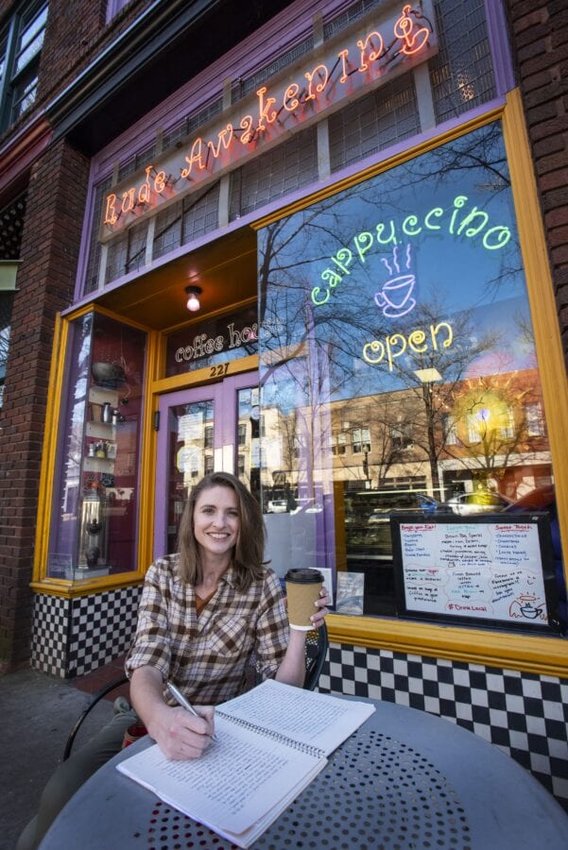 Athina's dreams for the future had been shattered. Hours before her accident, she was on top of the world – after scoring high on tests to join the Marines. Her plan was to graduate from high school, continue her education and ultimately train to go into the intelligence field. Naturally thin, the girl who had once modeled was told by recruiters that she was a shoo-in, but just needed to gain 20 pounds.
Athina comes by her resilience honestly. Her mom, Cathey Deweese, survived a rare form of cancer twice and a brain aneurysm. While working for decades as a hairdresser, Cathey had a side hustle writing and self-publishing books of life-affirming Christian fiction. Cathey knew her daughter had a passion for writing even before the car accident. She saved and organized various writings by Athina, and then the two went to work on self-publishing, which was therapy in itself.
She would spend her 18th birthday recovering from her injuries – and receive a surprise visit from Marine recruiters. She also earned a nickname from her medical team: "The Miracle Girl."

Against all odds, Athina walked out of the rehab unit after just three months. The next year was painful, but unwavering faith and determination prevailed. She graduated from Seventy-First High School, albeit a year late. A favorite doctor and nurse traveled from Chapel Hill to watch her walk across the stage and accept her diploma. She also learned how to drive again.
Athina may not remember what happened yesterday – or even five minutes ago. So, she writes everything down. Everything. From details about conversations to meals. Writing gives her a sense of control, especially on days when she feels physical pain, the remnants of that February night so long ago.

"I am your weatherman!" she says, referring to the aches before a rainstorm.

Her signature humor and smile are wellknown, especially by the baristas and her friends at Rude Awakening.

"She has never complained, not once," says Cathey. Athina tried going to school – a community college and a Bible college – and did well with taking notes, true-false, and multiple-choice tests. But she could never quite tackle essay questions. She became discouraged but enjoyed working in a library and as a note-taker for students with disabilities.

"Athina is not a stranger to disappointment, discouragement and sad days," says Cathey. "But through her faith, she has maintained a strong will to overcome all that comes with short-term memory loss. She has found her own ways to track what she knows she will forget within minutes. Repetition is key to memory. Reading is better than watching a movie. She can go back to a page to review the story. She takes notes and
highlights important points, knowing that helps with retention."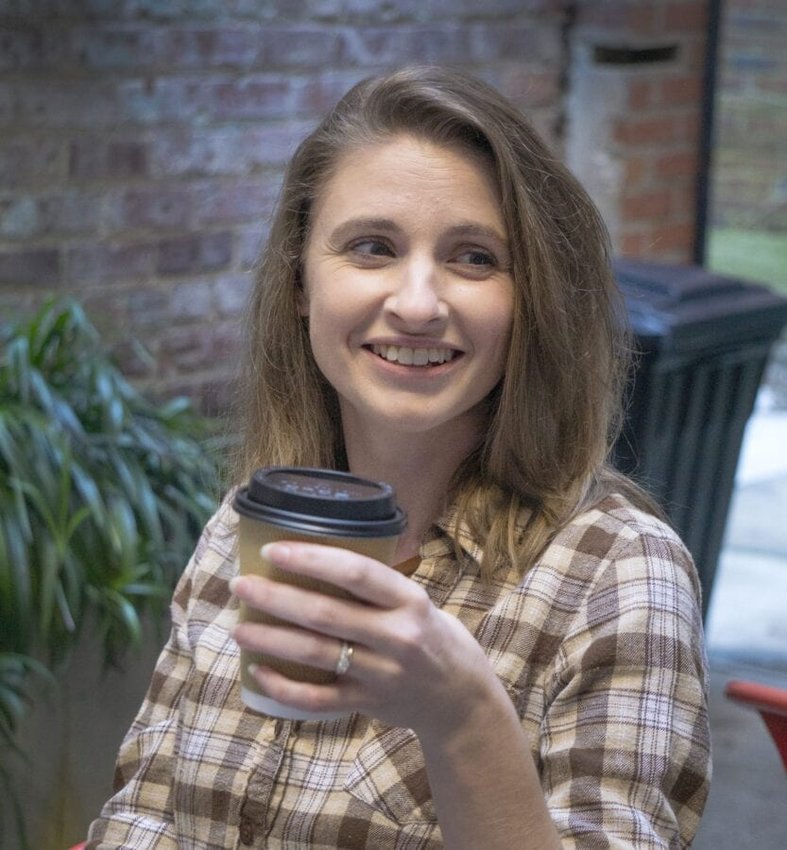 About four years ago, Athina met a special man at her apartment complex, and the two were married. Her husband, Eric Gonzales, works as a welder on helicopters at Simmons Army Airfield. The two, who still look at each other like honeymooners, enjoy spending time together, doing simple things such as grocery shopping, taking long car rides and just breathing in the fresh air.

As for the future, Athina knows that life can change on a dime. She'll be writing down every sweet moment.