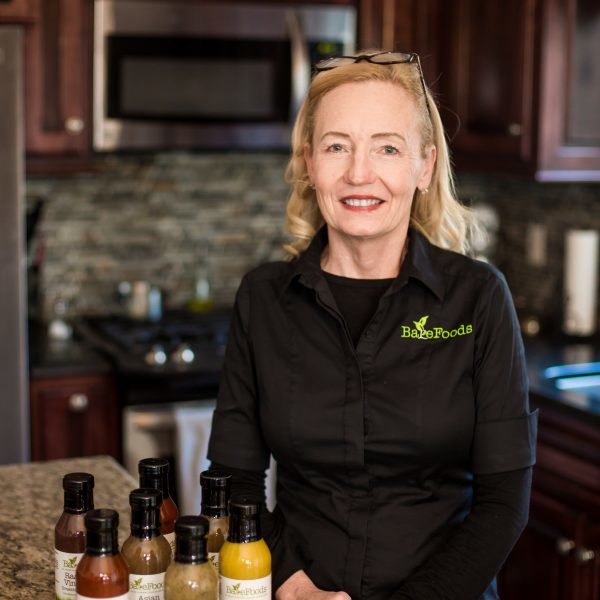 By Nathan Walls
Bob and Diana Carroll have a passion for great food. But at one time in their lives, the hustle and bustle of balancing their careers and raising children made the fast food drive-thru a frequent destination. After realizing that eating out too much was contributing to health problems, the Carrolls decided to make some diet changes.
The grocery store became the best option for the couple who met by chance in Fayetteville over 25 years ago. The two are naturals at cooking, which helped matters. Bob worked as a cook in fine dining restaurants in high school and college. The couple also owned and operated Roly Poly in Fayetteville from 2004 to 2008.
While shopping in supermarkets, they found flavorful fresh fruits, vegetables, meats, dairy and breads – that part was easy. What the Carrolls didn't expect is what they discovered when they scoured through aisles of salad dressings, marinades, rubs and sauces: Most products they saw were full of sugar, artificial sweeteners, preservatives, additives and other fillers that are bad for you.
"Big companies add sugar and fillers for larger profit margin," Diana said.
So Diana started working on her own recipes using organic stevia as the sweetener. She invited friends over to taste a barbecue sauce and Italian dressing she was proud of.
"My friends said, 'Diana, you have to sell this,'" she said. "They liked it better than anything that was in stores."
"The next thing you know, I come home from work and Diana says, 'I'm meeting with a bottler about my Italian dressing and barbecue sauce,'" Bob said. "Over the years, I've learned that when Diana has an idea, I either need to get out of the way or get onboard!"
Thus Bare Foods Inc. was born.
A Hurricane Brings Them Together
Bare Foods, the Carrolls and their family would have never happened if not for Hurricane Hugo in 1989. Diana, a native of Wake Forest, was planning a weekend in Charlotte with girlfriends and Bob was scheduled for a field training exercise while a soldier at Fort Bragg.
"My unit's field training was canceled due to the hurricane so some friends and I decided to go out on the town," Bob said.
Meanwhile, Diana's plans had also changed.
"It wouldn't have been safe going to Charlotte, so my girlfriends and I came to Fayetteville at the invitation of another friend," she said.
They headed out to a popular nightclub called Bowties, which was inside the former Holiday Inn Bordeaux on Owen Drive. There, Diana happened to meet Bob, who'd gone to Bowties with his friends.
The Carrolls have been together ever since. Over the years, Bob was stationed at other military bases, but as he neared retirement he and Diana chose Fayetteville as their home over Bob's hometown of Atlanta.
They raised their children here and have seen Fayetteville transform and grow from what it once was.
"Hay Street, downtown, and the greater Fayetteville area has changed a lot and for the better," Bob said.
"We like it here and are glad to see the positive changes," Diana said.
A Quick Start, A Growing Business
Following Diana's meeting with the bottler in 2015, Bare Foods quickly grew in the health food industry. Bare Foods sauces, dressings/marinades and spices are sold in every Fresh Market grocery store in North Carolina. You can often see Bob and Diana offering samples to customers near the meat counter at the Fayetteville Fresh Market. The products are also sold at It's BBQ Time on Raeford Road, behind Fast Signs.
Bare Foods sales are doing well at both Fayetteville stores, Diana said.
The sauces and spices have been accepted by Whole Foods in all five states of their southeast region.
"Whole Foods is very selective," Bob said with pride.
Bare Foods products are sold in approximately 50 independent stores, including the Produce Box in Raleigh. The Carrolls have also marketed their brand in Earth Fare grocery stores in the western part of North Carolina and are involved in the "Got to be NC" program.
The sauces, dressings/marinades and spices have been well received by competitive and performance athletes. Several professional athletes are promoting Bare Foods on their Facebook pages.
Many popular diet plans – including Weight Watchers, the Next 56 Days, the Keto Diet and the 20/30 Fast Track Hormone Weight Loss Plan – have approved Bare Foods' sauces and spices. All of the products have zero points with Weight Watchers and are also HCG-approved.
"We have found several niche markets," Bob said.
There's plenty of data to support the need for healthier diets. According to the National Health and Nutrition Examination Survey, more than two in three adults were considered to be overweight or obese. In the same survey, about one in six children and adolescents ages 2 to 19 were considered to have obesity.
Meanwhile, 30.3 million people have diabetes and an estimated 84.1 million adults ages 18 years or older (33.9 percent of U.S. adults) have prediabetes – a condition in which blood glucose or A1C levels (which reflect average blood glucose levels) are higher than normal but not high enough for a diagnosis of diabetes. People with prediabetes are at an increased risk of developing type 2 diabetes and cardiovascular disease, which can lead to heart attack or stroke.
The Products Themselves
Since that first batch of Diana's healthy barbecue sauce was bottled, Bare Foods has released a number of other products, including:
• Soppin' Sauce (which combines the flavors of classic eastern North Carolina-style BBQ sauce and Lexington, N.C.-style barbecue sauce)
• Spicy Soppin' Sauce
• 7 Herb Italian Dressing & Marinade
• Poppy Seed Dressing
• Sweet Mustard Dressing & Marinade
• Asian Ginger Dressing & Marinade
• Raspberry Vinaigrette Salad Dressing
• Taco/TexMex Seasoning
• Steak Seasoning
• Garlic Herb Seasoning
• Hot & Spicy Seasoning
A new spice will be released in Spring 2018.
Diana has every product tested and analyzed at N.C. State University before it's bottled for sale, thousands at a time.
Most Bare Foods products are $5.99 to $6.49 each and packages are available on the company website at www.barefoodsinc.com.
As yet, Bare Foods is a sideline for the Carrolls, who both have full-time jobs in other fields.
"It's a lot of work, but it's worth it," Diana said.
The Carrolls hope that Bare Foods grows large enough that one of them can soon transition from their current job to devote more time to the business.
"This is our life – it's what we're passionate about, and we get to work this together as a team as we build this new brand. It's exciting." Bob said.