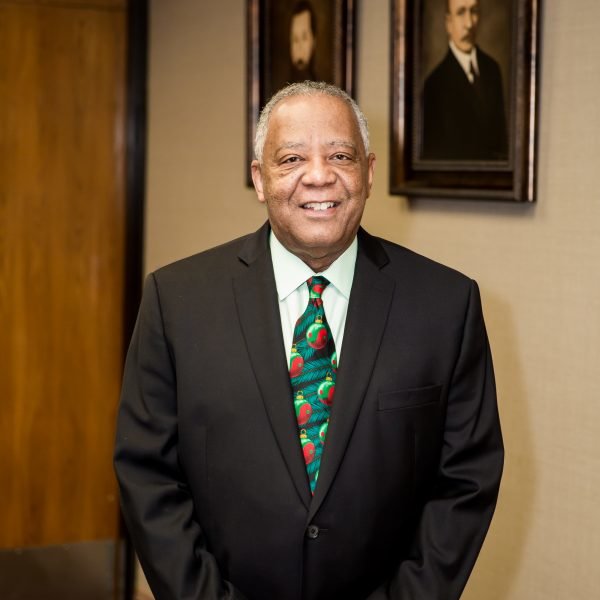 By Catherine Pritchard
In 1867, seven black residents of Fayetteville paid $136 for two lots on Gillespie Street.
They did so to realize a dream – the establishment of a school to educate black children.
One hundred fifty years later, David A. Bryant, Nelson Carter, Andrew J. Chestnutt, George Grainger, Matthew N. Leary, Thomas Lomax and Robert Simmons are long gone. But the school they founded lives on, as Fayetteville State University. This year, the historically black university is celebrating its sesquicentennial and it's paying tribute to those founders and others who contributed to its development and growth. It is also focused on its present – and its future.
The road from 1867 to present-day has been long, winding and sometimes bumpy for Fayetteville State, which has undergone several incarnations, name changes and locations over its 150 years. Originally a 2-story grade school built with funding from the federal Freedmen's Bureau, it is now a four-year university with master's programs and one doctoral degree program and has been a constituent institution of the UNC System since 1972. More than 6,200 students are enrolled at the 140-acre campus on Murchison Road, the school's home since 1908. The school also has a strong core of devoted alumni who are proud of Fayetteville State's history and achievements.
In recent years, the school has faced some serious challenges, including a failing nursing program that was on the brink of permanent closure and problematic financial practices.
But Chancellor James Anderson says those issues are in the past and Fayetteville State is on an upward trajectory, with a strong, new nursing school, nationally ranked programs, a spotless financial record, a growing presence in science and technology fields and a commitment to finding innovative ways to improve and grow.
"We have programs I would put up against any school in North Carolina," Anderson said recently.
Determination and commitment has pushed Fayetteville State and its earlier incarnations through the years. First came the Howard School, a two-story building with 302 children in grades one through eight. It was considered so effective that in 1877 the legislature made it the first state-sponsored institution in the South for the education of black teachers. With the designation, its name changed to State Colored Normal School and its mission increasingly focused on higher education. In 1939, it became a four-year school, called Fayetteville State Teachers College, and by 1947, it earned state and regional accreditation. In 1959, its curriculum began expanding beyond teaching.
Its student population also began to diversify, with its first white graduate receiving a diploma in 1964. Today, 74 percent of the school's students identify as racial minorities.
Along the way, the school has had 13 leaders. The first five held the title of principal and included founding principal Robert L. Harris, Charles W. Chestnutt (later a noted writer), George Williams, Rev. L.E. Fairley and Ezekiel Ezra (E.E.) Smith, who spent 40-plus years at the school amid breaks to serve as a U.S. Ambassador to Liberia among other things.
Smith helped move the school to its current site, oversaw its expansion from a three-room building to 10 buildings on 50 acres and paid off the note on the land, later deeding it to the state for the school. In 1927, six years before he retired, his title was changed to president of the school. Later presidents and then chancellors included J. Ward Seabrook, Rudolph Jones, Charles A. Lyons Jr., Lloyd V. Hackley, Donna J. Benson (an interim chancellor for 11 months), Willis B. McLeod (the first alumnus in the job) and Thelma J. Bryan (the first woman officially in the job).
Throughout the years, the leaders faced plenty of challenges. It was no different for Anderson, who arrived in mid-2008.
At that time, Fayetteville State was facing major problems. Its four-year-old nursing program was on the verge of being shut down because of its students' poor performance on state licensing tests and its financial reports were repeatedly cited by state auditors for numerous deficiencies.
"We were the laughingstock" of the higher-education world, Anderson said.
But the school's situation and its history and potential excited Anderson. "I love challenges," he said. He decided to take the job and upon arrival immediately starting tackling what he saw as the school's three most critical problems – its nursing program, its financial affairs and its academic reputation, or lack thereof.
Anderson never considered giving up on the nursing program. It had too much potential. Instead, he persuaded state regulators to let him try to fix the program through a complete overhaul. He said he got rid of every faculty member but one and wooed Afua Arhin away from a successful nursing program at Grambling State in Mississippi. Arhin was installed as department chair and told to rebuild the program as she saw fit. The nursing school, which closed down for a couple years during the reboot, returned with vigor and, in 2014, all 15 members of the first graduating class passed the state licensing exam – a remarkable performance. The graduating classes have grown in size since then – in December, the school graduated 58 people with bachelor of science in nursing degrees – but the pass rate for the licensing exam is still in the mid-90 percentile.
Anderson said the thriving nursing program is his proudest achievement at Fayetteville State.
He also made major changes in the university's accounting practices. "That was really important," he said. "We were just not managing our money well because there was no business model in place." Without a business model, there was no oversight. Anderson said he remedied those issues and things have gone smoothly since.
Fayetteville State has also made significant progress on Anderson's goal of building its academic reputation. He says all of the university's top programs are now accredited, a rigorous process whose worth is noted by employers. And several programs, including the nursing program and its online MBA program, have been ranked highly by some publications for their combined educational and financial value.
Anderson said the school is a leader in online education, which is popular with its large contingent of non-traditional students. They're older, with jobs, families and other responsibilities that make it harder for them to attend regular classes on a campus. Many are changing careers, preparing to get out of the military or boosting their education to move up in their current jobs. The average age of Fayetteville State's students is 25, compared to 18 and 19 at other schools.
"These are people that work," Anderson said. "They want to do online courses when they get home."
The school makes efforts to meet their wants and needs, including compressing some online courses into shorter, more intense schedules, and providing courses attractive to military personnel who are preparing to enter the civilian world and need certification of the skills they already possess.
The university still has a traditional schedule that's embraced by younger students, who live on or near campus, and by students like those in the nursing program who have hands-on classes. Anderson said the mix of online and bricks-and-mortar offerings works well for Fayetteville State.
"There are some schools who will almost always be first-time freshmen who come and stay four years because that's what their model is built on," he said. "That model would not work for us."
Under Anderson, Fayetteville State also has increased its emphasis and offerings in STEM areas – science, technology, engineering and mathematics. The school's proximity to Fort Bragg and its large number of military-connected students have helped it leverage partnerships with programs like the National Geospatial Intelligence Agency and create academic programs, such as its Center for Defense and Homeland Security, that focus on in-demand job fields and that capitalize on the skills already held by many students.
The school also has new relationships with national laboratories where students can do internships. It has a new focus on research and several professors have received patents on technologies, including one for a device that would allow your cell phone to charge just from your body heat. "Imagine!" Anderson said.
A chancellor's job is never done and Anderson's is no different. He said his current goals include making plans to replace the school's education building, which he said is deteriorating. "It's the last building I want to build," said Anderson, who's 68 and figures he will retire in about three years. The project wouldn't nearly be complete by then but he wants to make sure its funding is in place before he leaves.
He also plans to make sure the university has the right leadership in place in its administration, faculty and department chairs. That way, he said, "when I leave, they can continue to build on what we've started," he said. "So it doesn't crumble."
He also wants to make stronger connections between the school and the city and said the university needs to do a better job of engaging with the community.
"As a university, we should have some initiatives and they should be very visible and very public," Anderson said. He said he was unable to focus on that in his first years at the university because he had to take care of so many fundamental structural things that weren't in place. "When I got here, the back of the Titanic was underwater," he said. "It took a few years to get it up straight and another few years to get propulsion. Now we have great speed going." Now, he said, he can focus on community engagement and improving economic development along Murchison Road and nearby Bragg Boulevard.
It's not just in Fayetteville State's best interests, he said. It's in the broader community's, too. Their fortunes are intertwined and the two entities should work together, not separately. "Their success helps us," Anderson said. "And our success helps them."