By Kim Hasty
Photography by Cindy Burnham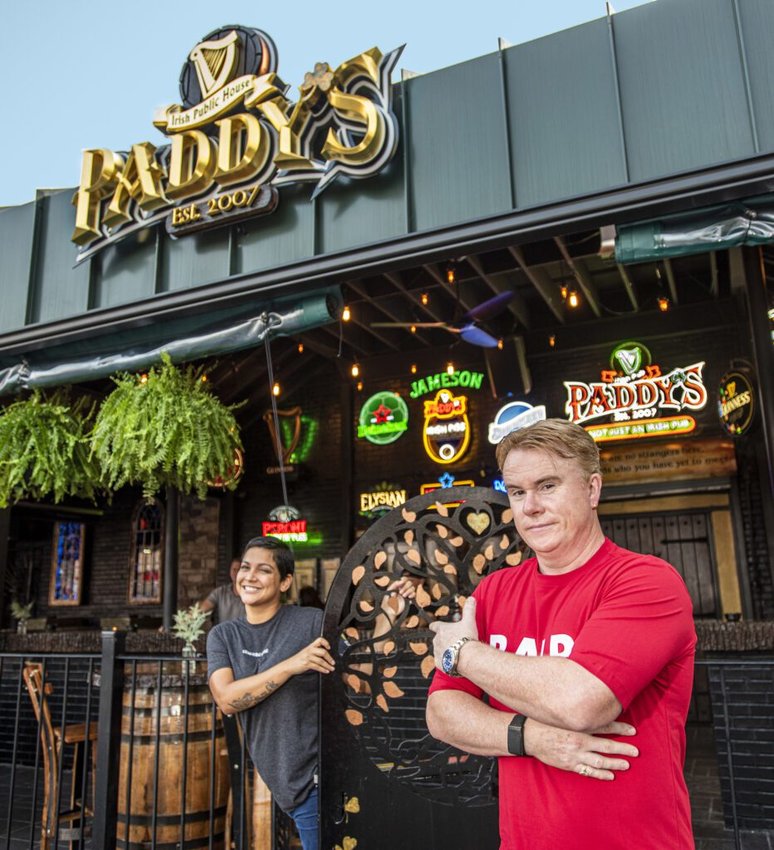 It's a couple hours before showtime on a Thursday evening at Paddy's Irish Pub and the Church Entertainment Lounge, and already chef Mike Costello is calling "order up" for platters of fish and chips and bacon-infused sliders. Bartenders, behind their polished fixtures, are pulling draft beers and garnishing each of their classic Old Fashioned cocktails with a Luxardo cherry that costs "about 20 bucks for a tiny jar," according to the bar's owner and namesake, Paddy Gibney. But it's the only appropriate way, aficionados will tell you, to finish off that particular libation.
Dustin Capps, an Army staff sergeant who helps with the bar's security, is brushing up on his lines. Gibney has given him the opportunity to open for the evening's two headline comedians, and he's relishing the chance.

"I just enjoy being on stage," said Capps, a native of Oregon who made his acting debut in eighth grade as the Cowardly Lion in his school's production of the "Wizard of Oz." "But, hey, I need to tell you. My routine is a little off-color."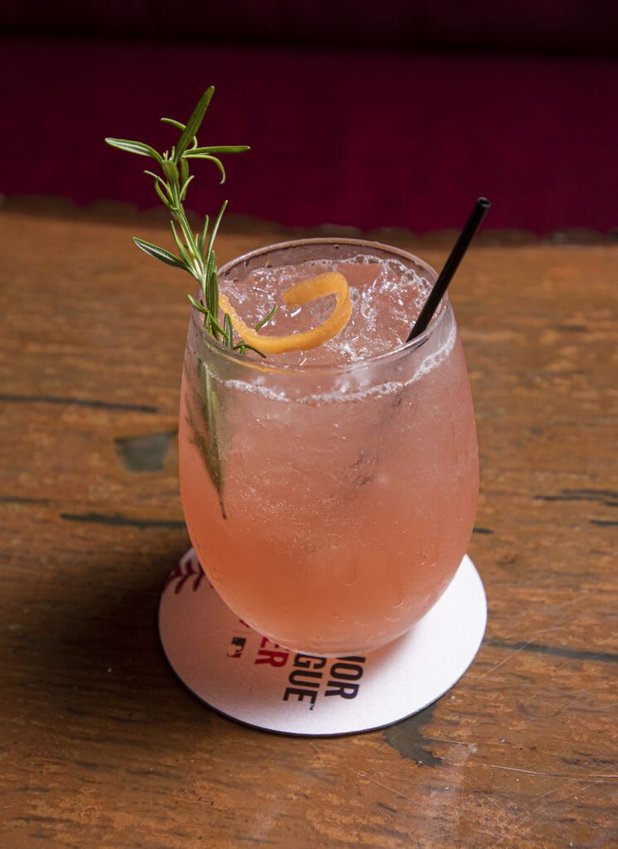 Welcome to Paddy's, where the food and drinks keep coming, the owner is apt to greet you at the door and the laughs are plentiful. Albeit a little naughty.

"We love it here," said Faith Slocum, sitting with a group of friends with her husband, retired 82nd Airborne Division Sergeant Major Steve Slocum. "It feels upscale and fun."
Paddy's is tucked off Raeford Road in a cozy location at the end of a line of establishments collectively known as Highland Village. Gibney, an introspective Irish-born musician who once considered applying to medical school, bought the place in 2006. His was the latest incarnation of a spot that had been the Redwood Club, Nashville Station and Wheelers.
"I performed Irish drinking songs, so naturally you think to yourself it would make sense to own your own bar," he said. "I looked at several places before this place came along, and it felt right.

"It's a form of expression for me. I'm not on stage much anymore, but at my heart I'm an artist. This is my art."
The art is visible in just about every nook and cranny from jewel-toned neon signs, twinkling light fixtures and flags from around the world to rows of framed photos of notable people who have enjoyed a pint here. But art, Gibney said, must "continually evolve and continually grow." Those words became more than just a mantra in March
2020 when Gibney and partner Jessica Corona decided to voluntarily shut their doors four days before St. Patrick's Day, the most lucrative day of the year for many bars, not to mention an Irish pub.

"You know in your heart what's right," Gibney said. "People were dying."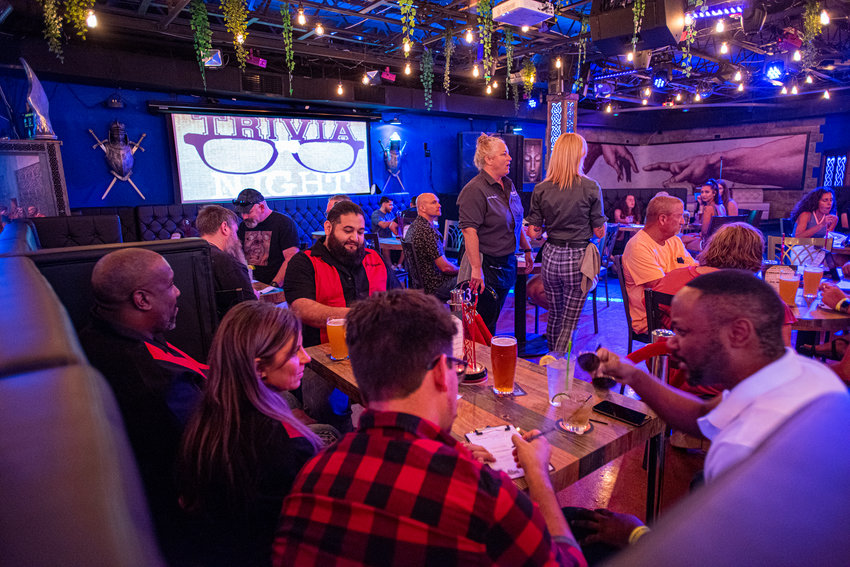 It was on St. Patrick's Day that Gov. Roy Cooper officially closed bars and dine-in restaurants because of the pandemic. By then, Gibney had already pulled his staff members together, many of whom would be facing financial duress without a paycheck.

"I put my bank account on the table," he said. "I told them, this is what we've got."

The result is that Paddy's reopened this summer with a loyal crew and a slew of improvements thanks to a team effort. The 15 months the bar was closed allowed for completely revamped indoor and outdoor seating areas, new flooring that replaced carpet, an overhaul in décor and the addition of a new slate of entertainment in the nightclub side of the venue known as The Church. Besides the pub's traditional live music, Paddy's now features Friday night cash trivia and nationally acclaimed comedians appearing Thursday nights on an intimate stage punctuated by a velvety red curtain.

"We wanted the feel to be different, and also I wanted people my own age to come in," said Gibney, who's 52. "Everyone is welcome here. It doesn't matter what color you are, what your religion is or what your sexuality is.

"The flags on the wall represent all the different people who have come in here," he said.
"It's a testament to the kind of people who live in Fayetteville. We're trying to bring something to the town that it's never had before."

Also new is a bar menu that features the original concoctions of local mixologist Rob Clayton, a longtime friend of Gibney's, as well as a food truck that is now permanently parked just outside the entrance. That's where Costello whips up his original take on pub fare into the wee hours of the morning. Waiters and waitresses run orders back and forth to patrons, but walk-up customers with the munchies are welcome for to-go orders right up till 2:30 a.m.

"I wanted to have a restaurant like I wanted to have a hole in the head," Gibney said. "Everyone I've ever known that's gotten
into food says don't do it. But I decided that if we're gonna do it, we're gonna do it well."
The purchase of a used food truck, which also benefited from renovations, enabled Gibney to avoid the expense of adding a kitchen. He and Costello collaborated on a menu that will change seasonally. For now, it features french fries that are hand-cut daily, three varieties of grilled cheese sandwiches, including one that features pesto, and, of course, those fish and chips. Gibney at first had to call his mother back home in Dublin for a shipment of the traditional Oldum brand of flour.

"There are a million Irish pubs in the world. And every single one worth anything has some version of fish and chips," Gibney said. "What I wanted was a small menu with everything done very well."

Gibney attributes the impetus for many of the changes to Corona's creativity and smarts, so much so that he made her a partner over the past year. Never mind that it requires quite a bit of convincing to coax the soft-spoken Corona into so much as having her photo taken.

"To be honest many of the things happening here, she's the driving force behind them," Gibney said. "She's the one who gets things done."

Tammy Simmons, another longtime friend who is helping Gibney and Corona with marketing, said plans are in the works to allow local artists to display their wares, even to the point of replacing things that are currently on display.

After all, Gibney certainly has proven he's not afraid to make changes, to try something different. Nor is he afraid of uncertainty.

"The pandemic gave us a chance at a do-over," he said. "When you're in a situation like that, it knocks you down. First of all, you have to get back up. You can't control a pandemic or arbitrary unjust laws. But you can control your attitude, your outlook, your work ethic.

"We've all grown here, and we've become better human beings," he said. "Not just a better bar."

Paddy's Irish Pub, at 2606 Raeford Rd. Suite B, is open Wednesday though Friday, from
5 p.m. to 2 a.m. Menu items are between $8 and $17. Wine is available in addition to featured cocktails. Call 910-568-5654. paddysirishpub.com