By Charles Canady
Photography by Tony Wooten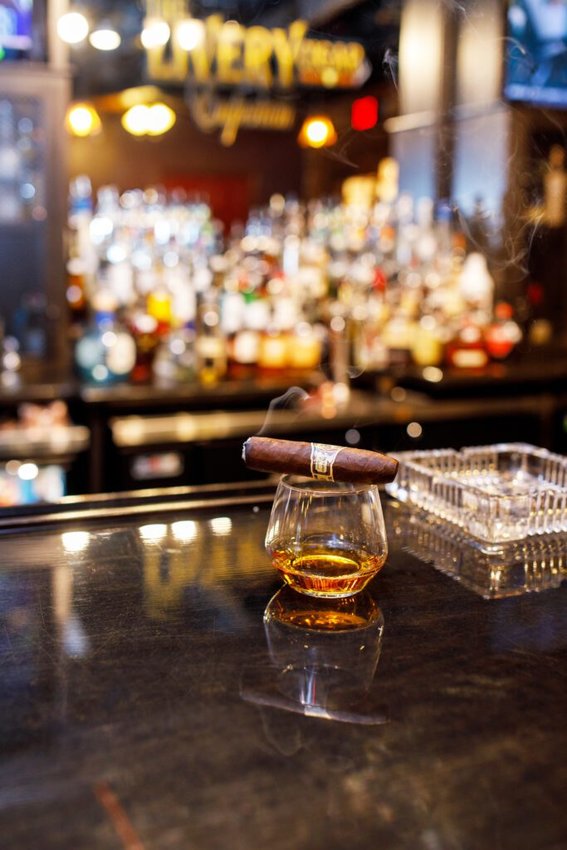 New Downtown Cigar Lounge Mixes Past
Outside the building on Maxwell Street, smoke and the aroma of cigars waft call to downtown patrons. Inside the Livery Cigar Emporium, men in Panama shirts and sharply trimmed Cuban fedoras draw deeply from dark cigars, while women in cocktail dresses sip on libations. You'll see a few cowboy hats and jeans too.

That's the true power of cigars; they bring people from different walks of life together. Peace and happiness can be found in the draw of a good cigar but sharing them with friends over music and good conversations make cigars truly special.

In the middle of 2020, while most Americans were in lockdown working from home and attending school through video monitors, Andre Thomas and Rick Yates were working together to open their first cigar lounge. They decided the newly vacant Livery building at 147 Maxwell Street was perfect because of its history and location in downtown Fayetteville.

"We wanted to stay in touch with the past, but still bring it forward," Yates said.
The more than 100-hundred-year-old former automotive shop, cotton exchange and antique shop needed some work to fit their needs. Restrictions caused by COVID-19 presented a variety of obstacles. Neither knew the ins and outs of working with contractors, and it was difficult to find someone willing to do the work. So, they took what they could get and renovated the building in a not-so-traditional sequence. Neither man is business trained nor has ever owned a bar. Both were quick to admit they don't know everything; they started at ground level and learned as they went. There were challenging times, like working with the city on permits and breaking up concrete flooring to lay water lines needed to run a bar.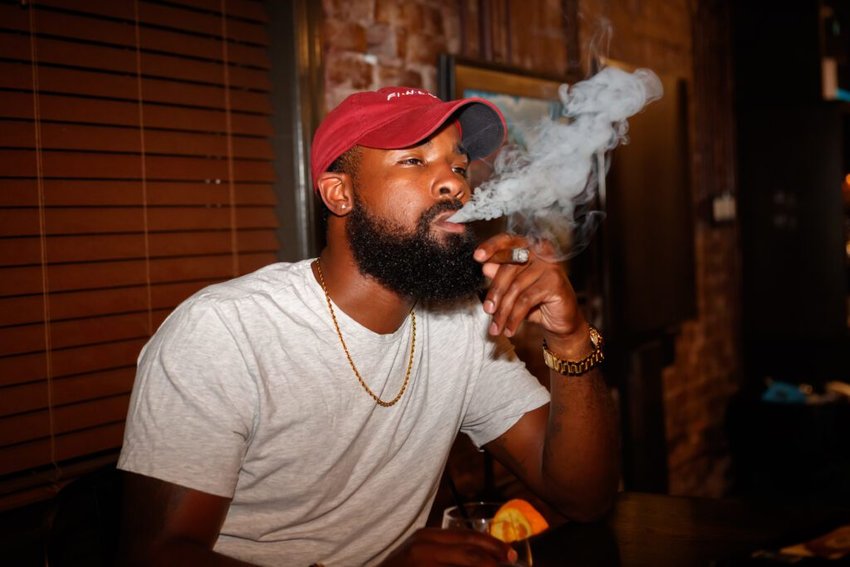 Their surrounding downtown neighbors came out to support and encourage them, sharing what they learned from their process and experiences.
"There's too many to list, but they know who they are," said Yates appreciatively. "I want them to know how grateful we are."
Both men were formerly in the military and decided to call Fayetteville home after serving. Thomas is from Chicago, and Yates is from Buffalo, New York. They are familiar with many cigar lounges and decided to make their own by pulling ideas from other bars.

"Kind of like pulling things you love when you build your own mancave at home," said Thomas. The two envisioned a place like a Chicago club and a New York lounge borrowing from places they admired growing up.

"Mainly we wanted a place where we can hang out and our friends can come and enjoy themselves," said Yates.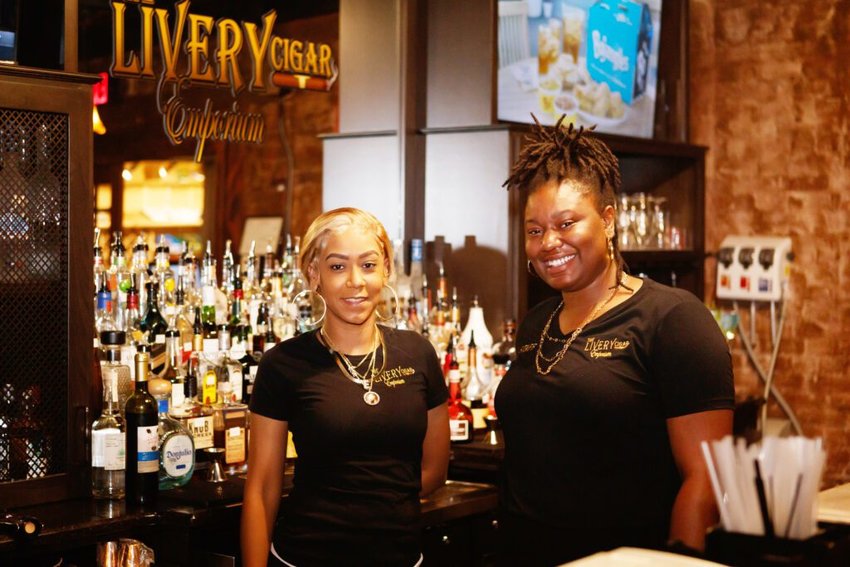 Thomas laughed and said, "If this turns out to be nothing but our mancave away from the house, then so be it."
Work on the Livery building wrapped up just as the restrictions of COVID-19 were lifted by the governor. The lounge and retail shop opened its doors in June.

The Livery Cigar Emporium has turned into much more than a mancave and has exceeded their expectations.

"Sometimes on Friday when the place is packed, we just look at each other and say, 'we should've got a bigger building,'" said Yates. "Though it's packed on Fridays, every other day of the week is just right, it's personable. Walking in you'll see your friends and speak to everyone. It's a very personable place."

Though the business has grown, it has maintained that feeling of hanging out with friends that the owners envisioned all along.
"Some of our customers don't even smoke. They come in to enjoy the relaxing atmosphere and hear good music," said Yates.
Both Thomas and Yates are committed to serving with excellence.

"Customers can expect quality and customer service. That's the first thing and what we pride ourselves on. You'll be treated with respect," Thomas said proudly. "You can expect a good selection of quality cigars, and we have perfected our bar."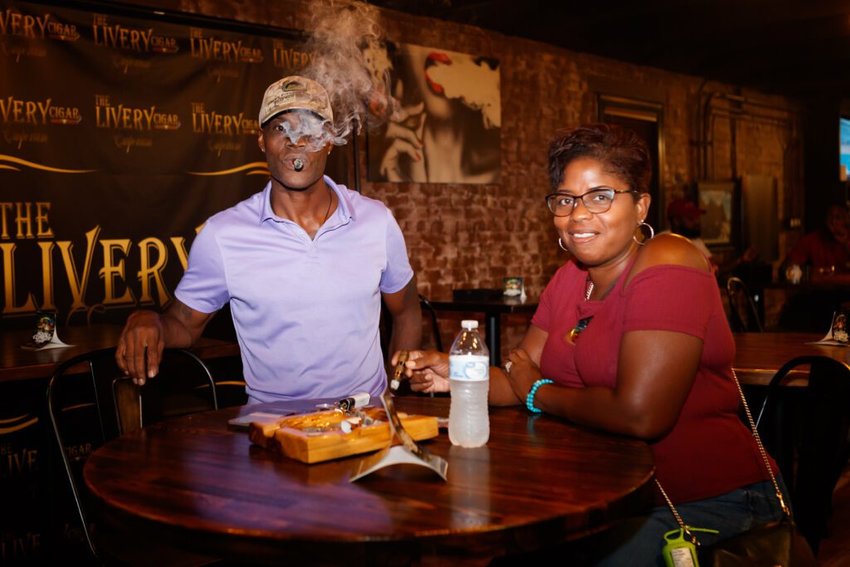 The location has become a favorite of couples attending the Farmers Market on Saturdays. Baseball fans looking for parking at Woodpeckers games have discovered the location, as have attendees of Fayetteville's downtown Friday events.

When customers walk into the Livery's front door, they're greeted by an open retail-store space with a walk-in humidor. It's evident here that Thomas and Yates were intentional about preserving the past. The lobby walls are exposed brick, while overhead, the original rafters can be seen. The modern, well-lit, walk-in humidor has a long, glass front so customers can see inside to the shelves stocked with cigars. The new humidor has an awning lined with tin. Both owners say the "Crazy Alice," made by Deadwood Cigar Co., is their biggest seller, so they try to keep it in stock. The simple, open concept look of the lobby mixes well with the vintage architecture of the building.
Beyond the parlor and humidor, the
lounge serves as a private venue for members only. Several memberships at different price points are available to anyone and can be purchased in the parlor or online.
Walking through the doors of the retail parlor and into the lounge area evoke the feeling of having traveled to a swanky speakeasy where a few quick knuckle taps get those "in the know" through a hidden door. Thomas and Yates succeeded in capturing the atmosphere they envisioned. They maximized the vintage horizontal space that once traded cotton. Leather furniture – wingbacks, sofas and bucket seats with tabletops – are thoughtfully arranged between the long vintage brick walls of the Livery.
The crown jewel and centerpiece of the lounge is a custom-made, full-length bar in a deep mahogany, so dark and glassy that it shines like a concert piano. It looks like something found in a vintage pub in New York.

The owners had the 39-foot bar custom-made by Charles' Cabinets, out of Four Oaks, and assembled by hand onsite. Thomas pointed it out like a proud father. The Livery has full ABC permits and sells fine spirits and wine that pair well with their cigars. The bartender and waitstaff are dressed in black and all smiles.
A video post of one of the jazz nights can be seen on Facebook, showing a room filled with smoke and lively tunes while happy, laughing patrons enjoy cigars, swaying and bobbing their heads in rhythm. The Livery Cigar Emporium has a taste of charm from out of a time capsule and fits just right within the diverse puzzle of Fayetteville and its musical traditions.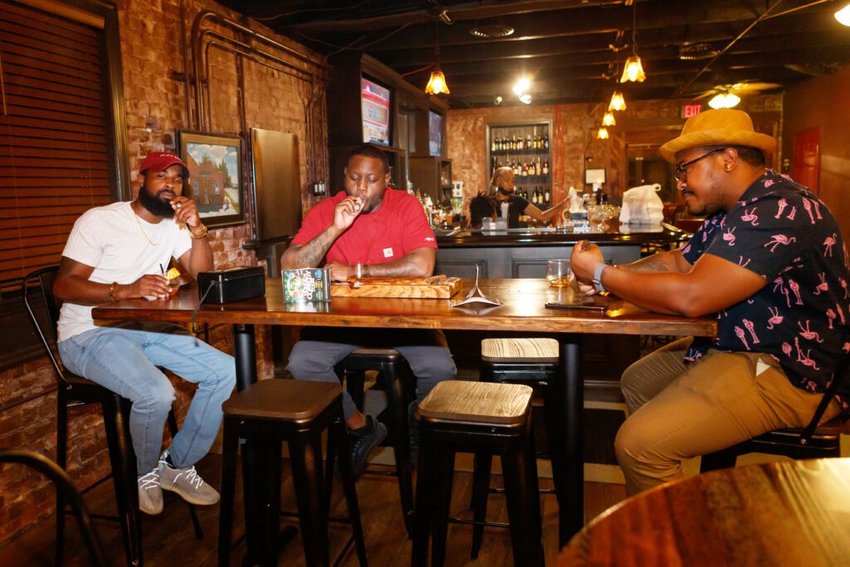 Thomas and Yates said they plan to expand their business beyond the historic bricks of the Livery and may add a comedy night to their events. Their vision has breathed new life to the historic district, and they look forward to what the future will bring.
Charles Canady is a writer from Fayetteville. He can be reached at CharlesCanadythewriter@gmail.com or Facebook.com/charlescanadythewriter